You can plant directly into the ground, using the preexisting soil, but you'll need to understand your soil's composition and amend it accordingly. If you go this route, we recommend getting your soil tested, which will minimize headaches, and it's easy and relatively inexpensive. A soil test will tell you the makeup and pH of your soil, any contaminants present, and will recommend materials and fertilizers to amend your soil.
Sandy soil is easy to work, drains well, and warms quickly, but it doesn't hold nutrients well, especially in rainy environments. You'll want to dig large holes for your plants and add compost, peat moss, or coco coir, which will help bind the soil together.
If you don't have a suitable patch of earth to make a garden, containers can be placed on decks, patios, rooftops, and many other spots. If needed, you can move them around during the day to take advantage of the sun or to shield them from excessive heat or wind.
Soil and other media for outdoor cannabis growing
Start off with fertilizers that are inexpensive and readily available. Some release nutrients quickly and are easily used by the plant, while others take weeks or months to release usable nutrients. If done correctly, you can mix in a few of these products with your soil amendments to provide enough nutrients for the entire life of your plants. Most of these items can be purchased cheaply at your local nursery.
There are also commercially available soil blends that already contain the proper mix of these types of ingredients.
Sandy soils
You can make this yourself by combining worm castings, bat guano, and other components with a good soil and letting it sit for a few weeks, or it can be purchased pre-made from a local nursery or grow shop.
Heavy rains and high winds can cause physical damage to plants and reduce yields, and excessive moisture can lead to mold and powdery mildew, especially during the flowering stage.
Another simple way to increase your yields is by training your cannabis plants. If left alone, plants generally grow one main large stalk with other small stalks growing up around it. A cannabis plant will grow in the shape of a menorah, where the center candle highest up represents the main large stalk. While this one large stalk will grow a beautiful large cola, the height of this one cola will dictate where the lights can be placed if growing indoors. This results in the lower branches receiving significantly less sunlight than would be possible with an even canopy.
Growing bigger buds is a lifelong ambition for most gardeners. However, bigger buds won't happen overnight. Gardening is a skill that takes time to refine since you can't speed up a plant's growth process. One of the best things you can do is to write down what you're doing to your grows every day; that way, if you have a successful harvest, you can revisit what you might have done differently in your garden and replicate it with future grows.
Training
Intuitively, you might think that more nodes means more and larger buds, but this is far from the truth. Nodes with buds that are lower down on the plant away from the canopy will try to develop in flowering but will never become fully developed because they do not receive adequate light.
Thankfully, there are a number of ways to improve the size of your buds. Pruning, training, feeding, and lighting are the most common ways to dictate how your plant will develop.
Feeding
If you want to grow big buds, you need to have big lights. When you identify the highest-quality cannabis in stores or dispensaries, you're looking at cannabis where growers provided optimal indoor and outdoor lighting. You can't cut corners when it comes to properly lighting your grow area. A basic guideline for lights is generally every 100 watts can cover one square foot. For example, a 600-watt light can cover a 6'x6′ area.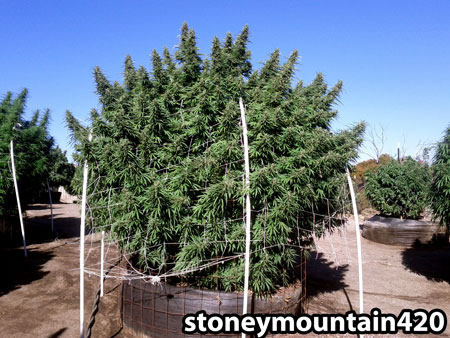 When I say "flowered," what I mean is that you can change the light schedule so that it forces your young seedlings to start making buds right away.
Long Answer: These factors have the greatest impact on total time to harvest:
Keep in mind that this is a fairly advanced technique, and should only be attempted by intermediate-advanced growers or particularly brave newcomers.
4.) Initiate The Flowering Stage Sooner
You can get faster vegetative growth with almost all hydroponic methods compared to what can be achieved with soil. That means that you could speed up time til harvest by using Deep Water Culture (DWC), Coco coir/perlite, or pretty much any non-soil growing medium. During the flowering stage, this isn't as important, but this can shave weeks off your vegetative stage time (get straight to growing buds sooner!)
On a similar note, you might want to consider hydroponics over soil.
1.) Fewer Hours of Light Each Day in Flowering Stage
The truth is, you can grow weed in only 20-30 minutes a week when you use the right techniques and get used to the process of growing. The following article reveals the best way we know to grow lots of potent bud while using a minimum amount of time to do so. We make this happen using a hydroponic style of growing known as Top-fed DWC (aka "bubbleponics").
This is why you need to either mix your nutrients by hand, or choose a nutrient system that is specifically formulated for the flowering stage of a plant like marijuana. By providing the right nutrients at the right time, you'll reduce your overall time to harvest.