Generally speaking, it takes anywhere from 10-32 weeks, or about 3-8 months, to grow a weed plant from seed. It'll be quicker if you start with a clone or an autoflower seed.
How long does it take to grow a marijuana plant?
Cannabis plants go through a series of stages as they grow and mature, and those different growth stages call for different amounts of light, nutrients, and water.
When should you grow marijuana?
Marijuana light cycle: indoor—16 hours a day; outdoor—at least 6 hours of direct sunlight ("full sun"), plus several hours indirect sunlight
Cannabis can be either male or female—also called "dioecious"—but only females produce the buds we all know and love. For reproduction, males have pollen sacs and pollinate females, causing female flowers to produce seeds.
Pros and cons of using cannabis seeds
Cannabis seeds require three things to germinate: water, heat, and air. There are many methods to germinate seeds, but for the most common and simplest method, you will need:
How to germinate marijuana seeds
If you don't like the flavor, effects, or even the look of the bud, then it's probably not worth growing.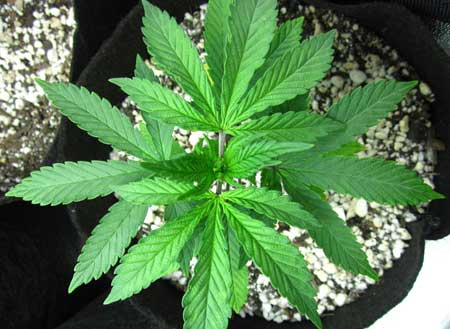 The more you tend to and baby your plants, the better they will grow, and the faster you will be able to harvest.
Now that you're equipped with the information to get you to harvest as soon as possible, let's quickly address another common question we receive about time.
The one downside is that a shorter flowering stage with less hours of light each day mean that buds get less time to fatten and you will end up with smaller yields. Therefore it's not recommended to try to get a plant to finish flowering in less than 8 weeks, as you'll end up with very small yields. This technique is best used if you have a plant that's been flowering for 2-3 months and doesn't look like it plans on stopping any time soon.
Yet growing indoors gives you the ultimate control over how big your plants get, how long to keep them in the vegetative stage, and exactly when they start flowering amongst other things. You also have a lot more control over how much bud you'll end up yielding.
5.) Grow Indoors
As long as you give your plants more than 14 hours of light a day, they will stay in the vegetative stage. But if you give the plant more light than that, they have more time in the day to grow!
Plant strain – strain has the largest impact on growing time.
When I say "flowered," what I mean is that you can change the light schedule so that it forces your young seedlings to start making buds right away.
6.) Pay Attention To Your Plants and Quickly React to Problems
Every different strain has pros and cons, but if time is a factor for you, pay close attention to the length of the flowering stage when deciding which strain to grow. The majority of seed banks list the length of the flowering period as part of their stats for each strain.
Note: There are special light schedules, that involve lowering the amount of light each day in the flowering stage, which can sometimes get harvest to come a little quicker. For example a 10-14 schedule (10 hours light, 14 hours dark each day) during the flowering stage may get plants ready to harvest a week or two sooner for some strains, but lowering the amount of light each day combined with harvesting sooner really hurts your yields.