The front contained the door so one single cut along the top, added the hinges, and door done.
Lights: I drilled a small hole in the front of the box to allow the power supply for the lights to come out at the highest point so I can adjust them up and down accordingly. In this case, I used two lag bolts to tie off the power supply for the lights to adjust their height. I used a three outlet light socket for three HE lights that use about 45w of power well below the estimated max of the box. Again, LED grow lights are a little costly but I think worth the price given the reward and they burn a little cooler if heat becomes a problem.
24″ Red 14 Guage electrical Wire
Step 5: Step Five: Fans Holes
Plus and minus using basic creativity.
I did not take pictures along the way but I think it is easy enough to figure this one out.
Step 7: Step Seven: Electrical
Underfloor Heating Foil / Foil Tape / Simply Aluminum Foil
Electrical Wire 3 prong (I used one from an old appliance I had but I am sure Lowes has them cheap)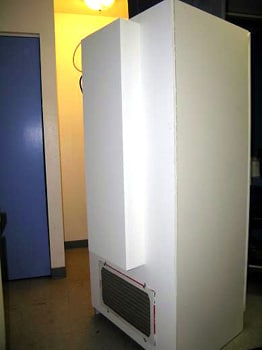 When all was said and done I harvested 264 grams (9.3 ounces).
See Another Stealth Grow Cabinet in Action and Build Your Own!
Sirius: This is definitely an advanced method of creating a grow box, but he makes sure to include a lot of things one needs to consider when creating one, such as ventilation and making sure to leave room for everything you need. Do you have a better/more practical/more efficient design? Let us know so we can share with the world!
Momentarily discouraged, I quickly scrapped the idea of a dedicated room filled to the brim. I began with getting clear about my intentions; I wanted to inconspicuously and autonomously produce my medicine. This was a much more respectable and realistic goal, and one that I could embrace.
We learned above that the cabinet is 24″ deep. Now this Cool Tube was 20″, hardly enough room to attach two 6″ flex ducts for ventilation without having to keep a door open.
Sirius: This is a great point! In any enclosed grow area such as a tent or grow cabinet, it's important to have a larger opening for intake than for exhaust. This will maximize the efficiency of your fan in addition to keeping it working for longer. Plus, this will keep tents from "bowing" in, reducing your grow space.
Important: The opening for your intake hole should be about twice the size of your exhaust hole.
This had been a long-time dream of mine, and I fondly imagined my first harvest, curing my flowers to perfection, and collecting their resin for concentrates. I saw myself carefully journaling their progress, and eventually becoming an expert caretaker of myself and my marijuana garden.
I installed a sealed fan room to house the 6″ inline fan mentioned above. This sat in the top inside of the cabinet, pictured below.
When building your own cannabis indoor grow room, make sure you're taking the appropriate measure so it's solid, steady, and can support the growing equipment and you'll have a fully functional grow room while spending way less than buying one at a grow shop.
A DIY grow room doesn't stay behind a grow tent you would buy at a grow shop if you use good materials and take your time to do it and despite seeming like hard things to do, it is fairly easy.
Despite seeming like a hard task, identifying the circuit is really easy because the circuit breaker panel should have labels on it, helping you identify to which circuit belongs (either master bedroom, room #2, or whatever you wanna call it) and the amperage of said circuit.
After doing some simple math, you've reached a value of 3000W and now you know that, for example, if your light fixture consumes 400W and your exhaust fan 150W, it comes down to a total of 550W and the max wattage for that circuit is 3000W so everything should run smoothly.
7. Light fixture
You'll need 1x1m x 1 and 1x2m x 4 plywood sheets, remember they need to fit perfectly so there are no light leaks and the grow box is as air-tight as it can be.
After you have the structure mounted, you need to cut the plywood to start closing the sides of your grow box.
If you fail to keep air inside, your exhaust fan won't work properly, it won't keep the cannabis smell contained and it will be easier to get bugs.
Light-proof
It doesn't matter if you're buying or building the equipment mentioned above, in both cases, you'll have to make sure that you don't overload the circuit due to all the equipment you'll be using, so you have to be very careful to prevent fires or any other serious problems.
Even though the plastic sheet is waterproof, you will need to coat the inside of the grow tent with a material that reflects light like a mylar sheet or a white plastic sheet.