Once your plant switches to flowering, decrease your nitrogen levels and increase phosphorus levels to help the buds fully develop and become dense. If growing in soil, when switching from vegetative growth to flowering, top dress the soil with bat guano or worm castings as a great way to increase phosphorous levels while you liquid feed your plant other nutrients.
Another tip for growing bigger buds involves regularly feeding compost tea to your soils. Compost teat helps develop healthy mycorrhizal relationships between the soil and mycelium. The more mycelium in the soil, the more nutrients the plant is going to take up, which will result in bigger buds.
If growing outdoors, make sure your pots or trenches are spaced far enough apart so that the sides of the plants can receive full sun. Growing on a south-facing slope will guarantee your plants are receiving as much sun as possible.
Training
Intuitively, you might think that more nodes means more and larger buds, but this is far from the truth. Nodes with buds that are lower down on the plant away from the canopy will try to develop in flowering but will never become fully developed because they do not receive adequate light.
Thankfully, there are a number of ways to improve the size of your buds. Pruning, training, feeding, and lighting are the most common ways to dictate how your plant will develop.
Feeding
If you want to improve the yield of your plant, the best method is to prune away any plant life that isn't receiving quality light. Trim away the buds and foliage that are under the canopy to "lollipop" your plant. This strategy will send all the energy into the canopy where the buds are receiving the most light, thus giving you bigger, denser nugs.
If you want to grow big buds, you need to have big lights. When you identify the highest-quality cannabis in stores or dispensaries, you're looking at cannabis where growers provided optimal indoor and outdoor lighting. You can't cut corners when it comes to properly lighting your grow area. A basic guideline for lights is generally every 100 watts can cover one square foot. For example, a 600-watt light can cover a 6'x6′ area.

However, if you want the female plants in your grow room to flourish, it is essential that you also provide them with a well-balanced mix of micronutrients. Ensure the feeds include sufficient levels of iron, calcium, magnesium, zinc, copper, boron, manganese, and sulfur.
If you are serious about growing marijuana, then cultivating it so it has large buds should be your top priority. Remember, large and healthy buds are filled with THC and other cannabinoid goodness. Therefore, if you want the most potent marijuana, large buds are a must. However, don't assume that you can follow a simple guide and learn how to grow bigger buds quickly and easily.
Growing Bigger Buds – The Essentials
As a bonus, remove dying leaves when the plant reaches the flowering stage. You will spot such leaves due to their yellow hue. These leaves do nothing other than take up resources and energy better spent elsewhere. Don't throw these sugar leaves away, however. They have a high enough THC content to make cannabutter as long as you dry and cure them properly.
Towards the end of the flowering stage, decrease the amount of phosphorus and increase the potassium level during feeding. Potassium is an important macronutrient in the late flowering stage because it is vital for healthy plant metabolism and the formation of a female plant's flowers. A potassium deficiency can slow a cannabis plant's growth, which will naturally affect bud development. Signs that marijuana plants have a potassium deficiency include leaves that are curled with brown tips and edges.
Harvest at the Right Time
Fortunately, there are low-stress training (LST) methods available to train your cannabis plants without cutting. Through LST techniques, you can manipulate your plants to grow wider and flatter instead of them becoming tall and skinny. One of the best LST tactics is to tie down the top branches. This helps the surrounding branches to grow and develop.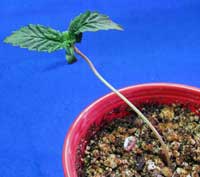 That's because during the flowering stage (when plant start producing buds), higher light intensity is what drives the production of buds. Wait, when does the vegetative stage end?
Tangerine Dream by Barney's Farm – Remarkably Strong
Start With A High-Yielding Strain!