To germinate seeds this way, lay one paper towel on top of a countertop, place a few seeds, and cover them with a second paper towel.
The paper towel method also has its risk, as the fragile seedlings can be damaged during the potting process. The tiny roots can also get tangled in the paper towels, so make sure to move the seeds to potting soil before roots grow too long. Use your hands or tweezers to gently remove each seed from the paper towels and place them in a prepared growing medium.
Germination itself is a crucial aspect of cannabis cultivation. The seed germination process is the foundation of every marijuana plant, and steps can be taken to boost successful popping. For example, some cultivators improve germination attempts by soaking seeds in 1% hydrogen peroxide or a compost tea for 12 hours beforehand to kill any dangerous pests.
Image lightbox
Soil is an easy, more natural method with which to germinate your cannabis seeds because the soil protects the fragile roots from any interference. Photo by: Gina Coleman/Weedmaps
You can also germinate your seeds by placing them in water. It's slightly faster than the soil method, but you need to adjust your environmental factors accordingly. Remember, successfully germinating seeds requires a perfect balance of ideal growing conditions. When germinating in water, seeds need only 24-48 hours to pop their stems, though cultivators can keep them soaking for up to a week as needed. Water germination is faster because the seed gets all the moisture it needs immediately, and the shell softens and cracks more easily after soaking.
Use a spray bottle to moisten the paper towels and then store the cushioned seeds between two plates, under a face-down bowl, or gently place them in a plastic bag. Maintain a temperature of about 72 degrees Fahrenheit, keeping the paper towel wrapped seeds in the dark and away from a windowsill. In two to five days, the seeds will pop inside the paper towel sandwich and emit tiny roots, ready to plant when they reach about five millimeters in length.
Image lightbox
Gently water the soil with a spray bottle and situate your pots under a fluorescent lamp. Keep seeds away from the windowsill, as the temperature is too volatile for germination. In general, you'll want to keep the temperature in the range of 70 to 80 degrees Fahrenheit.
Whether you're planning an indoor cultivation or outdoor grow, it's best to germinate your seeds indoors. It's easier to maintain proper temperature, light exposure, and moisture inside, and you can protect your seeds from the elements. Indoor germination, whether using soil or paper towels, will ensure your cannabis seeds have the best chance for survival.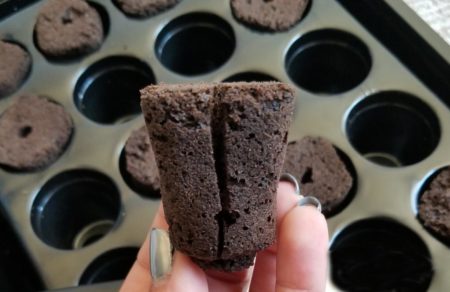 This method is especially effective for seeds which have extra hard shells, or seeds which are older (more than a few years old).
Make sure to keep a close eye on your seedlings to ensure they don't grow too close to the grow lights and burn themselves. Seedlings can grow fast, and many growers have been surprised to find plants have actually grown into the light overnight.
Germination Method 4: Soak Marijuana Seeds in Water Overnight
CFL bulbs (twisty/spiral bulbs as pictured to the right) are a great source of light for young marijuana seedlings
Your cannabis seedlings and clones will definitely survive in a bigger container; they just won't grow as fast for the first few days or weeks because they aren't getting as much oxygen.
How to Plant Your Germinated Cannabis Seeds
Next, the single-finger leaves expand, and the next set is usually 3-finger leaves