Pressure washing the whole patio is a dual-purpose solution. Not only will it remove the weeds from the spaces between the pavers, but it will also provide a deep cleaning to the pavers, making the whole area look like new again. If you are pressure washing, do not simply use a jet nozzle. The water pressure from the nozzle can wash away the sand between the grooves and etch the surface of the pavers themselves. Instead, use a rotating surface cleaner attachment in tandem with the pressure washer.
An alternative to hand-pulling weeds is taking advantage of a mechanical removal solution. Crack scrapers are outfitted with L-shaped blades that pull a weed from the stem, removing the weed at the base of the stem. Normally, this method leaves behind the root, allowing for regrowth. As a result, mechanical removal is a way to temporarily restore the look of the deck or patio, but future mechanical removal sessions will be needed to remove regrowth.
When weeds are already present you have to go from prevention to finding effective remedies for the problem. There are a number of ways you can remove existing weeds from your paver area. A single weed-removal method may not be enough. It may be more effective to combine two or more of these strategies, depending on how severe the weed problem is. Once the problem has been rectified, go back to the prevention methods to keep them away.
White Vinegar
Order Samples For Free. Get 5 free samples. No credit card required. Samples shipped straight to your door. Created with Sketch.
Instead of treating weeds with harsh chemicals, open the pantry and reach for the white vinegar. Pour the vinegar into an empty spray bottle and spray the cracks between the pavers, leaving it to sit and work its way into the sand. When a few hours have passed, rinse away the vinegar with a garden hose. This simple remedy will kill the weeds without damaging the pavers or damaging nearby plants. Vinegar should not discolor pavers but if you have any concerns, do the same process with an inconspicuous test spot before treating the entire area.
Pressure Washing
Installing pavers results in spaces between the bricks or stones. The first step in preventing weeds is ensuring proper installation. A sand bed tightly packed provides a level foundation for the deck or patio. Once all the pavers are in place, additional sands should be packed into the crevices. This sand ensures each paver stays in place and helps prevent weed growth.
Most of the time, weeds to not sprout up from beneath the pavers. They actually start with seeds that settle between the cracks of the pavers on the surface. Seeds need to take root in order to grow. Sweeping your pavers regularly will disrupt the seeds prior to rooting, helping to inhibit weed growth. Sweeping also removes surface dirt and helps to enhance curb appeal by keeping your pavers looking clean.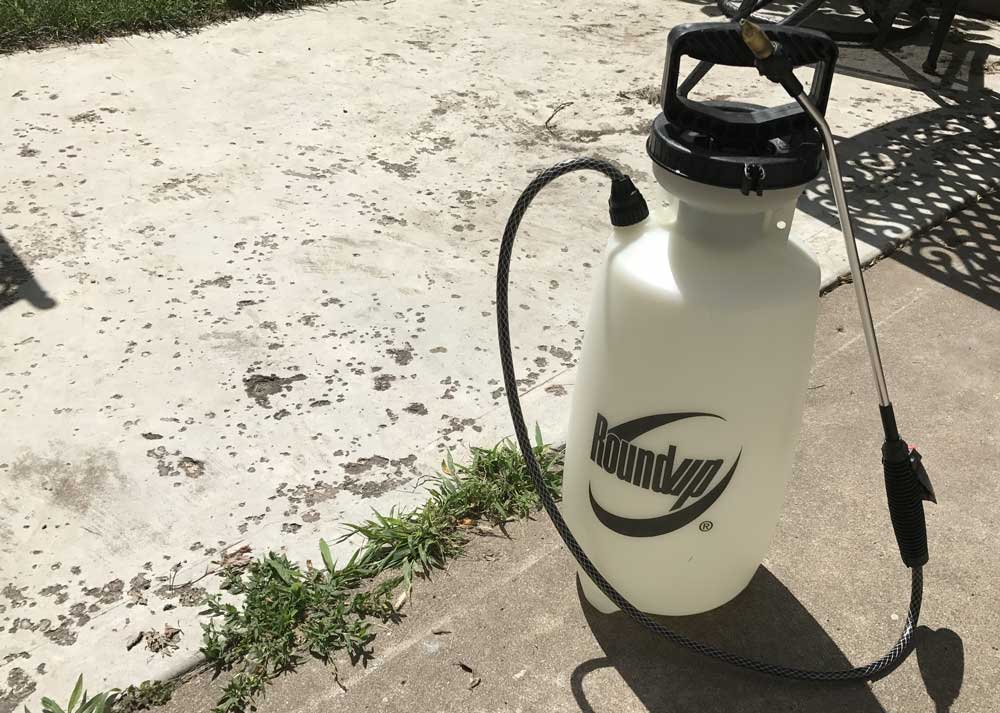 Selective herbicides can be applied to your whole patio because they target just weeds while having little to no effect on the surrounding grass. Non-selective herbicides will kill every type of plant that they touch, so you should only use them in the middle of your paved area.
Post-emergent herbicides work on actively growing weeds and are divided into two categories: selective and non-selective.
Regularly sweeping and maintaining your paved patio will prevent seeds from settling between the stones as well.
Salt is another natural product that you can use to kill weeds. Start by using a 3:1 mixture of water and salt and apply to the area very carefully. Keep in mind that saltwater will also kill other plants, so take care to apply it only to the weeds.
Method #5: Chemical Treatments
Once the larger weeds are removed, pressure wash around the stones.
Because vinegar is harmful to all plants, it should be applied using a spray bottle ad overspray should be controlled. For longer-lasting results, mix 1 gallon of white vinegar, 2 cups of table salt, and 1 tsp of concentrated dish soap and spray on all the weeds and cracks in the patio.
Let's look at a couple of ways to prevent and get rid of weeds on a patio.
Method #4: Pressure Washing
Weeds can grow in even the smallest cracks in a patio if you don't take precautions to prevent them. When you properly install pavers, weeds have a difficult time growing up through the spaces between them.
While it's hard to get rid of weeds on a patio once they've started to grow, you can set yourself up for success when you first install your pavers.

If you already have weed growth between your patio stones, here are some helpful steps:
Despite how determined weeds can be, there are effective solutions that will prevent and deter weeds from growing. Here's how to prevent weed growth between paving stones.
There are few things more frustrating than grass between pavers on your pathway or patio. Not only do they make the surface look untidy, but weeds are also tedious to remove. We'll show you how to prevent weed growth between paving stones.
Properly installed paving stones will not be easily susceptible to weed growth. And while choosing the best materials for your project will help prevent weed growth, weeds are experts in finding places to grow. Even just a couple seedlings can quickly spread throughout your entire patio.
It's important to understand how weeds get in between the paving stones in order to prevent them from growing in the future. Weeds don't grow from the bottom up; they grow when the sand washes out allowing seedlings to fall from the top and into the spaces between your joints.
All the tips listed above will help control and eliminate weed growth. But the best method of prevention is to use properly installed stabilizing sand between your pavers. Stabilizing sand does not allow seedlings to fall between the pavers and grow. To learn more about how EnviroSAND helps deter weed growth watch this video.