Daily we reveive the questions like "what is the best way to germinate" or "how do I start germinating", We know this is for lots of people not an easy thing said…. So we tought to make it as a subject in the next weeks
First of all we want to say there are really a lot of ways to germinate seeds and each one definitely has his/her best way for a 100% succeed …
Germinating with Kitchen paper and tupper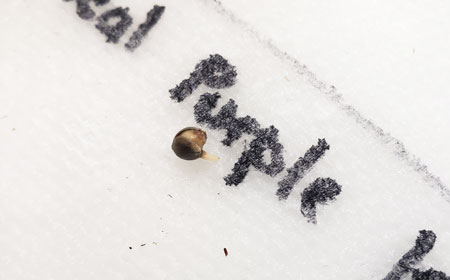 Cut Rapid Rooters in half to make it easier to insert germinated seeds
Plug in your seedling heat mat. It should warm up quickly. I've put the plates directly on the mat before, which worked well, but sometimes I worry my little weed seedlings may get too hot with the plate directly on the mat. Since I already have a Rapid Rooter tray for later, I place it between the mat and the plate. Feel free to use something else like a book or towel. The basic idea is to put some space between the heating mat and the plate so the plate still gets warm but the extra air space keeps the heat nice and even.
The leaves should appear above the Rapid Rooters within a day or two.
4.) Cover with 1 Sheet of Paper Towel
Carefully and slowly remove top paper towel sheet
Seedling heat mat to keep seedlings warm (or any surface that's about 70-85°F or 20-30°C)
2.) Label the Strains
The seedlings are ready to go in plant containers once they've spread out their first set of serrated leaves (to about the width of the Rapid Rooter)
If the seedling has already lost the shell, place the leaves close to the top. These seedlings often grow the fastest.