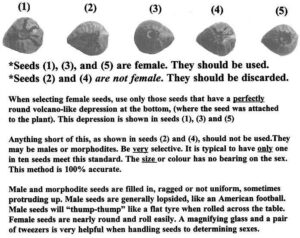 We know that determining the sex of cannabis seeds cannot be done. However, it's unclear as to whether environmental factors have any place in determining the sex of marijuana plants.
Research is carried out all the time to determine if a plant's environment has anything to do with the sex it will turn out to be. And while there's research stating that it does not, there's just as much research stating that certain species do have their sex determined by the environment. This same research also states that using certain chemical treatments can also reverse the sex of a plant.
So where do all the myths from sexing cannabis seeds come from?
Common myths on identifying the sex of a cannabis seed
While environmental factors may not necessarily determine the sex of marijuana plants or cannabis seeds, it is known that certain environments can change the sex of a plant.
This will mostly happen when a plant is stressed by its environment. When this happens, the plant may think it's going to die and as a result, will change itself into a hermaphrodite plant. By doing so, it will be able to self-pollinate itself and survive.
Can you determine the sex of cannabis seeds?
One of the biggest myths of sexing cannabis seeds comes from a popular chart online.
While it would be much easier for growers to be able to sex their cannabis seeds, the simple fact is that there's no way to do it. However, sexing plants early on during their growth period is not only essential, it's completely possible. Growers can even do it before their plants enter the flowering stage if needed. Then male plants can be removed and growers can enjoy a nice, full crop.
Healthy marijuana seeds are dark brown, black, or some combination of both. We'd recommend you don't use green seeds. Green seeds usually aren't yet mature enough to sprout. Both bigger and smaller seeds will work. Indica seeds tend to be bigger-sized than sativa seeds. Another way indica and sativa seeds differ is in their patterns. Seeds that are brown and black are most likely indica, while the seeds that are a single color are generally sativa.
So you've decided you want to grow cannabis. One of the most important and earliest decisions you'll make is which seeds to use. A good seed contains the essential ingredients for a healthy, potent plant. Learning how to choose cannabis seeds doesn't have to be complicated – learn the basic facts here.
Choose Your Benefits
Don't get overwhelmed. There are a lot of options when it comes how to choose cannabis seeds! The best way to learn is just to get started.
Seeds should be kept in a cool, dark, dry place. Do not expose seeds to sunlight or they may sprout. Do not expose seeds to moisture or they may sprout as well. Seeds should be stored at room temperature. Exposing the seeds to extreme cold or heat could damage the seed so that it can never be used.
How to Choose Cannabis Seeds: Buy or Grow?
Cannabis sativa plants will grow tall and thin. They take longer to mature than indica plants. Sativa plants tend to have bigger yields than indica plants. Indica plants are shorter and more bush-shaped and tend to produce fewer buds than sativa plants.
Female plants are basically what everyone is after when growing cannabis, as these are the ones that make buds, which is the part of the plant that contains the most THC. With just one male plant and a miniscule amount of pollen, your plants might end up filling their flowers with seeds. If you have male and female plants in the same growing area, the buds grown there will only produce seeds so you won't be able to smoke any of it. You can tell females apart due to the fact that their flowers don't fully close, they're actually quite open and they produce little hairs called pistils. They're incredibly easy to recognize, as the first thing they produce are their pistils, which male plants do not have at all.
Male plants essentially produce pollen which is needed for cannabis plants to naturally reproduce; seeds occur when there are male plants in the mix. If you want to make your own seeds you will need a male plant However, if you're growing regular plants and want to harvest flowers, we recommend getting rid of any males as soon as possible. You won't be able to tell them apart until they begin to flower, which is when plants begin to show their sex. Male weed plants grow "balls" that open up to let their pollen out, ending up looking like a small bunch of flowers. You'll need to get rid of them way before this happens. If they manage to release their pollen it'll be too late. They can take up to three weeks to burst. If you're still not sure how to tell them apart, male flowers do not have any pistils on them at all.
Hermaphrodites are a type of plant that contains both male and female flowers, so they will produce buds but they will also pollinate those buds and the rest of your plants. Plants may naturally become hermaphrodites or be turned into one due to stress. Both female and male plants can turn. Thai strains are more genetically inclined to become hermaphrodites, although any strain can turn when stressed enough. There are many factors that can stress out your plants and end up turning them, such as extra light when they're supposed to be in the night cycle, too much or not enough water, certain insects or pathogens, watering with cold water, or even a badly done transplant. Hermaphrodites aren't the best type of plants to keep around, as they can produce buds but it's definitely a risk because they might pollinate the rest of your plants. We recommend getting rid of them; it's not worth it just for a little bit more weed.
Cannabis plants have evolved enormously over the past couple of decades, mainly thanks to human kind. We've spent years combining different species from all over the planet. Every strain has its own specific characteristics, such as structure, type of buds, flavor and effects. When you combine male and female weed plants that are different strains, the new creation takes on characteristics from both, allowing us to create totally new plants.
Female Cannabis
One of the biggest evolutions has been the appearance of feminized plants; after years and years of work, cannabis plants can be created to have a 99% chance to be female. You need to know how to tell male from female plants when growing regular seeds, as you'll only get actual psychoactive weed from the female flowers. Male plants pollinate female plants, which fills their flowers up with seeds so if you're looking to make the most of your plants you'll want to keep them away from each other. Hopefully we can help you to tell the difference between male and female weed plants by the end of this article; it's not that hard, but if it's not explained correctly it can be a bit confusing.
It may seem confusing, but it really isn't hard to tell male and female weed plants apart; they are quite different. Planting regular seeds has its benefits, as well as feminized has its inconveniences; you can get much larger yields with feminized plants as you're guaranteed no male plants. Although, keep in mind that feminized seeds haven't been through a 100% natural process to become female, which may affect the quality of your weed. This is why many cannabis connoisseurs haven't made the leap from regular to feminized yet; they prefer to harvest slightly less yield that's more potent and delicious.
Male Cannabis