Now bury so the base of its stalk is level with the topsoil. Give it a watering to set the roots in the ground, then hold off watering until you pick up the pot and it feels light in weight.
Marijuana seedlings require a medium amount of light — enough to get energy to grow, but not too much light that to get burned. Leaving your seedling in direct sunlight will cause the leaves to curl, while too little light will cause the seedling to stretch. If growing outside, seedlings want to see a direct light source to stop them stretching. If inside, a sunny windowsill with more than half a day of sunlight works wonders. Otherwise, 24 to 30 inches from a grow light is an excellent supplement. Your seedling should not stretch more than 6 inches at most.
Our favorite thing about growing your own weed starting from a seed , rather than a clone, is that you get to see the full life cycle and enjoy a plant that is unique, just like you. An entirely new genetic makeup will enter the world for the first time, and if you're lucky, something remarkable might be born.
Growing your own cannabis plant starting from seed is a remarkable journey. Understanding the biology of the plant is one thing, but comprehending how a little miracle bean can turn into a gigantic tree producing flowers that can affect your body and mind is nothing short of an evolutionary miracle. Or rather a co-evolutionary story of plant and human.
6) First Cannabis Seedling Leaves & Hardening Off
Dig a small hole in your bigger pot for the seedling, sprinkle some rooting booster in the bottom of the hole then carefully plant the whole seedling pellet holding your weed baby.
This is considered your marijuana plant's vegetive stage. The goal in this stage is to keep her healthy and allow the plant to grow as big and strong as possible so that she can hold many, many flowers.
The first set of leaves to come above ground are called the cotyledons . These little leaves are packed with energy and will grow to about 1/4 in in size before eventually falling off. Your second leaves to emerge will be single blades and will be serrated, looking like regular pot leaves.

Avoid Common Mistakes
About 10 days after germination, when the baby cannabis plant has hardened off, roots will start emerging from the bottom of your seedling pellet and the plant is ready to be transplanted into a bigger pot. Be very careful not to damage the roots during this stage. Any stress will slow its growth.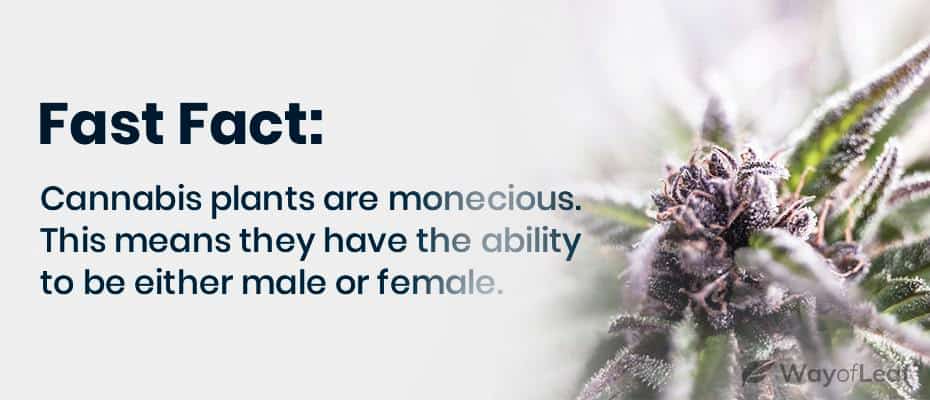 Regardless, the small seed of the marijuana plant is born, and it managed to make its way into your bud.
EDITOR'S CHOICE – Homegrown CannabisCo
However, sometimes a marijuana plant is harvested just a bit too late. Perhaps it got the chance to develop a bit longer than it would normally, or maybe the grower was just trying something new.
What Do the Seeds Look Like?
Take a look at your seed and make sure it's the right color. It should be brown and entirely whole, not split apart or otherwise damaged.
These are referred to as "bagseeds" and whether or not you can grow one will depend on where it came from.
In commercial cannabis production, generally, growers will plant many seeds of one strain and choose the best plant. They will then take clones from that individual plant, which allows for consistent genetics for mass production.
Check out Johanna's full video series on how to grow weed on Leafly's YouTube .
Cannabis used for hemp production has been selected for other traits, including a low THC content, so as to comply with the 2018 Farm Bill. Consequently, many varieties of hemp produce significant quantities of CBD.
Can I grow a seed I found in a bag of weed?
A lot of classic weed strains that have been around for a while come in feminized form. Some popular fem seeds are:
If cannabis is legal in your state, you can buy seeds or clones from a local dispensary, or online through various seed banks.
Even if your seed sprouts fast and grows vigorously, it still has roughly a 50/50 chance of being female and producing buds, instead of turning out to be a male.
Cannabis seeds vs. clones
Also, buying from a reputable breeder or seed bank will give you a sense of what a particular strain will look and smell like, how it will grow, and how much it will yield at harvest.
Keep a close eye on the temperature and moisture level of the soil to keep the seed happy. It's very delicate at this stage. Use a spray bottle to water it—over-watering can suffocate and kill the delicate sprout.