With the tent height maxing out at 48", plants grown in this space should not exceed 24" in height and we recommend using dwarf, indica, and auto-flowering varieties for best results.
The "Standard Grow" is designed to be a fully comprehensive cannabis cultivation and propagation system, offering an all-inclusive perpetual grow space packed into a 4×5' build. For just under $1,000, you get a 3-chambered, 3-light tent with a full air filtration system, automation and metering included.
Grow room components:
The 4×4' main tent is powered by a 630w CMH light and the 1×4' two-tiered tent extension is built out with two 4-bulb t5 fluorescent light fixtures. Complete with four fans, two dual outlet timers, and adjustable intake/exhaust components, this 80" tent supports even the most ambitious of grows.
All of the hardware used for each project can be ordered online or bought at a local hardware store or grow shop.
Supply list:
Unlike the Nano Grow, this build contains a complete ventilation system designed to filter and exhaust hot air while simultaneously bringing in clean, cool air. Additionally, the timer has been upgraded to the dual-outlet digital model for controlling both the light and carbon filter exhaust system. A variable speed vent fan controller is also added for maximum climate control.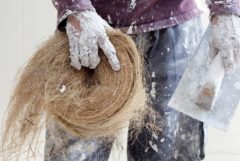 If you would prefer to invest in something more expensive in order to secure functioning hardware that will not need replacing or upgrading for several seasons, LED (Light-Emitting Diode) lamps are a good way to achieve long-term savings. But beware! In this case, cheap is not necessarily a wise option. Read plenty of customer reviews before making your choice
Indoor growing relies on providing plants with light from artificial sources. There are several types of grow lamps available to choose from. Here is what you need to keep in mind before you make your choice.
Choosing to switch from outdoor growing to a basic indoor grow setup is quite the milestone for a cannabis user. Indeed, growing outdoors – a popular choice for many – can be fairly easy if the weather is not too demanding: throw germinated seeds in some soil, water, harvest, dry, consume, repeat. This is why growers can feel overwhelmed by the difficulties that seemingly go hand in hand with indoor growing.
2. Choose your type of indoor lighting
But what if 7 of them do, and your bathtub really is a shower cabin that can barely contain you? The cannabis community is all about sharing, and surely, someone can babysit any extra female plant you find yourself with. But if you want to keep a few seeds for next year, invest in Big Bud Feminized instead. And in general, opt for feminized seeds or automatic seeds in order to control the number of fully grown plants you will end up fostering.
But don't take our word for it! Click here for detailed technical information about the different types of lighting.
If you want your installation to remain basic, you will need to find a space that is not too restricted. For those who don't have much of a choice, there are options such as Screen of Green, Sea of Green and other micro grows, but those require somewhat advanced, possibly pricey hardware, in addition to potentially being time-consuming. And that's not what we're about here! So what should your priorities be?
Related post
Many a grower uses CFL or MH lamps during the vegetation period, and HPS lamps during the flowering period. This is a sound choice if your budget allows it. If it doesn't, cater your hardware purchase for the flowering period, and use it during your plants' entire lifecycle.
Assess to which extent your plants are going to grow, at least approximately. This will depend on which cannabis strain you have chosen, as well as on the care you plan on giving them. Whichever spot you have in mind needs to accommodate your plants in their final form, that is, fully grown, in height and in width.