Now comes the tricky part: Figuring out when is the right time to harvest! You will have to keep a close eye on your plants to determine when it's the right time to reap them. Your timing can affect the smell, taste, weight, and potency of the final product.
Invest in some delicate scissors – not the same ones you used to cut the plants down. It's also a good idea to grab a chair because you could be here a while! Wet pruning will also require gardening gloves because the plants will be sticky.
After cutting down the plants, it's time to prune them. This process ensures you will have rounded and smokable bud. You can perform wet or dry pruning. The general consensus is that the former method is easier. When the plants are dry, the leaves curl in on themselves, and it's harder to perform the task at hand.
5. When to Harvest Marijuana
And then there are other states, in which recreational marijuana is legal. In fact, Colorado, Alaska, Massachusetts, and Maine make no distinction between medicinal grows and legal grows. In other words, any adult of legal age can cultivate marijuana in their home, but there are limits as to how many plants you can have.
By the time the vegetative stage comes round, you should have transferred the plants to larger pots. At this point, they will be growing rapidly as they take on more nutrients and carbon dioxide. This allows them to develop leaves and take shape very quickly.
7. Preparing for Next Season's Cycle
During this time, the plant will also start developing its root system. While this is happening, it is officially a seedling. Pot plants can stay in the seedling stage for 2-3 weeks, but this stage may last for up to 6 weeks in rarer cases. The length of time can vary depending on the strain you're growing and a few environmental factors.
A good trick is to look closely at the pistils. When they begin to turn brown, and the leaves start to yellow, now is the time to harvest. Generally, experts say you should harvest the plants when 70-90% of the pistils have browned. If the pistils are entirely brown, the marijuana may be 'overripe' – it won't taste good, and its effects will be less pleasant.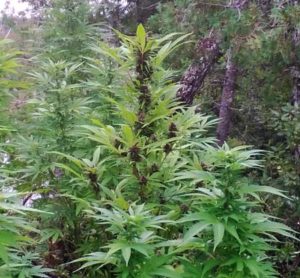 Total post-harvest time needed: 2.5 weeks – 1.5+ months
Curing: 2 weeks – 1+ months
Curing really seems to make the effects of buds feel less 'speedy' and be better suited to medical applications like treating anxiety, reducing pain, and improving feelings of depression.
The size your plant achieves in the vegetative stage has a very large effect on your final yields since bigger plants produce more bud sites than smaller plants. However, you need enough light to cover all the bud sites or they will never develop properly. Light is like food for bud growth!
Here's a list of some of my favorite and best cannabis strains by the length of the flowering period:
Time Needed to Grow Weed, From Seedling to Harvest
When you start with a seed, even with an auto-flowering plant, you will always have at least 3-4 weeks of vegetative growth before any buds start forming no matter what you do. Growers generally allow their plants to stay in the vegetative stage from a few weeks to a few months.
This marijuana plant spent about 6 weeks in the vegetative stage before being changed over to flowering and yielded just over 6 ounces at harvest. View the complete grow journal with instructions on how to grow your plant so it looks just like this at harvest!
This human-sized plant (one of my very first plants) spent a little more than 3 months in the vegetative stage before I realized I needed to turn it over to the flowering stage. It then spent another 12 weeks in the flowering stage before it was ready to harvest because it was a long-flowering strain. It got way too tall for its space (taller than me!) and started falling over. However, despite the huge size and more than 5 months of growth, it only ended up yielding about 6 ounces. This is because it was under weak CFL grow lights. Though there were a lot of buds, the lack of strong light made them airy, without a lot of weight. Click the picture for a close-up.
Before You Start Growing Weed
Get seeds or clones: 0-4 weeks:
If you've found seeds in your bud or have instant access to genetics (like knowing a grower or buying seeds/clones locally), you're already good to go. If you order from a seed bank overseas (especially US residents), expect to wait 1-4+ weeks to get seeds. Shipping time depends on the shipper and how fast the mail gets delivered. Sometimes seeds get caught up in customs for weeks. Make sure to always order from a trustworthy vendor.
Additionally, for at least the first time you grow, you also need to consider the time needed to get your equipment and seeds/clones.