MiracleGro is used to help houseplants and gardens by providing additional nutrients that soil naturally loses over time. In doing so, MiracleGro boosts the growth rate of plants as it provides the material needed in the production of new cell structures.
EDITOR'S CHOICE – Homegrown CannabisCo
If you are looking to grow your own cannabis plants, it makes sense you want to give your babies every possible benefit. Just like parents with their children, your plants quickly become your pride and joy, which you want to see grow big and strong. As such, you may be tempted to use a little MiracleGro to lend a boost. After all, it's bound to help. It's in the name, right?
What Is MiracleGro?
One of the greatest pleasures in the world of marijuana is growing your own plant. Starting with just a bunch of seed or a clipping and nurturing it right through to the flowering stage gives a joy that can't quite be replicated any other way. The resulting crops most definitely smell and taste that little bit better as a result of your hard work. Who knows, perhaps they even get you a little higher, too.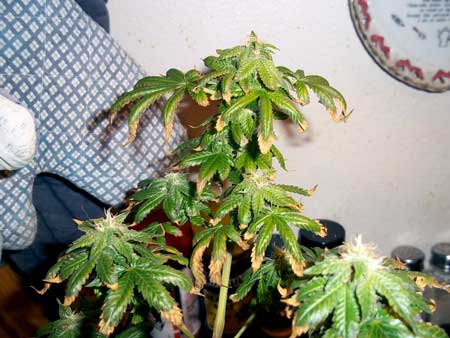 What's worse than the standard Miracle-Gro nutrients is the original Miracle-Gro soil. Standard Miracle-Gro soil has "time-released" nutrients which contain high levels of nitrogen. While this formula will work okay in the cannabis vegetative stage (the first stage of life), the nutrients will continue to be slowly released throughout the plant's life including during the cannabis flowering stage, which is not good.
Important: Do not use "Miracle Gro" soil or any soil that has "extended release" nutrients. These types of soil will continue to release nitrogen to your plant roots for up to 6 months. This can burn your cannabis plants in the flowering/budding stage and reduce your overall yields.
Many of us have grown up seeing Miracle-Gro being used in our homes, so we know that it works for 'regular houseplants'. Cannabis is just a tough weed, so Miracle-Gro should be great for it, right?
Avoid Miracle-Gro Soil for Growing Weed!
Miracle-Gro Slow Release Soil is Not Suited to Growing Marijuana!
Standard Miracle Gro nutrients contain too much nitrogen and not enough of other nutrients for your cannabis flowering stage, and as a result of the time-released nutrients, you will notice that your leaves in the flowering stage will get nutrient burn and your buds just won't grow as big as they could. Learn what you can do to make sure buds grow as big as possible!
The biggest problem with the standard Miracle-Gro nutrient formula is that it's one formula for the entirety of the plant's life cycle. Even if the standard Miracle-Gro plant food is decent for the first stage of your plant's growth, it won't be good for the budding/flowering phase. The ratio of nutrients your plants need changes drastically between seedling and full flower. Marijuana grows best with a nutrient system that accommodates their changing nutrient needs.