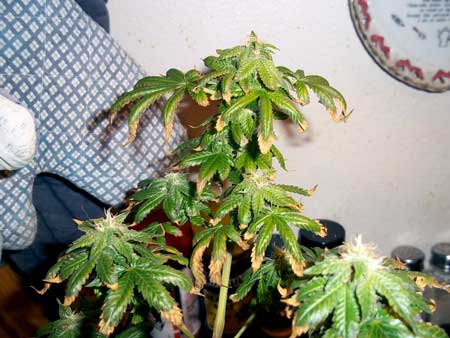 Standard Miracle Gro nutrients contain too much nitrogen and not enough of other nutrients for your cannabis flowering stage, and as a result of the time-released nutrients, you will notice that your leaves in the flowering stage will get nutrient burn and your buds just won't grow as big as they could. Learn what you can do to make sure buds grow as big as possible!
There's nothing inherently wrong with Miracle-Gro nutrients, and if you're willing to learn about nutrients, you can use the various different formulas and get a cannabis plant to grow. For example if you're using regular soil, you could use the standard Miracle-Gro formula for vegetative, and their "bloom" version for the cannabis flowering stage.
Miracle-Gro Slow Release Soil is Not Suited to Growing Marijuana!
What's worse than the standard Miracle-Gro nutrients is the original Miracle-Gro soil. Standard Miracle-Gro soil has "time-released" nutrients which contain high levels of nitrogen. While this formula will work okay in the cannabis vegetative stage (the first stage of life), the nutrients will continue to be slowly released throughout the plant's life including during the cannabis flowering stage, which is not good.
Important: Do not use "Miracle Gro" soil or any soil that has "extended release" nutrients. These types of soil will continue to release nitrogen to your plant roots for up to 6 months. This can burn your cannabis plants in the flowering/budding stage and reduce your overall yields.
Avoid Miracle-Gro Soil for Growing Weed!
The biggest problem with the standard Miracle-Gro nutrient formula is that it's one formula for the entirety of the plant's life cycle. Even if the standard Miracle-Gro plant food is decent for the first stage of your plant's growth, it won't be good for the budding/flowering phase. The ratio of nutrients your plants need changes drastically between seedling and full flower. Marijuana grows best with a nutrient system that accommodates their changing nutrient needs.
Many of us have grown up seeing Miracle-Gro being used in our homes, so we know that it works for 'regular houseplants'. Cannabis is just a tough weed, so Miracle-Gro should be great for it, right?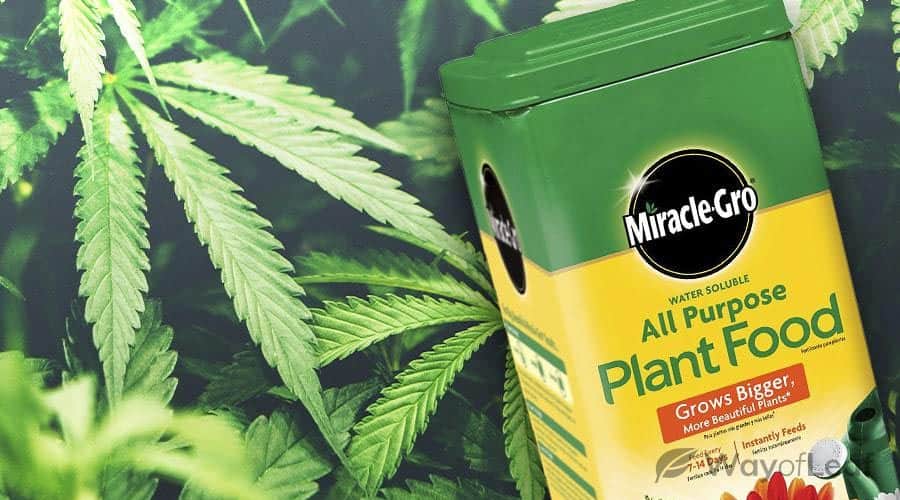 When choosing the right fertilizer for your marijuana plant, do a little research online and find a more suitable one, such as the ones we mentioned above. Keep away from MiracleGro!
One of the greatest pleasures in the world of marijuana is growing your own plant. Starting with just a bunch of seed or a clipping and nurturing it right through to the flowering stage gives a joy that can't quite be replicated any other way. The resulting crops most definitely smell and taste that little bit better as a result of your hard work. Who knows, perhaps they even get you a little higher, too.
If you don't fancy the D.I.Y method, there are plenty of other options out there. Some of the best on the market are:
Due to all of this, it would make sense to think that MiracleGro would help with the cultivation of marijuana plants. Is this the case, though? We find out in the next section.
Final Thoughts on Using MiracleGro When Growing Marijuana
What do you think of using MiracleGro to fertilize cannabis? Are you one of the few who have used it successfully? Do you have a better fertilizer not mentioned here? We'd love to hear about it in the comments below.
You can minimize the use of fertilizers in marijuana cultivation to a point by picking breeds with strong genetics and utilizing as perfect a growing environment as possible. Despite this, you will most likely need some fertilizer at some point, especially when you are just starting out.
MiracleGro is used to help houseplants and gardens by providing additional nutrients that soil naturally loses over time. In doing so, MiracleGro boosts the growth rate of plants as it provides the material needed in the production of new cell structures.
What Is MiracleGro?
MiracleGro works wonders for plants with simple grow-cycles. Marijuana is not one of these plants. Cannabis goes through several different stages, and each requires its own blend of nutrients. This is one of the reasons why growing marijuana is so fulfilling. It offers even the most experienced of horticulturists a new challenge.
The fertilizer contains mainly nitrogen, potassium, and phosphorus, and there are different options with different combinations of the three available.
MG potting mix is fine for growing. If you are used to it you will not like their MG moisture control soil. Water seems to run right off.
WARNING — I have twice lost seedlings because the emerging plant got trapped in the soil by a large chunk of wood in the potting mix.
I run the MG potting mix through a screen that filters out the larger chunks of wood in the soil. Also, twice in 2 years I have had some kind of vine-looking
thing growing in my pot along with the bean. Something that came in the soil and grew. Watch for that. I sent a note telling the MG people and they sent me a check for $10.24.