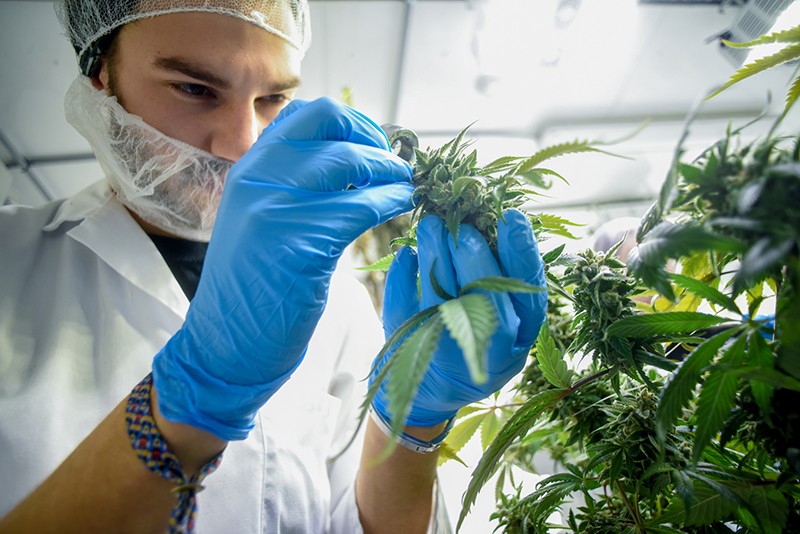 Such labs are beginning to adopt standardized tests for potency and purity using gas chromatography and high-performance liquid chromatography. They are also developing methods to identify and measure levels of THC and other cannabinoids, as well as contaminants such as heavy metals and pesticide residues. "These aren't necessarily new tests that have been created for this industry, but the type that had to be applied for this product," says Brauninger.
And not all analytical labs are up to the job. Roger Brauninger, biosafety programme manager at the American Association for Laboratory Accreditation (A2LA), a non-profit organization in Frederick, Maryland, says that although US states introduced requirements for external testing as medical or recreational cannabis became legalized, there was rarely any infrastructure or expertise in place to facilitate a professional testing regime. Even the most established labs, located in California, have only been around since the mid-2000s — despite the state legalizing the medical use of cannabis in 1996.
To run these advanced facilities, cannabis companies need researchers who are experienced in plant science, microbiology, chemistry and other scientific disciplines — and they are turning to academia to find them. "Instead of underground growers, they are hiring lots of university-educated and trained people," says Zheng.
Many of the challenges of large-scale cannabis production can be solved by drawing on the experience of the commercial greenhouse industry, says Zheng. Growing crops commercially requires a homogenous soil and consistent irrigation. Small variations can mean that parts of the crop dry out at different rates, which leads to the spread of pathogenic agents and root rot, and to an inconsistent product. But the tomato industry, for example, has experience of growing tens to hundreds of hectares of produce at a time, and that expertise can be transferred easily to cannabis growers, says Zheng.
Testing, testing
Zheng's laboratory is one of many that are working with cannabis producers to support and guide this effort. He is studying how the amount and wavelength of light used in growing can affect the plant's cannabinoid composition. Increasing the amount of ultraviolet light, for example, can increase levels of tetrahydrocannabinol (THC), the main psychoactive component of cannabis. "We want to create a lighting recipe which will help producers get a consistent product," he says.
Brian Owens is a freelance journalist in St Stephen, New Brunswick, Canada.
Besides the challenges of growing a sufficient amount of high-quality cannabis for a rapidly growing market, cannabis companies have to deal with something that illegal growers do not — government regulation.
The large-scale, controlled environment enables Organigram to conduct systematic, controlled trials and to produce huge amounts of data — with 5 cycles of growth per year in each of the growing rooms, it can generate more than 250 generations' worth of growing data each year, says Purcell. The company can use those data to determine what works best for the plants, and then replicate those conditions at scale. "That's the big difference with the black market," he says. "When you scale up, you have to take a data-driven approach."
You can also search for this author in PubMed Google Scholar
Real estate costs are soaring, so optimizing space can have a huge impact on your bottom line. This indoor cannabis grow uses Spacesaver's ActivRAC® Mobilized Storage System to gain higher yields and streamline workflows, without having to build expensive additions or construct a new facility.
Beyond real estate expenses, the growers have to keep the air inside the building controlled for temperature and humidity. The larger the facility, the higher the costs, so saving space is important.
Auto-flowering seeds begin to flower on their own – no adjustments to light cycles necessary. These plants tend to be smaller as a result, but yields are comparable to those of regular and feminized seeds.
The most important consideration in evaluating a potential grow space is ensuring proper ventilation for your crops. Cannabis plants require a lot of light, which typically emit a tremendous amount of heat. Without proper ventilation and air exchange, producers risk cooking their crop or limiting yields due to excess humidity, heat, or oxygen. Greenhouse-specific HVAC systems exist for closed greenhouse schemes and help producers program hyper-accurate climate control systems to ensure the facility maintains ideal growth conditions.
Fortunately, the climate of the Pacific Northwest lends itself very well to outdoor cannabis production. In fact, some rural areas of Washington and Oregon with agricultural backgrounds have found cannabis to be an easy to maintain, financially lucrative cash crop. Because cannabis roots can expand exponentially, outdoor growers can reap a far greater harvest by allowing their plants to grow to 10 feet tall or higher, uninhibited by artificial lighting or ceilings. Cannabis makes an excellent cover crop, allowing ample space on the surface for smaller crops like tomatoes, carrots, and lettuce to grow with an extra layer of protection above.
While some high-end growers are switching to permeable concrete to facilitate natural water recycling, it's not a bad idea to use wooden pallets or plastic, grated platforms as the floor of your grow tent to help with runoff or collect for recycling.
Choosing and Promoting Cannabis Products
This is a troubling insight for those who depend on cannabis for medicinal purposes. Because individuals may not receive the intended reaction to treat their medical condition as a result of consuming improperly labelled cannabis products.
In Washington State, outdoor cannabis production facilities must be established in an open expanse enclosed by a physical barrier or a sight obscure wall at least eight feet high. In Colorado, producers are prohibited from growing cannabis outside of a secured, enclosed location – including high fences and semi-permeable roofing.
There are already private projects invested in researching the most affordable methods of growing and distributing recreational cannabis in the U.S. An effort to evaluate the cannabis industry's LED lighting requirements and help improve efficiency estimates the best and most valuable techniques for optimization are not yet public – thanks largely to the "behind closed doors" nature of the industry from a historical perspective. But early reports from first-generation growers in Colorado and Washington suggest that those invested in sustainable energy solutions benefited most from sales in the first fiscal year of legalization, whereas those growing in indoor warehouses made up about one-third of the industry's first year of legal energy consumption.
Can I add my own grow lights and horizontal air flow fans (HAF fans), wet wall system, etc?
Some small businesses in Denver are trying a new approach to reducing carbon emissions through capturing carbon dioxide produced by beer fermentation and recycling in it for use in cannabis operations.
In Washington, state laws require the following minimum security solutions for all cannabis licensees: