The weed business is still very iffy—apart from financing problems, you can't transport cannabis across states because of its status as a Schedule 1 drug, and there are numerous obstacles to entry, such as obtaining one of the limited number of licenses available in any given state. "It's not for the faint of heart," says Tim Keogh, president and CEO of AmeriCann.
California is at the forefront of the US medical marijuana industry, and weed's positive impact on the state's economy has been huge, generating $2.8 billion in 2015, with $6.5 billion annually expected by 2020.
In March of 2017, construction is slated to begin on a 53-acre tract in Freetown, originally intended to be a Boston Beer Company brewery and acquired by AmeriCann this fall for $4.475 million.
The canna-business park will be 1 million sq ft and include energy-efficient greenhouses for cultivation, plant processing spaces, facilities for creating infused products, a testing laboratory, research and training centers, and corporate offices. Space will be sold or leased to businesses registered under the Massachusetts Medical Marijuana Program, and AmeriCann has a Host Community Agreement from Freetown that will enable businesses in the park to get streamlined preferential licensing. AmeriCann said in a statement that it "will set a new cannabis industry standard for energy efficiency, cost control, clean cultivation practices, and the production of Nutraceutical-grade infused products for the patients of Massachusetts."
But it's going to be eclipsed in size before long.
Large-scale projects are few and far between. It's difficult to get financing to go into a business that is still illegal federally, so big marijuana projects—while potentially profitable—are shirked by the corporations most likely to be interested in this new industry; Big Tobacco and Big Pharma aren't transforming into Big Pot yet.
The state's largest grow facility was announced in June 2016 by GFarms, and is slated to be built in the town of Desert Hot Springs, which declared itself insolvent in 2014 and is now experiencing a real estate boom thanks to the marijuana industry. The GFarms facility will be 100,000 square feet and consist of three greenhouses on seven acres.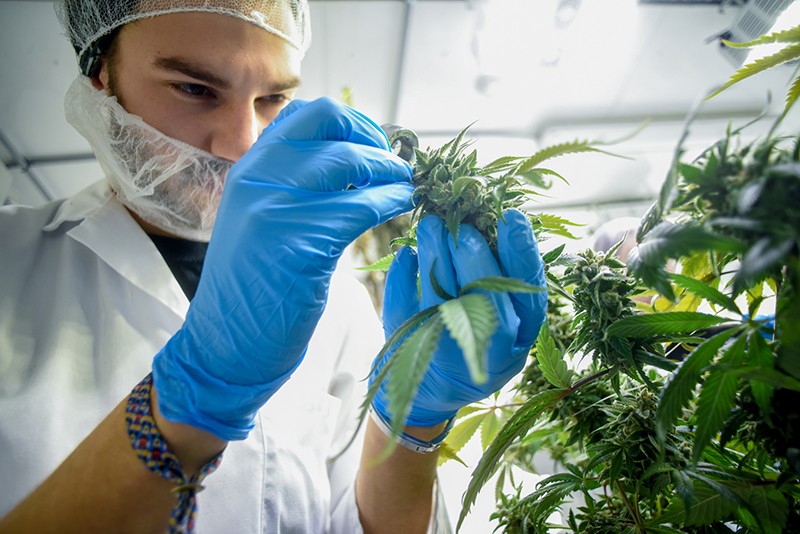 Cannabis analytical labs are becoming more professional. "I've seen an evolution in the sophistication of the industry," Brauninger says. "Most of the people running labs now have PhDs and experience in the pharmaceutical industry. It's light years more sophisticated than five or six years ago."
For years, the popular image of cannabis growers has been scruffy hippies getting high on their own supply in a disorganized underground economy, rather than shiny white industrial agriculture facilities. Even larger-scale operations involved minimal quality control or lacked formal record keeping.
The large-scale, controlled environment enables Organigram to conduct systematic, controlled trials and to produce huge amounts of data — with 5 cycles of growth per year in each of the growing rooms, it can generate more than 250 generations' worth of growing data each year, says Purcell. The company can use those data to determine what works best for the plants, and then replicate those conditions at scale. "That's the big difference with the black market," he says. "When you scale up, you have to take a data-driven approach."
A student inspects a cannabis plant at Niagara College Canada's teaching laboratory in Niagara-on-the-Lake, Canada. Credit: Niagara College
Testing, testing
But as legal medical — and increasingly, recreational — cannabis becomes more widespread, the cannabis industry is becoming more professional. By adopting the methods and rigour of plant science and analytical chemistry, it is ensuring that it can produce safe, consistent and high-quality products for a fast-growing and lucrative market.
"For a product to be sold in most US states, it has to be tested externally," says Jahan Marcu, director of experimental pharmacology and behavioral research at the International Research Center on Cannabis and Mental Health in New York City.
Brian Owens is a freelance journalist in St Stephen, New Brunswick, Canada.
Nature 572, S10-S11 (2019)
"As the industry has gotten bigger, they realized they must transition to use modern horticultural science," says Youbin Zheng, a horticulture researcher at the University of Guelph, Canada, who works with cannabis companies.
The state licensing authority was suddenly deluged with applications for sites in Santa Barbara County — many filed by companies from Northern California and Los Angeles. All claimed they had been growing in Santa Barbara since January 2016.
Another grow, a 30-acre greenhouse complex north of Buellton, had more than 600,000 plants before it was raided for reasons the Sheriff's Department would not reveal.
The move would have put half the cost of county staff time — as much as $14,000 for a single appeal — on the grower and half on the person making the appeal.
Farmers closest to cannabis came to realize they can no longer spray pesticides without fear of being held liable for contaminating neighboring cannabis grows. By law, marijuana must be destroyed if it tests positive for pesticide.
A review of the sites on Google Earth confirms his observation that many farms were not there when the affidavits said they were, including one operated by a member of the county agricultural advisory board, John De Friel, who is applying for permits to grow 83 acres this year. De Friel did not respond to requests for comment.