Forgetting to Adjust the Lights
Many people forget to adjust the height of the lights as the plants grow bigger and end up with burnt leaves. Another important thing is to occasionally rotate the pots in order to prevent the plants from leaning towards the light too much.
Not Considering the Other Factors
LED grow lights are a great aid when growing plants indoors but by themselves they cannot do much. In order to produce big and healthy yields there are a lot of factors that need to be considered – room temperature, airflow circulation, soil, nutrients, plant genetics, and many others things. Don't just focus on a single part of the growing process. Instead, try to get an overall understanding of the whole chain and how everything is interconnected.
Using Inferior Products
Light is among the most vital factors to consider when growing plants because it triggers the photosynthesis process. If you're using regular incandescent lights, you're not very likely to grow strong and healthy plants. Therefore, for best results it is recommended that you use full spectrum LED grow lights. They are specifically designed for the purpose and have the feature to deliver light in the exact spectrum the plant needs.
Setting the Lamps at an Improper Distance
Overheating or insufficient lighting can result from having too many or not enough lights, but it can also result from placing the lights too close or too far from the plants. There is no universal rule for setting the distance but it's recommended that LEDs are placed 12 to 18 inches away from the plants.
These issues can be related to improper usage of lighting. (The same issues affect other types of plants as well.) Grow lights are a great tool for making the growing process more efficient, but they can also be harmful to the plant if not used correctly.
Grow lights are a great tool for making the growing process more efficient, but they can also be harmful to the plant if not used correctly. Here are 10 things you should avoid doing when using LED and other types of grow lights.
Providing Insufficient Lighting
It is important to consider the scale of your operations. Think about how many plants you're growing and how many LED lights you'll need in order to illuminate them properly. You should also be aware of the luminosity of the lights you're using. For example, a 200W LED light is said to be sufficient for a yield of about 100 grams. Make sure that you have enough lamps but still look for a good balance between providing sufficient lighting and not overdoing it.
For people who use cannabis derived products on a regular basis, it is very tempting to try growing the plant at home. The benefits are quite obvious: the cost is drastically lower and there aren't any hassles related to the actual purchase of medical marijuana.
Many people all around the world grow cannabis at their homes, be it for recreational or medicinal purposes, and while some of them do quite well and manage to produce a good product, for others it doesn't work so well – their plants wither quickly or produce insignificant yields.
In this article, we'll provide you with the 10 most common things you should pay attention to when using LED grow lights so you can grow healthy looking plants and avoid any unnecessary hassle. This information is extremely relevant to beginners.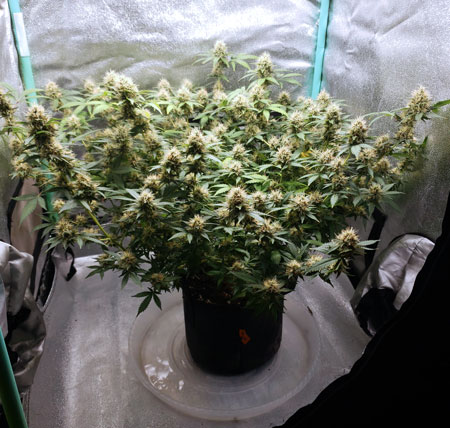 Grow Space: 4.5×4.5' coverage at 32" (suitable for vegetative stage) and 3.5×3.5' coverage at 24" (suitable for flowering stage)

pic by Joe "Nunyabiz" Nunya, an avid LED grower who uses ViparSpectra LED
Spider LED
Average Yields: 4+ ounces – keep in mind that the strain (genetics) and any plant training you do makes a huge difference in your final yields
Here are some plants I grew under the HLG 100 (3000k version)
1.) Spread Style
Grow Space: 2.5×2.5' coverage at 32" (suitable for vegetative stage) and 2×2' coverage at 24" (suitable for flowering stage)
Another area you should always do your own math on is the BTU calculation for your grow room. Yes, LEDs produce less heat than HPS and this can be the deciding factor. As the cost to cool your grow room can be one of your highest production costs. Your AC load is based on the amount of BTUs produced from your fixtures. This is simple math as 1 watt equals 3.412 BTUs. No matter what 1000w HPS fixture you use the BTUs from that fixture will be 3412!
With all of these factors above, how do we answer our initial questions?? Quite frankly, there is no simple answer! Every grow is different – from different: strains being grown, growing climates by geography, style of growers, indoor versus greenhouse, etc. All of these factors will weigh heavy on what is better for you!
There is a big misconception in the industry stemming from the LED suppliers that the ability to have your LED lights so much closer to your crop will help increase production lower into the crop. This could not be further from the truth! When your light source is closer to the top of the canopy than the shadows created from the top layer of leaves are much bigger than if the light was further away. (Use a flashlight and make a shadow on a wall with your hand. Watch how the shadow grows as you get the light closer to your hand). Also, light penetration into the crop comes from the crossover between fixtures.
Light Planning
One of the reasons you still hear people claiming that LED is not ready for commercial cannabis grows is because the reflectors from an HPS fixture mounted 4 ft from the canopy will provide a wide angle of light so the crop will receive light from the fixture directly above as well as the lights from the next row over and even 2-3 rows away. This light is coming in from different angles hitting the crop beneath the canopy leaves that are causing shadows from the light above. This does not happen if you are using an LED fixture that is a big panel of LEDs or made up of multiple LED bars where they have to be mounted 9-12 inches from the canopy. You get no crossover from the fixtures but only shadowing from the top of the canopy.
LED technology has only been available on a commercial level in the horticultural industry for around three years. So realistically, they would only have had time to trial a limited number of spectrums that may yield good results for one or two strains/cultivars. We simply have not had the technology long enough to perform the testing needed!
These claims are not totally bogus however. We are now seeing real results that a bit more blue light in flower or at the very end of the flowering stage does increase terpenes/THC levels. Depending on where you search you will find these amounts vary from minimal 3-5% to unreal amounts of 26-38% as in this article from HortiDaily supplied by an LED manufacturer.
HPS or LED: A Key Factor to Consider
As a plant that does not have sufficient lighting in veg will not produce as well in flower. That said, the spectrum with the most blue did produce the flower with the most terpenes and THC.
Do this math with your LEDs as well. The PL Light TopLED is 320 watts so the BTUs will be 1092 BTUs. While that looks like a big savings it will take at least two times the amount of our LEDs to get to the same light level as a 1000w HPS. On the other side of this argument is that the LED fixtures do not provide the radiant heat as HPS and your crop roots will perform better with warmth. It is proven that there is a direct correlation between heat and crop production. Plants grow slower, producing less fruit the colder they are. In northern climates many growers rely on the heat from HPS to warm their crops.