Some grow lights are more expensive than others, but also more efficient, saving money in the long run. Some lights are bulky with many parts, some light in weight, and some are better suited for young or mature plants.
How much does a grow light cost?
These HID bulbs usually contain sodium, mercury, and xenon, and produce a yellow/orange light, and are commonly used for flowering plants. Some growers will start plants under MH bulbs and switch them to HPSs when plants go into the flowering stage, using the same hood. These lights also require a ballast.
MH (Metal halide)
New LED grow lights come out all the time, but knockoffs abound. There are a lot of cheap LEDs that don't produce the right spectrum of light for plants.
The Sun System light emitting ceramic provides all the far frequencies of red light in addition to all the blue light, so your plants will have all the light needed to thrive and produce huge buds. This full spectrum is superior to what is provided by other lights currently on the market. The Sun System is also easy to set up and was designed to reduce the radiant heat generated by its arc tube.
How do you maintain such a powerful light? Small inbuilt fans keep the lights cool and therefore eliminate the need for additional ventilation. Your plants will not suffer from light burn even though they are receiving plenty of light.
Lumens
Seed Coupon Included
7. The Vivavolt T5 Fluorescent Grow Light
If you are looking for a great value, this light should be on your list. It is full-spectrum, and also optimized for marijuana growing because it includes dimmers that help the plants "think" the days are getting shorter. However, if you are growing autoflowers, this isn't something you'd need to be concerned about.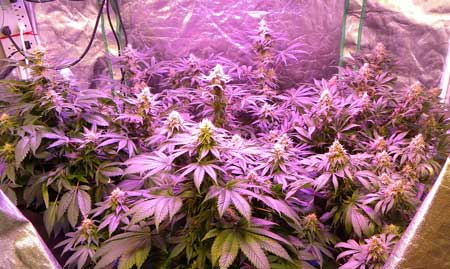 HIDs are very well suited to growing cannabis and very easy to use once they're set up. If your main goal is to get the highest yields possible, then HIDs are the way to go! However, they do require extra setup compared to the other grow lights because chances are you will need a fan to vent out heat from your grow space.
Full tutorial on CMH / LEC grow lights
(LEC stands for "Light Emitting Ceramic" and is a type of Metal Halide bulb that is built with ceramic like an HPS – basically it's sort of like a blend between MH and HPS bulbs)
That being said, when it comes to the flowering/budding stage, if you can fit a bigger light you will get significantly better yields/watt by using an HID or LED grow light!
These are actually just two names for the same thing. This type of metal halide bulb uses ceramic as part of the lamp just like an HPS. As a result, CMH bulbs are more efficient than regular MH lights (though still not as efficient as HPS bulbs).
Ceramic Metal Halide (CMH) & Light Emitting Ceramic (LEC) Grow Lights
For growers who are looking to harvest 1/2 to 1 ounce of cannabis a month, LEDs may be your best choice. At this size, they are super low on electricity, run cool and need almost no setup! They get better yields than fluorescents but don't run as hot as an HPS of similar wattage.
HID grow lights are much more efficient than fluorescent lights and are powered by large, oddly-shaped bulbs. They are usually screwed into a reflector or hood to reflect more light down onto the plants. HIDs are great at growing cannabis, but they also get very hot and are usually hooked up to an exhaust to help vent out heat.
Cannabis plants under a T5 grow light – when plants are trained (like these ones in a Scrog setup) you can get pretty decent yields from fluorescents.
Keeping CFLs close results in the best yields and growth