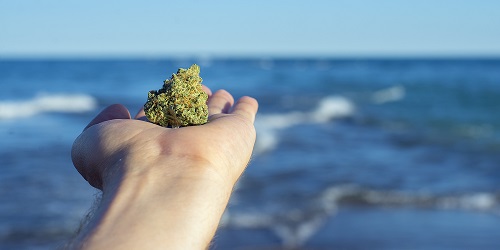 Click here to view the details of Maine's laws. Additional information obtained from NORML's website.
If you're even thinking of visiting Maine, you are likely to know about its most famous food: lobster. Served in a roll or in a lobster bake dinner, alongside clam chowder, boiled potatoes, and corn on the cob, even Maine lobster can be enhanced with a toke or a tidbit of marijuana in advance. Maine is also known for its blueberries, served everywhere in season and sold in farm stands along the road sides in summer. Many great restaurants – elegant or basic – are scattered across the towns of Maine; its major seacoast city and capital, Portland, has become well-known in recent decades for its skilled chefs and creative restaurateurs.
You may not smoke pot in public places. This applies even to users of medical marijuana. Do not smoke marijuana anyplace that smoking tobacco is prohibited. Use of marijuana in public will result in a $100 civil infraction. For now, the safest option is consume it only at home or on private property.
Possession:
The definition of marijuana in the Maine criminal statute is written explicitly not to cover hash or marijuana concentrates. The statute defines Hashish separately as the resin extracted from the cannabis plant. Possession of up to 5 grams of marijuana concentrate is legal with no penalty, no incarceration and no fine.
An adult may possess marijuana paraphernalia.
State Laws
Quick summary of law: Adults over age 21 may possess up to 2.5 ounces of marijuana and may possess marijuana paraphernalia. Recreational users may consume cannabis only in a private residence or on private property, never in public places. Use of marijuana in a public place may result in a civil fine of up to $100 under Maine state law. Driving under the influence of marijuana is against the law, similar to driving under the influence of alcohol. See more on the laws for more details and links for Maine marijuana laws.
Vast Maine, with its western mountains, acres of pine forests, craggy coastline of islands and inlets, is larger than all the other New England states combined. The character of the various regions determines the nature of your Maine vacation. People flock to the state's beautiful beaches and rocky coast and stoic lighthouses, from the New Hampshire border up to the state's remote "toe" in New Brunswick, Canada. The central and western parts of the state are favorites for people who love winter and snow sports. Smoking or ingesting some cannabis – legal for adults in Maine – enhances the beauty of the place. Sunrise over the Atlantic has never looked quite so magnificent.
What are the rules around federal property?
Medical Use
See: 28-B M.R.S. §1502(1)(C) and (2)(C)
Patients
Patients visiting Maine from another state may be able to purchase medical marijuana from a registered caregiver or dispensary if they have valid patient identification credentials (like a registry or patient identification card) and their state of residence allows them to use their state-issued credential to purchase medical marijuana in Maine.
"It's out there," Theriault said. "You might as well collect taxes on it."
Stacyville approved its present marijuana policies during town meetings in March and August 2019.
One shop has since opened in Stacyville — The Green Moose Smoke Shop — though it only sells products to those enrolled in Maine's medical marijuana program.
"We don't have any industry here. We don't have anything," Theriault said. "So why not?"
Though he wants to see more towns, cities and plantations sign on, he was optimistic about how the recreational industry had done since sales began in October. He noted that prices, once an issue for the new industry, had come down.
Many of these bans came in the years after Maine voters legalized the drug for recreational purposes, including Carmel's prohibition that took effect in 2017. That town's ban came after Penobscot County Sheriff Troy Morton recommended it to the town's select board in December 2016, saying that there would be "unforeseen circumstances" arising from the legalization of marijuana, according to town minutes.
Theriault, who used to encounter marijuana when it was illegal during his decades as a game warden, said people would smoke marijuana whether communities allowed its sale or not.
While Brewer and Orono are both on track to allow recreational cannabis stores sometime soon, they'll join only three other Penobscot County communities that allow such shops — Bangor, Medway and tiny Stacyville with just 380 residents. Etna allows growing operations but not retail stores.
For many communities, it has taken a proposal for a retail store to persuade them to opt in. Medway, which legalized recreational stores by town vote in March 2020, has one recreational marijuana shop and is bound to have another if residents vote to permit medical shops later this month, Town Clerk Katherine Lee said.