Q Quercus incana Quercus serrata
H Hardwickia binnata Helicteres isora Hibiscus abelmoschus Hibiscus cannabinus Hibiscus mutabilis Holarrhennaantidy sentrica Hyoscyamus niger
I Indigofera tinctoria Ipomea palmate
F Ficus benghalensis Ficus religiosa G Glircidia sepium Gmelina arborea Grewia asiatica Gynocardia odorata Grevillea robusta
A Abies Pindrow Abroma augusta Abrus precatorius Acacia arabica Acacia auriculaformis Acacia catechu Acacia concinna Acacia dealbata Acacia farnesiana Acacia mangium Acacia mearnsii Acacia melanoxylon Acer oblongum Acer caesium Acrocarpus fraxinifolius Adenanthera pavonina Adina cordifolia Aegle marmelos Aesculus assamica Aesculus indica Ailanthus excelsa Albizia amara Albizia chinensis Albizia falcatria Albizia julibrissin Albizia lebbeck Albizia lucida Albizia procera Aleurites fordii Aleurites moluccana Allamanda cathartica Alnus nepalensis Alstonia scholaris Anacardium occidentale Andrographis paniculata Anogeisus latifolia Anogeisus pendula Anona squamosa Anthocephalus cadamba Antigonon leptopus var alba Araucaria bidwilli Areca catechu Argemone mexicana Argyreia nervosa Artabotrys odoratissimus Artocarpus chaplasha Artocarpus integrifolia Asparagus racemosus Azadirachta indica
R Rhododendron arboreum Ricinus communis Rivea corymbosa Robinia pseudoacacia
E Elaeocarpus ganitrus Emblica officinalis Enterolobium contortisiliquium Erythrina indica Eucalyptus citriodora Eucalyptus globulus Eucalyptus robusta Eugenia jambolana
D Dalbergia assamica Dalbergia latifolia Dalbergia sissoo Datura metel Delonix regia Dendrocalamus strictus Derris robusta Dichanthium annulatum Dillenia indica Diospyros melanoxylon Dodonea viscose Dolichos lablab Duranta repens
C Caeselpinia pulcherrima Callistemon vimminalis Camellia Sinensis Canavelia ensiformis Canavelia gladiata Capparis spinosa Carica species Cajanus cajan Carissa carandas Carum roxburghianum Caryota mitis Caryota urens Cassia alata Cassia angustifolia Cassia auriculata Cassia Fistula Cassia floribunda Cassia glauca Cassia grandis Cassia javanica Cassia marginata Cassia nodosa Cassia occidentalis Cassia renigera Cassia siamea Cassia spectabilis Cassia tora Castanea sativa Casuarina equisetifolia Catharanthus roseus Cedrus deodara Ceiba pentandra Celtis australis Centella asiatica Chorisia speciosa Chickrassia tabularis Cinnamomum camphora Clerodendron infortunatum Clitorea ternatea Cocos nucifera Coffea arabica Colvilea racemosa Cordia dichotoma Cordia sebestina Crotalaria juncea Cryptomeria japonica Cupressus torulosa Cycas revoluta Cydonia oblonga
Для показа рекламных объявлений Etsy по интересам используются технические решения сторонних компаний.
Detailed information can be found in Etsy's Cookies & Similar Technologies Policy and our Privacy Policy.
Etsy uses cookies and similar technologies to give you a better experience, enabling things like:
Some of the technologies we use are necessary for critical functions like security and site integrity, account authentication, security and privacy preferences, internal site usage and maintenance data, and to make the site work correctly for browsing and transactions.
Required Cookies & Technologies
Мы привлекаем к этому партнеров по маркетингу и рекламе (которые могут располагать собранной ими самими информацией). Отказ не означает прекращения демонстрации рекламы Etsy или изменений в алгоритмах персонализации Etsy, но может привести к тому, что реклама будет повторяться чаще и станет менее актуальной. Подробнее в нашей Политике в отношении файлов Cookie и схожих технологий.
Персонализированная реклама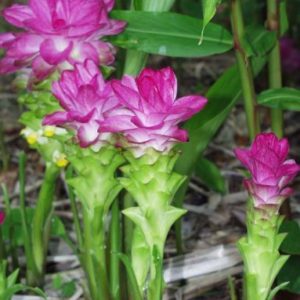 Photograph with arrangement shows leaves of Curcuma sp. 'Snowdrift' with cut flowers of Curcuma amada, size 11 shoe next to full length cut stems.
Sold out READ MORE
Grows to 4 feet in bright shade to full sun. Hardy in Zone 8 and above (a good candidate for trialing in Zone 7)
Hedychium ellipticum
Curcuma amada is one of two species with the common name 'Mango Ginger.' The name refers to the scent of the rhizomes but supposedly its unripe scent, not the lovely tropical fruit scent you might be hoping for. Despite not being suitable for your fruit smoothy this is an edible ginger. Unlike its close relative Curcuma longa (Turmeric) this species' rhizomes are often eaten whole. Sometimes pickled and often cooked. It usually is not ground up as spice as Turmeric is. For the gardener though, this is one of the few edibles that actually looks good. It is one of the branching rhizome types and thus a very good grower. This is not a plant for tight spaces, but for the right area its a large landscaper that produces long stems with a large pink inflorescence. Its color is similar to the common hidden ginger of the south but this is a large plant with much taller stems. It is also usually the first of all the summer bloomers to bloom, often overlapping with the end of the spring blooming species. It will continue to bloom all summer long making it one of the longest blooming seasons of any hardy ginger. It can be grown from bright shade to full sun and is pretty much fool proof. It makes a good cut flower and once established one can cut stems very low (whole plant) to get exceptionally long cut flowers. Although just solid green, it and most landscape type Curcuma have leaves that make great foliage cuts for flower arrangements.
Sold out READ MORE
Related products