For the mango cream, bring the mango juice to a boil in a pot. Stir together the egg yolks and sugar until fluffy and whisk over a hot water bath until the mixture thickens. Remove the bowl from the water bath and slowly pour in the mango juice while whisking. Beat cream until stiff and carefully fold into the mango mixture.
For decorating, knead marzipan with powdered sugar, tint with food coloring and cut into cubes. Melt couverture over a hot water bath, pour into a small piping bag, cut a small tip and pipe ribbons onto the marzipan cubes.
For the sesame crust, bring the sugar and the butter to a boil in a saucepan while stirring until the sugar has melted. Add sesame seeds and honey, remove from heat and allow to cool a little while stirring. Spread the mixture on an oiled baking sheet and allow to set.
Loosen the half of the sesame crust from the sheet, place in a baking dish and pour the mango cream over the crust. Top with the second half of sesame crust about it place baking dish in the freezer. For the sauce, peel mango, cut the flesh from the pit, puree with powdered sugar and strain through a sieve.

Once the temperatures rise I'll be enjoying this healthy, dairy-free, creamy and oh so delicious Creamy Mango Ice Cream. It will definitely hit the spot on a warm summer day, or even on a cold day.
You can make this treat even easier by using store-bought frozen mango instead of buying, chopping and freezing yourself.
How to make Mango Ice Cream
The warm weather is coming, at least that is what I keep telling myself. I for one cannot wait to feel the sun and not a huge gust of winter in my face.
Creamy Mango Ice Cream Recipe – SUPER SIMPLE!
There are many high speed blenders on the market that can do a comparable job so it's up to you to do your price matching and find one that fits your needs. For us, we wanted something that could make hot soups and ice creams without dairy.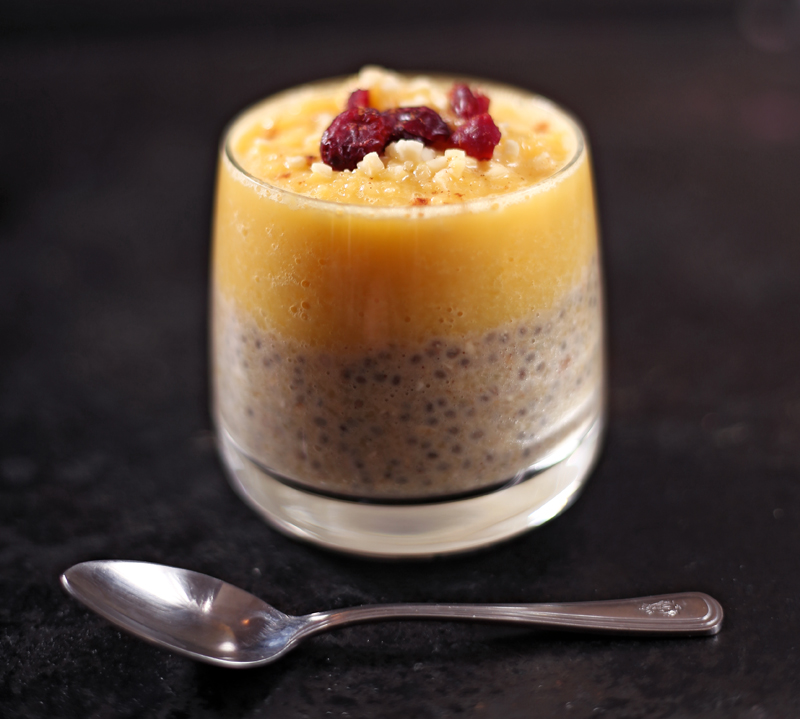 The recipe is as easy as all the chia pudding recipes, you don't have to do a lot more than mixing the ingredients together, then wait for a few hours. I would recommend to soak the cashews for 4-8 hours, but 1 hour will also do. Same goes for the chia-oat mixture.
The chia pudding with the cinnamon is very warming, the mango-banana-vanilla ice cream is fresh and cooling, so they are perfect together. You can blend a few mint leaves to the ice cream too, to make it extra refreshing. I served mine with some almond and dried cranberries.
My mom discovered my blog (Szia Anya!), and she started to be really interested in chia puddings. She has already tried out my pumpkin spice one, but now I thought this one could be closer to her taste, since she really loves mangoes. Who doesn't, right? (I used to hate them, but it's another story….)
So here it is, a chia pudding with mango for my mom. I hope you like it too.