"Herming out," as some call it, is something that generally happens when a plant becomes excessively stressed. Some stressors include:
The main stem, or stalk, of a cannabis plant grows straight up from the root system and supports all lateral branches. The stem gives a plant structure and stability.
Plants originally developed trichomes to protect against predators and the elements. These clear bulbous globes ooze aromatic oils called terpenes as well as therapeutic cannabinoids like THC and CBD. The basis of hash production depends on these trichomes and their potent sugar-like resin.
Female marijuana plants
Also known as "buds," the flowers of a cannabis plant are the fruits of your labor. They contain the cannabinoids and terpenes that get you high or offer health benefits. Flowers only grow on female cannabis plants and must be dried before consumption.
A cola, also called a "bud site," refers to a cluster of buds that grow tightly together. While smaller colas occur along the budding sites of lower branches, the main cola—sometimes called the apical bud—forms at the top of the plant.
Cotyledon leaves
Sugar leaves are the small, resin-coated leaves that buds form around. Sugar leaves are usually saved as "trim" during harvest and can be used for pre-rolls, extracts, and other cannabis products.
Because this occurs when cannabis is under stress, it's important to monitor plants after they have been exposed to stressors: indoors, high temperatures or light leaks are often the cause; outdoors, a snapped branch might be repaired and then turn into a hermaphrodite.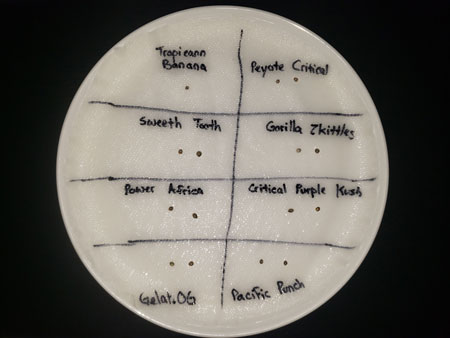 The best way to tell if a seed is viable is simply to try germinating it
Sometimes you don't see the seeds until they fall out of your buds
Seedy weed is fine to smoke, though you should remove the seeds if possible (they have no THC and will pop if you smoke them). Unless there are tons of seeds, bud potency is unlikely to be affected.
If you've found seeds in your buds, it happened while the plant was growing. Either the grower didn't identify and remove all the male plants before they released pollen, or a herm was involved that self-pollinated or pollinated other buds in the grow area.
Are "found" seeds good to grow?
Seeds in your buds aren't good or bad. They are simply the result of pollination while the buds were growing. A few seeds here and there won't make much difference in potency, though potency may be lower if the buds are very seedy.
Pollen typically comes from the pollen sacs of a male cannabis plant. Male plants spray pollen everywhere when their flowers are mature. Sometimes female cannabis plants will produce pollen (known as herming) due to genetics or stress. Any source of pollen, whether the plant is male or female, can pollinate buds in the vicinity and cause seedy buds.
These seeds have germinated
What causes seeds in buds?
What does it mean to find seeds in your marijuana buds? Is it something to be worried about?
I've seen some growers get impressive results with bagseed (seeds you find), but results may be hit or miss. Plants can grow in odd ways and the yields or quality may not be as expected.

Contrary to what most people think, what you're smoking isn't actually the rolled up or dried leaves of the Cannabis Sativa plant. You're actually smoking small flower buds.
Why Are There Seeds in My Marijuana Buds?
Now that we know what they are, how do we choose and use them?
EDITOR'S CHOICE – Homegrown CannabisCo
However, sometimes a marijuana plant is harvested just a bit too late. Perhaps it got the chance to develop a bit longer than it would normally, or maybe the grower was just trying something new.