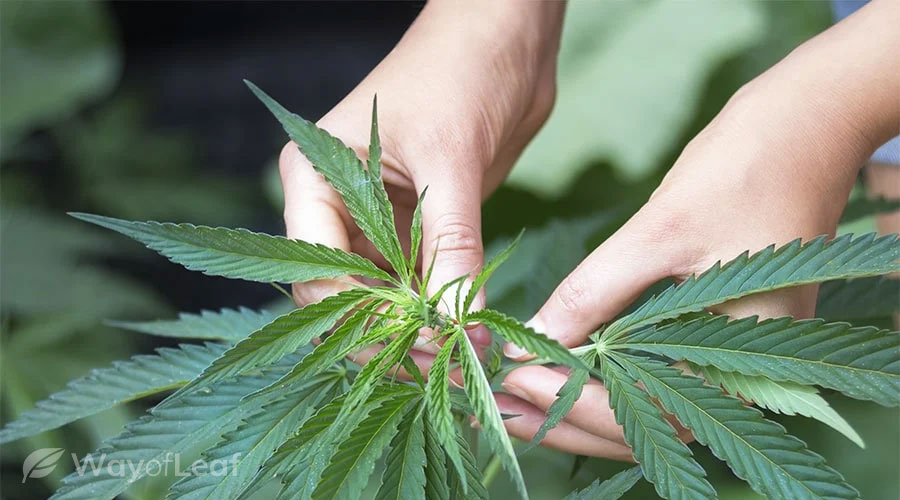 Invest in some delicate scissors – not the same ones you used to cut the plants down. It's also a good idea to grab a chair because you could be here a while! Wet pruning will also require gardening gloves because the plants will be sticky.
Once you have completed your first growing cycle, you will be rewarded with a potent, delicious bud. So what happens now?
As a general rule, the seedling should be kept at 77˚F with a humidity of around 60%. Often, marijuana prefers a light cycle of 118-hours of white light per day once the leaves have emerged. You should be using a nitrogen-rich fertilizer at this point. Remember that all this is a rule of thumb. To get the best results, read up on the requirements of your particular strain.
Furthermore, the end of the vegetative stage provides a vital opportunity to look for males in your crop. As plants leave this stage, the females will start developing two white pistils, where males will grow pollen sacs. If you see these sacs, remove the plant from the vicinity before it pollinates the females and ruins your harvest.
7. Preparing for Next Season's Cycle
During the vegetative stage, the general rule is to keep the temperature between 68 and 77˚f, and the humidity between 50% and 70%. Once again, nitrogen is the essential nutrient, but you can also increase levels of other key nutrients in the feed. The plants will need 16-24 hours of sunlight.
Once the germinated seeds are planted, they will begin growing. A little cannabis plant will sprout from the soil and begin to develop familiar characteristics. During the seedling stage, it will produce two leaves that open outward from the stem to start receiving sunlight. Next, its trademark cannabis leaves will begin to sprout at the top of the plant as it enters its first growth cycle.
If you're planning on cultivating your own weed continuously, you're going to need some more seeds. We mentioned removing the males from your cannabis crop, and this means that your females won't be pollinated and won't be producing seeds. As a result, it's unlikely that you will have your own seeds to work with.
6. Pruning Your Marijuana
There are a few ways to germinate a cannabis seed, but most people use the paper towel method. It's super easy and won't take long at all. Here's what to do:
As a result, you should look out for feminized seeds. Seed banks often sell this type, so they shouldn't be too hard to find. If you use regular seeds, there is a 50/50 chance you will get male or female plants; with feminized seeds, all your plants will be females.
Once your seeds have been sown and your cannabis plant becomes a seedling, it will experience two major stages of life before becoming that beautiful smokable bud. These are known as the vegetative stage (when plants are growing) and the flowering stage (where plants are producing buds).
The Life Cycle of Cannabis Plants
The length of time plants are in flower depends on the type of cannabis you're growing as well as the conditions you're growing in. On average, cannabis plants will flower for 6-10 weeks. It could be longer, however, depending on the strain and the conditions you grow your plants in.
The Average Grow Period for Sativas, Indicas, and Hybrids
Sativa strains of cannabis are known to grow long, tall, and lanky. This can be credited to the native habitat in which they grow. Sativas stem from regions near the equator, where the length of the day rarely changes regardless of what time of year it happens to be. Equal days and equal nights have led sativa strains to grow in short, consistent photoperiods. This simply means that the height of a sativa plant increases during both vegetative and flower periods.