Types of Marijuana Business Licenses Currently Available
All lists are updated monthly, except the testing facilities which are updated as testing certifications are renewed.
Colorado state statute authorizes the State Licensing Authority to issue the following Regulated Marijuana Business Licenses (Each facility is authorized to engage only in the type of activity for which it is licensed and as described in statute.):
These are just the initial license fees. Each license needs to be renewed annually.
While possession and cultivation of marijuana are legal at the state level in Colorado, counties, and localities are given substantial discretion on how to implement marijuana legislation. Each town and county can decide to ban recreational marijuana businesses if they so choose. As of April 2017, 272 of Colorado's municipalities had decided to prohibit the sale of recreational marijuana within their jurisdiction.
The bill authorizing recreational marijuana delivery services went into effect in January 2021. However, as is the case with most, if not all, marijuana legislation in Colorado, local governments were given wide discretion on how to implement it. Denver, for example, has made recreational delivery licenses available only to Social Equity Applicants until 2024.
As is the case with Marijuana Cultivation Facility licenses, the state has 45 to 90 days to respond. If the state approves the application, it will be forwarded to the local governments listed therein. Response times may vary from municipality to municipality.
Recreational Delivery Services
After a completed MED Regulated Marijuana Business License Application is submitted, and the required fees paid, the state has 45 to 90 days to respond. If the state approves the application, it will be forwarded to the local governments listed therein. The specific local government's response times vary but can be as long as six months.
On November 6, 2012, Colorado voters passed Amendment 64, legalizing the use and regulation of recreational marijuana. Two years later, Colorado started issuing licenses, and since then, the marijuana business in Colorado has boomed. Sales have increased every year since the market opened in 2014, and they show no signs of stopping. Even the economic slowdown COVID-19 pandemic caused could not slow the industry down. In fact, marijuana sales in 2020 increased 25% to $2.19 billion when compared to 2019. If you're looking to get involved in this lucrative industry, we have some helpful information for you below; keep reading to learn more!
Fees for this type of application vary based on whether the application is for medical or recreational cannabis cultivation and the number of plants grown.
How to Open a Recreational Cannabis Dispensary
There are eight types of cannabis business licenses available in Colorado; four recreational licenses and four are medicinal licenses. A business can hold both a recreational license and a medical license, but will have to apply for each one separately.
Businesses (or individuals) can be separately licensed to transport marijuana from one business to another, like from a Cultivation Facility to a Products Manufacturer.In addition, Colorado has recently began issuing retail marijuana delivery licenses pursuant to which delivery directly to homes and businesses will be permitted.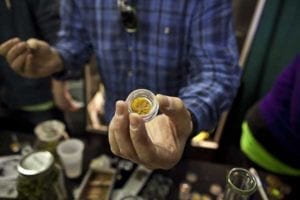 You're bound to have some truly unique moments on a 420 cannabis tour.
Tour guides will prep you for each retail experience with an analogy to familiar retailers. Depending on which tour you're on, you'll see inside the "Apple store of cannabis," with its chic tablet displays, or the "Ikea of weed" where shoppers pass through the entire maze of merch before exiting the store.
10. You'll get adopted into the 420 Family
After spending long enough on the 420 bus, you'll realize that The Magic School Bus wasn't a fictional cartoon after all. It's real, and you're on it. Ms. Frizzle is standing right there, dressed as a tour guide and dropping pearls of cannabis knowledge all over the place.
Before each dispensary stop, the tour guides will hand out a special menu of discounted packages for guests only. These bundled deals are designed to encourage you to try something new. You're likely to find an edibles pack, a flower (bud) pack, and a vaporizer pack to get you started on vaping cartridges of oil.
Colorado Factory Tours
Speaking of place, where exactly are we? Is this bus still in Denver? What time is it? As the THC kicks in, your sense of orientation may get a little hazy. Let it. You're on vacation, you're in Denver, and you're getting the full Mile High experience.