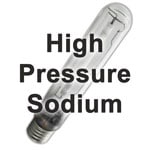 Cons of Fluorescents
LED grow lights are very popular among cannabis growers as an alternative to HPS grow lights. They tend to run cooler and also usually come with built-in cooling. They can often be plugged into a wall and simply hung over plants which is definitely easier than setting up an HID grow light. LEDs also have great penetration so they don't need to be moved frequently like fluorescents.
Fluorescent grow lights come in many different shapes and sizes, from twisty bulbs to long tubes. Fluorescents are popular because they make efficient and pleasant lighting for humans, and also work great for herb gardens and other types of low-key indoor gardening without using a lot of electricity.
There are lots of options for grow lights that work well for growing cannabis indoors but in the end they boil down to 3 major types:
High Pressure Sodium (HPS) Grow Lights
These fluorescent lights are cheap and efficient and great for vegetative growth. They're especially great for helping along germinating seeds and small seedlings because they don't put off much heat and won't scorch the delicate seeds. They won't run up your electricity bill too much.
HIDs have been the standard in indoor weed growing for decades, but LEDs are quickly catching up to them.
Young and mature plants, or vegetative and flowering plants, respectively, like different types of light, and you can buy grow lights that target each spectrum. Commonly, growers using HIDs will use MH bulbs for vegetative plants and HPS bulbs for flowering. Some LEDs are also designed to target different light spectra.
HID (high-intensity discharge) is an umbrella term under which MH and HPS bulbs fall, which we'll discuss more below. These types of lamps have a hood that reflects light and bulbs that are enclosed capsules containing a gas, as opposed to bulbs you'd find in your house, which have a filament that heats up.
Best HID grow light brands
Fixtures come in all shapes and sizes and can usually accommodate 4-12 long fluorescent bulbs; a standard size is 8 bulbs. Fixtures usually have a reflective material to bounce light in one direction, down on your plants.
Ventilation is also a concern. If you're growing in a tight space with a light that runs hot, you'll need to have fans in there, which also take up space. If there's not enough room for a light and a fan, you may need to invest in a light that doesn't run as hot, such as an LED. For example, grow tents are usually built tall to allow room for equipment up top, not to grow plants all the way to the ceiling.
Here are a few different HID grow lights at different price points.
Types of marijuana grow lights
LEDs (light emitting diodes) are relatively new to the cannabis growing world, compared to HPSs, MHs, and CFLs, but they are quickly proving to be the way of the future. LEDs may be more expensive to buy initially, but they are far more efficient and kinder to the environment and your electricity bill. Some cities even give tax breaks to commercial growers who install or switch to LEDs because they're better for the environment.
Some grow lights are more expensive than others, but also more efficient, saving money in the long run. Some lights are bulky with many parts, some light in weight, and some are better suited for young or mature plants.