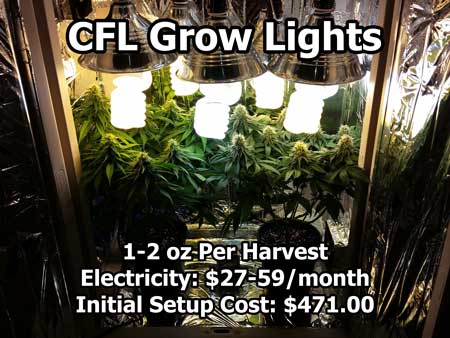 Medium Grow Setups
Examples of Common Cannabis Growing Setups
Average Electricity Cost: $23/month
Medium-Size Quantum Board LED
Average Electricity Cost: $43/month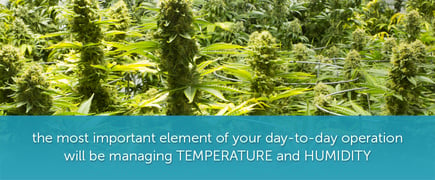 Each stage of a plant's life-cycle is prone to different needs. With the right equipment, these needs are easily managed when the focus is on keeping everything within the desired ranges and as constant as possible.
While it's tough, just know that every grower working at a scale similar to you is going through this as well.
Flowering Period
To start with, relative humidity is determined by how much water vapor the air can hold at a specific temperature. Warm air can hold more water than cold air, so the warmer the air is, the higher the relative humidity will be .
Ways to Lower Temperatures
To get started, you'll want to buy a hygrometer and a thermometer. With these tools, you can accurately monitor and then alter humidity and temperature conditions in an attempt to strive for repeatable quality levels time and time again.
Think of all the equipment in your grow space as organs in the body—if one fails, the others will have to work a lot harder for a bit, and then will fail in a matter of time.
Unless you're growing in a large, open space with a lot of ventilation, you'll need air-cooled reflector hoods to mount your lamps in, as HID bulbs produce a lot of heat. This requires ducting and exhaust fans, which will increase your initial cost but make controlling temperature in your grow room much easier.
You'll need a dedicated space for your marijuana plants—you won't be able to move them around. Ideally, the space is next to a window so you can vent air from the grow space outside. Growing weed plants smell! Especially when flowering kicks in, you'll want to redirect air so your house doesn't reek of weed.
Check out our buying guide on indoor lights for more info.
Equipment
For most first-time gardeners, we recommend buying a quality potting soil that will provide your plants with enough nutrients to get them through most of their growth cycle without having to add many amendments or liquid nutrients. This pre-fertilized soil—often referred to as "super-soil"—that can grow cannabis plants from start to finish without any added nutrients if used correctly.
If your space is too humid, you may need to invest in a dehumidifier—also known as "dehueys." However, keep in mind that while dehueys will reduce humidity, they typically increase temperature—you may need more fans or an AC when adding a dehumidifier.
There are many different media to choose from, including good ol' fashioned pots full of soil, rockwool cubes, a hydroponic tray, and more.
HID
Although you'll be controlling the climate inside the grow space, climate outside the grow space will affect your plants. If the environment outside your grow space is very warm or humid, you'll have issues controlling your grow space. Choose a cool, dry area with ready access to fresh air from outside.
When starting with clones or seedlings, you'll want to check your plants every day because they're delicate and sensitive to environmental conditions. You may need to adjust temperature and humidity levels in your indoor grow space at first to hit the sweet spot for your plants.