A diverse microbiology in your soil will be contingent on many factors, and establishing food to grow a healthy fungal population is one of the most important.
Once you've mixed everything in, water your soil to help cool any added manure. This process should be repeated every few days until the soil is cool to the touch when you bury your hand. At this point, the soil is ready for your seeds or clones.
To remedy this problem, you can submit a soil test to get a base understanding of what nutrients it contains.
Combine equal parts compost, organic material, and aeration. How much you begin with will depend on your needs. Consider that this base will account for approximately 20% of the total volume of your mix.
1. Begin with a base mix
Also, consider amendments that change the soil's density, airflow, and ability to hold water. For example, perlite and peat moss can improve drainage and water retention. Introducing a healthy worm population and fungal colonies will also help fluff up the soil, thus improving its structure.
Also check out how to amend your super soil mix, and our recipe on a compost tea soil.
Potassium-rich nutrients
Step 3: Mix your soil
Just as important as fungi, bacterial populations can help break down complex sugars and convert them to readily available macro and micronutrients for your cannabis. They also help to establish and maintain the immune system of your plants, making them more adept to fight off pests, diseases, and inclement environmental conditions.
Be sure to experiment to your plant's liking when mixing soil, and never be afraid to change things up in the process. Your crop will thank you for it in abundant yields and immaculate flavor!
Loam is ideal for containers as well as for outdoor growing. Unfortunately, it is usually the most expensive soil to buy. But if you are interested in growing the best plants possible, it can pay big dividends in the long run.
You can also build up your own loam soil by adding organic matter to it. If you have a compost bin, you can use the compost to improve your soil. This will be a time-consuming and ongoing process but with grit and persistence will pay off in the long run.
Silt soils have lots of minerals and retain moisture well. Like clay, however, this type of soil can become compacted and hard in certain conditions. It can also form a crust, making it difficult for moisture and nutrients to reach plants' roots.
Four basic soil types exist: sand, clay, silt, and loam. Each has its pros and cons for gardening.
Test kits are available to measure your soil's acidity, or you can take a sample to your friendly local extension agent. If your dirt does not have the proper acidity, soil amendments are available to lower or raise the pH level in your soil. Your local nursery, garden store or extension agent can make some suggestions.
Loam for Growing Marijuana & Other Crops
Clay is just the opposite. When it's hot and dry, clay can become hard as a rock, making it difficult for roots to penetrate. Clay drains poorly and is hard to cultivate. On the plus side, it is rich in minerals and natural nutrients.
Just like humans, plants need the right nutrients. The most important ones for your cannabis plants are nitrogen (N), potassium (K) and phosphate (P). These make up the ratios you will typically see on fertilizer labels.
Sand is easily permeable for root growth, for instance, but it does not hold on to water or fertilizer well.
Soil Types
You will want to provide the proper amount of light and water to your plants, of course. A drip irrigation system can cut your water bills while improving the health of your plants. Kits are available that give you everything you need to get started. If you prefer, you can start from scratch and obtain separate components to put them all together.
The optimal ratio for loam is 20% clay, 40% silt and 40% sand. Most folks think a pH of 6.0 is best for cannabis, with a range of 5.8 to 6.3 being acceptable. With a pH close to neutral, loam is typically in that zone or close to it.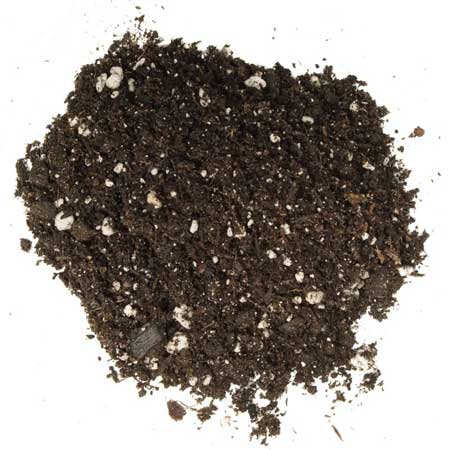 Espona Organic Potting Mix is found in many stores in the US, and works for growing cannabis!
Bad Cannabis Soil
Cannabis soil should not have a whole lot of big visible wood chips in it. That means the soil hasn't been fully composted, and all the nutrients and goodness in that wood is mostly unavailable to your plants.
This is what kind of soil to get if you don't have any "good" soil available, but want something that is known to work for growing cannabis.
Example of happy marijuana plants in good soil!
Organic Potting Mix
Worm Castings
I think most growers agree a good cannabis soil should look dark and rich, with a loose texture that drains well and can hold water without getting muddy (you want wet soil, not dirt-batter!). But beyond that, what do you look for?
Note: You'll likely never see any soil mix with ALL those ingredients, but I wanted to share examples of common cannabis-friendly ingredients and amendments that often appear on the label of good soil
More About Common Amendments to Alter Texture, Drainage & Water Retention of Soil
Now here are a few examples of good and bad cannabis soil so you can see the texture you're looking for!
Super Soil has a colony of micro-organisms living in the soil which form a symbiotic relationship with your plant roots. They deliver nutrients to your plant, and in return they eat the sugars that get secreted by your roots!