The flowering stage is the final stage of growth for a cannabis plant. This is when plants start to develop resinous buds and your hard work will be realized. Most strains flower in 8-9 weeks, but some can take even longer, especially some sativas.
Harvest happens sometime between September and November. This depends on your local climate, as well as the weather that particular year—one year it could be the end of September, the next, end of October, and growers in the Pacific Northwest will have to pull down their crops earlier than those in Northern California.
Even if growing outdoors, a lot of growers will start their seeds inside under an artificial light to help them through this delicate stage of marijuana growth.
If you're growing weed indoors, you can grow whenever you like. Keep in mind that the outside environment will affect your grow space—you may need to add heaters in the winter or fans and ACs in the summer. Other than that, you can start seeds whenever you like and flip them into flower whenever you like, depending on how big you want the plants.
Flowering stage
Cannabis plants go through a series of stages as they grow and mature, and those different growth stages call for different amounts of light, nutrients, and water.
The biggest variability in how long a marijuana plant takes to grow will happen in the vegetative stage—after the seedling phase and before flowering.
Be sure to keep a grow journal to track the progress of your plants. Looking back on your notes will help you learn from mistakes and maximize the quality and quantity of your buds.
When should you grow marijuana?
At this stage, the plant is vulnerable to disease and mold. Keep its environment clean and monitor excess moisture. Be sure to give it plenty of light.
As roots develop, the stalk will rise and you'll begin to see the first iconic fan leaves grow, at which point your cannabis plant can be considered a seedling.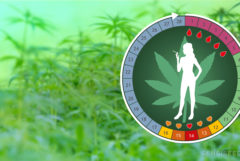 Particular care is necessary at this stage in the lifecycle. Seedlings are susceptible to illnesses and mould. Many novices get carried away with watering and give the seedlings too much fertiliser. Even if you plan to grow outdoors, it may be useful to give the plants a healthy start indoors, assuming that a location is available with adequate light (e.g. a windowsill). The plants need as much light as possible at this stage.
Only now can the sex be determined with any certainty. While male plants produce pollen, the female plants pour their energy into producing flowers or buds. Most growers want to prevent their female plants from getting pollinated, because then they start to produce seeds. That is why male plants should be removed from the growing area.
2 – Seedling stage (2 to 4 weeks)
Meanwhile the plant will grow its first "real" leaves with the characteristic marijuana shape.
Cannabis is an annual plant, so its entire lifecycle takes place within a single year, with most varieties reaching the end of their life after between four and ten months. In general terms, the following four stages of life can be distinguished:
How to Harvest Cannabis Plants
All forms of life start from a seed of some kind. High-quality seed is the single most important factor for successful cultivation. Cannabis seeds should be hard, dry and brownish in colour. There are a number of different ways of getting the seeds to germinate. The easiest is the paper towel method.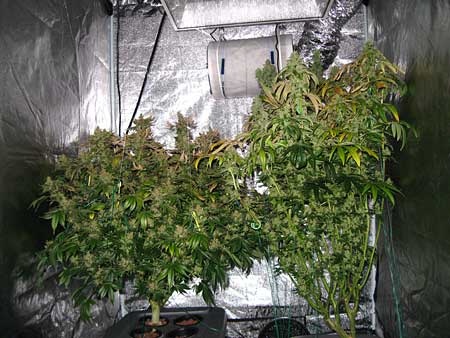 Here's the breakdown…
The Average Indoor Cannabis Grow Takes 3-5 Months
If you choose the right strain, you could be smoking your own buds as soon as 3 months from germination!
Time Needed to Grow Weed, From Seedling to Harvest
Utopia Haze is a mix of Brazilian landrace strains
Here's the breakdown…
Before You Start Growing Weed
Get equipment: 0 days – 2 weeks
This includes purchasing your equipment and/or waiting for it to show up in the mail. This goes much quicker if you buy everything locally, for example at a hydroponics shop. Once you have your marijuana growing supplies, you'll need to setup your growing area and equipment. A standard setup should take an afternoon at most. Depending on how you purchase your equipment and how quickly you setup, you could be ready the same day or in two weeks (after factoring in shipping time).
Jump to the Section of the Tutorial You're Interested in: