Free shipping with orders above €250
Our original OG Kush combines a deeply satisfying and rich genuine Kush taste with one of the strongest smokes in our collection. This is a top quality and top strength cannabis seed variety made with the best west-coast USA OG genetics. Harvest quantities are above average, the buds are firm and dripping with resin. This powerful indica dominant variety delivers a heavy-hitting effect which will also be popular with medical growers looking for powerful pain relief. THC consistently 22%-24%+. Highly recommended.
10 10 1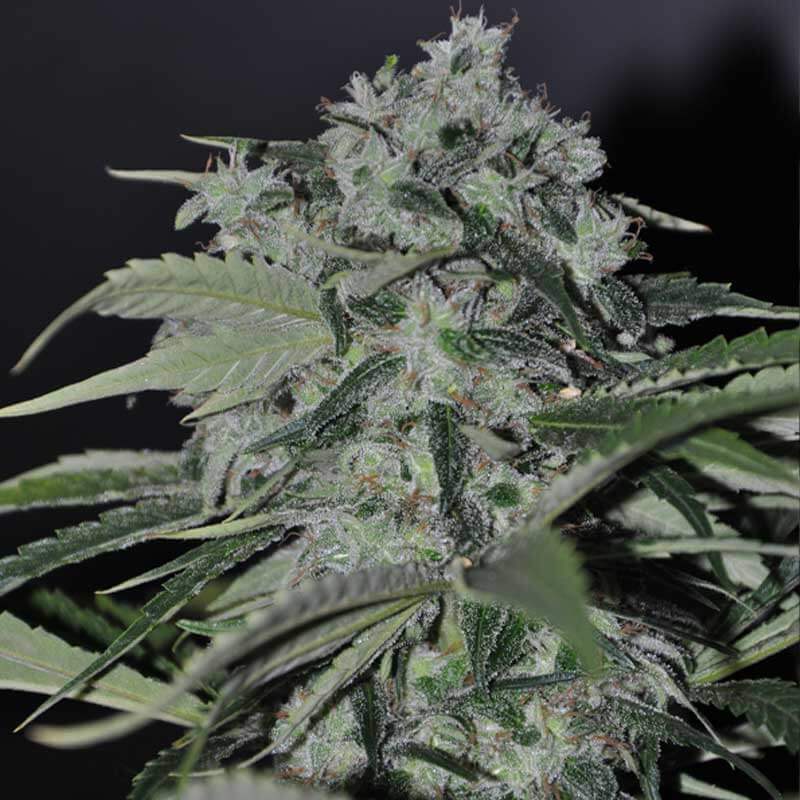 The long-lasting, sense of overall euphoria that takes both mind and body on a wonderful ride is a joy to any smoker.
While at first focusing mainly on amplifying the aroma, effect, and looks of the marijuana plant, many breeders, unpremeditated, also improved some other favorable traits as well.
OG Kush feminized is a legendary strain that took both the cannabis cultivation scene as well as the rap scene by storm in the 90s. This is not surprising considering it is one of the strongest varieties of cannabis available today.
EUR 125,00
Like most marijuana strains, OG Kush has an average flowering time of 8 weeks. This makes her very suitable for indoor growing. You'll get the best results by growing her in a 10-liter pot. After 5 weeks of flowering place a firm stick next to her and tie her to the stick for extra support so that she can reach her full potential and become extra-large.
Simply click add to your shopping cart, and check out our payment methods. If you buy your OG Kush feminized seeds today we promise you, you will never want to order at another seed bank ever again! To see what other customers have to say about us, check out our customer ratings on KiyOh. We are beyond proud that many have rated us 5 stars!
10 Seeds
Her characteristic aroma and energizing and uplifting effects, make OG Kush the rightful queen of the Kush strains.
The world-famous OG Kush strain finds its roots in the United States, originating in sunny Florida. But it didn't take these remarkable weed seeds long before going bicoastal and making its appearance in Northern California.
Her flavours are special and it will feel like a jet fuel mouthwash all the way down to the filter. Medical patients may find this strain useful for increasing energy levels, relieving depression, feelings of nausea and sickness, increased appetite and motivation.
Experiencing this strain: The effects of this strain can be felt instantly, and will result in a euphoric, feel good high that is not heavy bodies or typical of Kush strains. Those who enjoy an upbeat sativa effect will be magnetised to O.G Kush Feminized, as she is perfectly suited for social scenarios, being creative, staying focused and motivated.
The original and best strain to originate from the West Coast of California. Extremely aromatic and pungent, this lady is one of the more difficult strains to grow, however will reward you with THC rich buds, testing upto 21% THC. O.G Kush Feminized is a highly resistant and will flower in a short time with a soaring euphoric effect.
Genetics: This West Coast terpene power-house was created by crossing Chemdawg x Hindu Kush x Magic. The result is an average sized plant with a flowering time between 7-9 weeks. We wanted to keep the low profile, heavy resin and powerful aromatic characteristics of the parents and produce a sturdy and resilient Kush hybrid.
(Pack of 5 Seeds)
Strain Characteristics: She is one of our harder to grow strains, meaning that she is better suited for growers with previous experience. During the growing phase, O.G Kush Feminized will grow with thin woody side branching, and small sized fan leaves. Her height will remain low and training her will increase yields further.
Flowering time will take 7-9 weeks, and during this time is capable of producing yields of 300 – 400 g/m² when grown in a Sea of Green. When flowering, her aroma can become extremely pungent so make sure you have your carbon filters working over time. She will produce a fragrance that is dank, pine-sol, woody, lemon and earthy. THC levels will range from 16-21% and when blooming, will produce a heavy on set of resin that make next level extracts.
What makes this strain so great: She has flavour for days and one of the most terpene rich strains on the market. Hash makers and extractors will produce gold with this West Coast legend, that will keep you in a state of euphoria and creativity all day long.