Mk-Ultra from TH Seeds is available as regular and feminized seeds. In 8 seedbanks, we found 30 offers between EUR 19.00 for 2 feminized seeds and EUR 96.45 for 10 feminized seeds. If you are looking to buy Mk-Ultra Cannabis Seeds from TH Seeds somewhere – have a look to our Mk-Ultra Price Comparison page with all current offers from all the connected seedbanks and shops – or visit one of the following tested, trustworthy and recommended seed-shops directly to check out their current Mk-Ultra offers: Alchimia Grow Shop, PEV Seeds Bank, Linda Seeds | Linda Semilla, Cannapot Hanfshop, Oaseeds, Samenwahl.com, Seedsman and Herbies Head Shop.
TYPE: Mostly Indica
GENETICS: OG Kush x G-13
YIELD: 350gr p.s.m.
HEIGHT: 100cm – 120cm
FLOWERING TIME: 8-9 weeks
TASTE: Earthy / Pungent / Woody
EFFECTS: Hypnotic / Relaxed / Happy / Sleepy / Euphoric / Hungry
MEDICINAL CONDITIONS: Stress / Pain / Insomnia / Depression / Nausea
Mk-Ultra is a mostly indica variety from TH Seeds and can be cultivated indoors (where the plants will need a flowering time of ±58 days ), outdoors and in the greenhouse. TH Seeds' Mk-Ultra is a THC dominant variety and is/was also available as feminized seeds.
T.H.Seeds™ MK-Ultra™ Feminized and Regular Seeds
Where to buy Mk-Ultra cannabis seeds?
Here you can find all info about Mk-Ultra from TH Seeds. If you are searching for information about Mk-Ultra from TH Seeds, check out our Basic Infos, Gallery, Degustation, Awards, Strain Reviews, Medicinal Properties, Shop-Finder and Price Comparison, Lineage / Genealogy, Hybrids / Crossbreeds or User Comments for this cannabis variety here at this page and follow the links to get even more information – or list all Mk-Ultra Strains (±4) to find a different version. If you have any personal experiences with growing or consuming this cannabis variety, please use the upload links to add them to the database!
MK-Ultra™ is named after the famous L.S.D. experiments in the 50's, this mostly Indica Hybrid will truly hypnotize you. A cross of the legendary G-13 and LA's finest O.G. Kush, that produces very tight resin coated buds, with addictive qualities that cannot be underestimated. A piney flavor that lasts and lasts and a hypnotic high make MK-Ultra™ the ultimate head stash! 1st place winner at the 2003 Cannabis Cup and 2nd place in 2004 and many more victories since.
TH Seeds' Mk-Ultra is a cupwinning variety and won 3 awards between 2003 and 2015!
TH Seeds' Mk-Ultra Description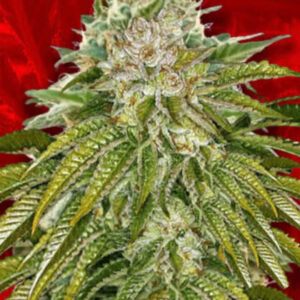 MK Ultra was first created by TH Seeds™ of Amsterdam. It is the result of crossing an American OG Kush to G13—the legendary government strain said to have originated from a research facility in Mississippi during the seventies. MK Ultra won the 1st prize Indica Cup in 2003 and won 2nd prize Indica Cup the very next year. Since then, MK Ultra has continued to be a popular strain for growers and stoners alike.
MK Ultra is a mostly indica hybrid named after Project MK Ultra, the CIA's famous mind manipulating experiments done in the fifties. Buy MK Ultra seeds today to grow this award-winning variety. MK Ultra marijuana is so potent the effects are considered to be hypnotic. It induces an immediate cerebral high combined with a heavy couch-lock stone. The buds are very tight, resinous, and have a spicy pine flavor. Up to 21% THC.
Buy the best MK Ultra feminized seeds to grow for top-secret crops of the dank. Fast stealth shipping to all 50 states of the US. We have sourced the best MK Ultra seeds for sale from our trusted marijuana seedbanks—ILGM, Seedsman, Crop King, and Sonoma.
MK Ultra is pretty easy to grow, thanks to its natural resistance to mildew and mold. The plants grow very straight with minimal side branching, exhibiting both indica and sativa traits. It has long, big leaves and develops super frosty colas. MK Ultra yields roughly 350 g/m2 indoors and flowers in 8 to 9 weeks. Outdoors, harvest is during the month of October.
MK Ultra Origin and Genetics
MK Ultra Strain Description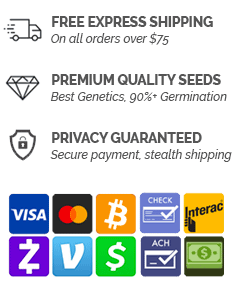 Lab test done on MK-Ultra have reported THC content of 18% and CBD levels of 0.1%.
MK Ultra strain was first named after the methods of mental manipulation employed by the CIA's Project MK Ultra. This indica-dominant strain stands apart due to its powerful cerebral effects. Even though the name may at first scare you a little, consuming MK Ultra will immediately explain the reasoning behind it having that name. MK Ultra is classified as one of the strongest hitting Indica hybrids in existence and brings on HIGHLY powerful and hypnotic cerebral effects. A cross between mostly-sativa hybrid OG Kush and indica G-13, this strain was first bred by T.H. Seeds and took home 1st place Indica at the High Times Cannabis Cup in 2003 and 2nd place in 2004.
MK Ultra is a highly effective medical marijuana strain for stress relief and anti-anxiety. Therefore the relaxing properties makes it perfect for evening and nighttime use.
MK Ultra is renowned for its 'hypnotic' effects and is best used when strong medication is necessary. Its hypnotic cerebral effects hit almost instantly. Smoking this strain causes your eyelids to become very heavy making MK Ultra perfect for patients suffering from insomnia. It induces a heavy couch lock, which makes it suitable to combat stress as well. Users often demonstrate signs of giddiness and carry an ever-present smile on their faces. Depression symptoms can also be alleviated with the help of this exceptional strain.
THC / CBD
MK Ultra is an indica-dominant strain that stands apart from the rest due to its powerful cerebral effects. MK Ultra's aroma has been described as similar to burning plastic mixed with some lemon and diesel. The smoke of this strain is very smooth.
MK Ultra's aroma has been described as similar to burning plastic mixed with some lemon and diesel. You will find the aftertaste to be long lasting with a piney, earthy sweetness and a hint of mustiness. The smoke of this strain is very smooth.
MK Ultra Seeds produce plants grow relatively short, reaching heights of just 100 – 120cm. Feminized MK Ultra seeds also produce sticky, dense and pungent flowers with tight, resin coated buds which are extremely sticky and white with crystals. Indoor growing is ideal due to the plant's short stature. It's above average yield delivers particularly sticky, dense, pungent flowers. MK Ultra cannabis seeds takes 8-9 weeks to flower and has an above average yield of 350gm per square meter. Buy MK Ultra seeds and check this strain out for yourself.
Overview