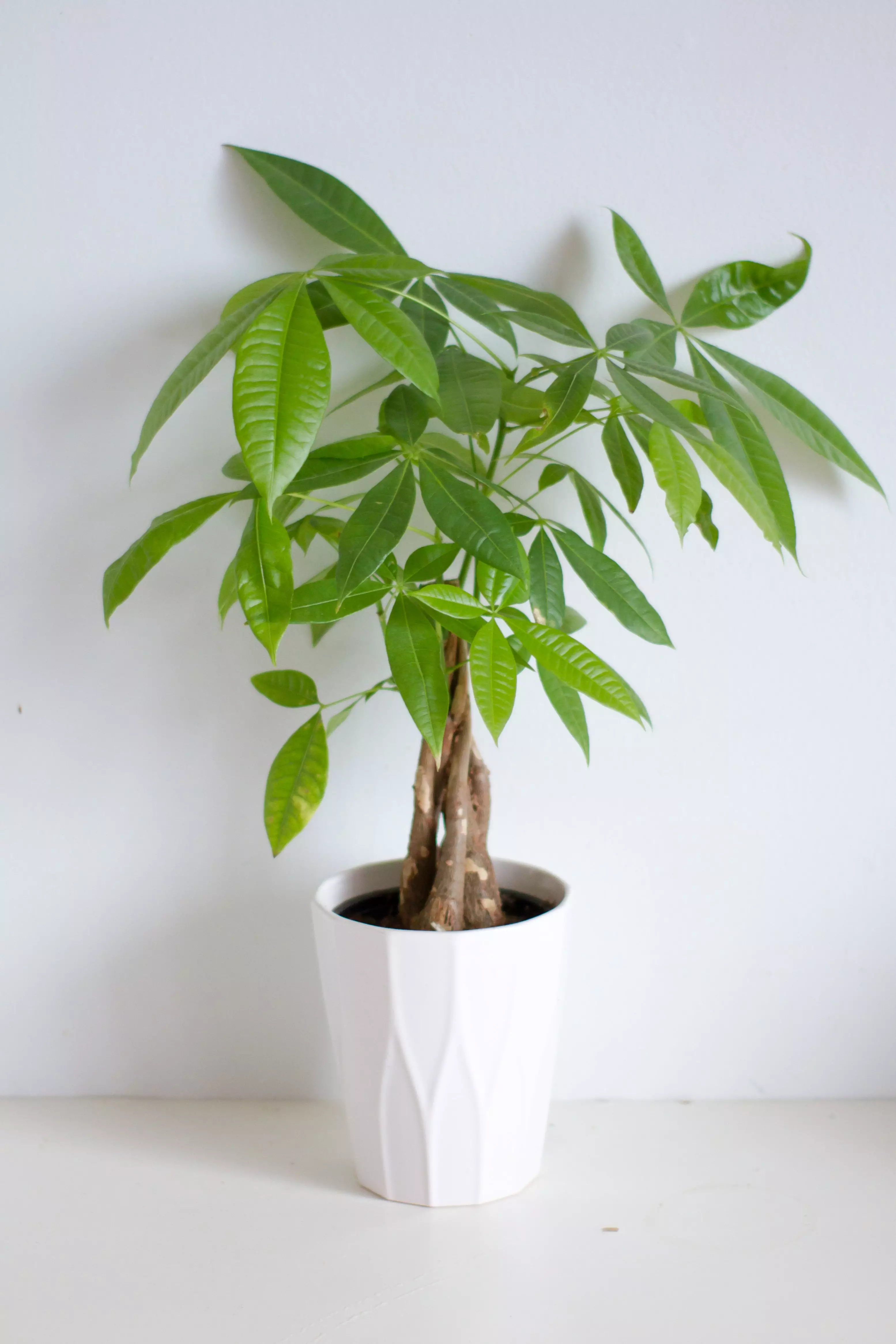 This plant also loves fluorescent light and is a common choice for an office plant. Once you place it, avoid frequent relocating because the plant might drop its leaves as a result.
This plant rarely has any issues with diseases and pests, but in some cases, the following problems could occur:
Harvesting
Good drainage and highly nutritious substrate are necessary for this plant; the best choice would be peat moss-based soil. Regular cactus or flower soil will also work. You can add some sand or gravel to assure it drains well. Some popular potting soil on the market has all of these and can be used right away with your Money Tree. Also, use a container with drainage holes. Soggy soil is the most common reason this plant dies, so don't overpot. Keeping the plant in a smaller pot will also keep it from overgrowing. You can keep your Money Tree in hydroculture if you prefer that.
The most common technique used to breed the Money Tree is through stem cuttings. The best time to do this is in the summer. Make 10-15 cm long cuts and place them in water or soil immediately. If you choose to place it in the water first, until the roots develop, make sure it is at least 2 cm deep. Place the water in a warm and sunny spot.
Common Problems and Pests
Because Money Trees are native to warm South American climates, they can only be grown outdoors in USDA zones 10-12. In other locations, they make ideal houseplants. Money Trees can grow in a range of different soil types, but they do best in well-draining, peaty, loamy soils. If you are planting a Money Tree outdoors, do so in the spring, once evening temperatures are consistently above 45 degrees Fahrenheit. Choose a spot with well-draining soil, indirect sunlight, and protection from strong winds. When planting a Money Tree indoors, select a well-draining container, and place it in a location where it will receive full sun to partial shade.
Growing: Here's how to grow money plant seeds. Water seedlings until they become established. Mature plants also appreciate occasional watering, though they also tolerate drought. This plant usually produces only foliage in its first year, coming to its full height and blooming in the second. The flowers of this plant attract bees and butterflies. This plant usually self-sows in good growing conditions.
USDA Zones: 2, 3, 4, 5, 6, 7, 8, 9
IN-STOCK ORDERS SHIP THE NEXT BUSINESS DAY VIA THE US POST OFFICE.
HOW TO GROW
Species Origin: Introduced US Wildflower
Seeds per Ounce: 1,500
US Regions: California, Mountain, Arid/Desert, Plains/Texas, Midwest, Northern, Northeast, Southeast
FAST FACTS
Harvesting: Ornamental Honesty Plant seed pods make long-lasting additions to dried flower arrangements. After the pods have completely dried on the plant, cut the stems and hang them upside down in a dry place until the entire stem is dry. If desired, carefully remove the outer layer of the seed pods to reveal the silvery inner layer.
Life Cycle: Biennial
Some of the technologies we use are necessary for critical functions like security and site integrity, account authentication, security and privacy preferences, internal site usage and maintenance data, and to make the site work correctly for browsing and transactions.
Etsy uses cookies and similar technologies to give you a better experience, enabling things like:
Для показа рекламных объявлений Etsy по интересам используются технические решения сторонних компаний.
Required Cookies & Technologies
Detailed information can be found in Etsy's Cookies & Similar Technologies Policy and our Privacy Policy.
Мы привлекаем к этому партнеров по маркетингу и рекламе (которые могут располагать собранной ими самими информацией). Отказ не означает прекращения демонстрации рекламы Etsy или изменений в алгоритмах персонализации Etsy, но может привести к тому, что реклама будет повторяться чаще и станет менее актуальной. Подробнее в нашей Политике в отношении файлов Cookie и схожих технологий.
Персонализированная реклама