The Mr Nice Seed Bank is owned by Shantibaba, and incorporates the talents of another equally experienced breeder of exceptionally high quality, and operates with the collaboration of Howard Marks. These three individuals command a huge wealth of experience in producing cannabis strains. They have produced a large amount of the winning strains of cannabis since 1990, including such legendary strains as Northern Lights No. 5, NL5 x Haze, Super Silver Haze, White Widow, White Rhino, and White Shark.
Rather than joining any seed companies' bandwagon by merely chasing money, Mr Nice Seedbanks dedicated their efforts to make old and new world seeds available for growers. They did not care how many seeds they sold or whether they had a profile in the limelight.
Mr Nice Seedbank has consistently maintained a visible presence on various helpdesks, directly interacting, testing, and researching with the growers of its products. Their aim is to help people, wherever they are, who have worked or intend to work with any of their product.
In 1998, Shantibaba sold his interest in the Greenhouse Seed Company and, as a sole trader, set up Mr Nice Seedbank, which has always been and remains a Dutch company. He established Mr Nice Seedbank, with its forty parent plants, to make strains and seeds available to all levels of growers in order to help them spread the genetic diversity of cannabis.
Howard Marks and Shantibaba, the men who created Mr Nice Seedbank, met during the late 1990's while living and working in Holland. In 1995, Shantibaba had set up the Greenhouse Seed Company. Coincidentally, at the same time, Howard was released from a lengthy imprisonment in the USA.
In 1999, Dutch law changed and no longer permitted the production of seeds. However, selling seeds imported from another country remained legal. Mr Nice wanted to fulfil their project without breaking any country's laws. Accordingly, they moved growing operations to Switzerland, where the law permits growing cannabis for seed production. Many Dutch seed companies lost plants, mother rooms, and seed crops, but in Switzerland, Mr Nice seed production blossomed.
During the next few years, the two became very good friends and discussed the possibility of working together. They decided to start a seed company to help growers throughout the world.
You can buy all of the strains created by Mr Nice Seedbank at Seedsman now.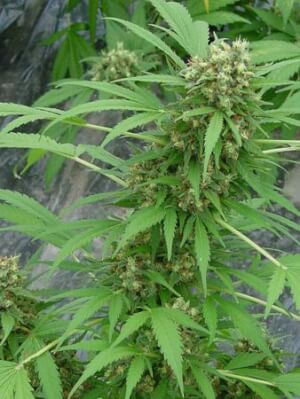 Early Skunk from Mr Nice Seeds is a quick flowering cannabis strain – specially bred for outdoor marijuana growing – that is fully ripe around mid September. Get this Skunk genetics now on regular seed form in Alchimiaweb! This hybrid comes from Ear [. ]
Mr. Nice have been awarded in several editions of the High Times Cannabis Cup, specially in the 90's with strains like Northern Lights No. 5 x Haze NL5, Super Silver Haze, White Widow, White Rhino and Great White Shark.
Mango x Widow combines two of the main successes of Mr Nice Seeds: timeless Black Widow, with its dense buds blanched by resin, and Mango Haze genetics , a powerful sativa with fruity and floral aromas and a long lasting high effect. Discover this Sa [. ]
Alchimia presents here Critical Skunk from Mr.Nice Seeds, a 75% Skunk and 25% Afghan hybrid made to increase the organoleptic and psychoactive properties of the Critical Mass strain , a cannabis line famous in Europe for its high yields, quick flower [. ]
Early Skunk – Mr Nice Seeds – Mr. Nice
Black Widow is one of the most awarded and best loved cannabis strains ever created, it's genetics form a part of countless hybrids on the menu of almost every seed bank and it won 1st prize in the 1995 High Times Cannabis Cup. Originally created in [. ]
Early Skunk Haze is the Sativa version of the Early Pearl Skunk variety, that has become a strong and vigorous hybrid, which flowers in about 8-10 weeks, producing a Sativa taste and effect thanks to crossing Early Skunk with Haze genetics. Now avail [. ]
With a regal fanfare and much majestic splendour, Mr Nice Seed Bank presents Early Queen, the reigning monarch of outdoor cannabis gardens. This fast flowering, early finishing hybrid of old-school strains from the west coast of the USA has been gat [. ]
Shit – Mr. Nice
The cross of a pure Afghan female (100% Indica) with a Haze marijuana male (100% Sativa) can only achieve fantastic results. The features that still can be improved in this strain are the yield and flowering time, so those looking for a good balance [. ]
Mr Nice Seed Bank takes you on Walkabout – the Australian aboriginal spiritual rite of passage consisting of a season spent in the wilderness, an appropriate choice of name for this affordable mix of selected outdoor cannabis seeds. Containing a wide [. ]