It's important to get a pH meter to check the pH level of your water when mixing nutrients. Cannabis prefers a pH between 6 and 7 in soil, and between 5.5 and 6.5 in hydroponic media. Letting the pH get out of this range can lead to nutrient lockout, meaning your plants are unable to absorb the nutrients they need, so be sure to test your water regularly and make sure the nutrient mix you give plants falls within the desired range.
Magnesium acts as the central molecule in chlorophyll and without it, plants aren't able to generate the glucose from photosynthesis. No magnesium means no energy can be converted from sunlight.
Calcium is responsible for keeping the structure of cell walls in a plant together. Without calcium, new growth won't develop properly and the plant won't function as it should. New growth will be stunted, leaves will curl, and rusty spots will show up on the plant.
Organic cannabis fertilizers
Outdoor cannabis growers typically add powdered nutrients to soil when transplanting a weed plant outside. This will give the plant all or most of the nutrients it needs for its entire life cycle, and if you want to add more nutrients to plants later, you can add them to the top of soil—called "top dressing."
Using organics is also great if you want to be more in-tune with your natural environment. Organic fertilizers are readily available from renewable sources and are an earth friendly option.
Magnesium
You'll also need a 400-micron mesh bag to place ingredients for the tea. While you can buy pre-built tea brewers, you can also easily make your own for cheap.
Only start a tea when you can apply it within 36 hours of brewing it. When using as a spray, apply in the evening or morning when the temperature is low and without direct sunlight. This period is also when the stomata—pores in the plant's foliage—are open to receive nutrients.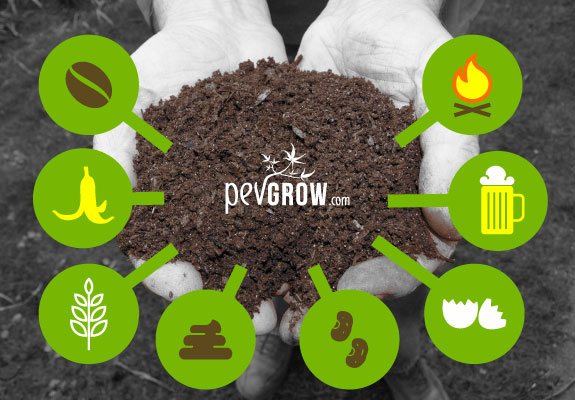 However, if you prefer to use fertilizers available on the market, remember that in our "Fertilizers and Stimulants" section you can find them at the best price.
Coffee grounds
The use of coffee grounds as a natural fertilizer has long been well known, and it is also one of the most commonly used homemade marijuana fertilizers.
Wood ashes
Another way to use coffee is to dilute the coffee ground from the coffee machine in one liter of water, and let the mixture stand for 24 hours. After this time we already have a good dose of fertilizer for our plants. In this case, we do not use the sediment directly as fertilizer, but the mother water (water in contact with the unsoluble coffe ground) derived from the digestion of the sediment (sedimented coffee).

Yet another unexpected fertilizer, wood ash contains ample potassium and lime for your plants. Believe it or not, you can even use the ashes from your fireplace, assuming you have burned wood. You can lightly scatter the ashes on your plants, or add them to a compost heap. One issue is that the ash will produce high amounts of salt and lye if it gets wet.
As bizarre as it sounds, your urine is a fantastic fertilizer for your marijuana plants. Fresh human urine is high in nitrogen, one of the key nutrients in weed growth. The breakdown of your urine depends on your diet. If you follow a 'Western' diet, the nitrogen, phosphorus, potassium (NPK) ratio is 11-1-2. For reference, blood meal is 12-2-1.
Bat Guano
Make sure you create a feed chart to discover what happens when you feed specific nutrients to your plants at set growth stages. If the leaves of your marijuana plants are turning yellow or look burnt long before harvest, it could be a case of nitrogen burn. Check your feed chart to see if it is a likely reason.
Wood Ashes
Pour a tablespoon of vinegar into the jar until it begins to foam, a sign that it is generating CO2. Reseal the bag, allow the plant to breathe for a quarter of an hour and add more vinegar to what's left of the baking soda. Stir with a stick and leave the bag over the plant for at least four hours.