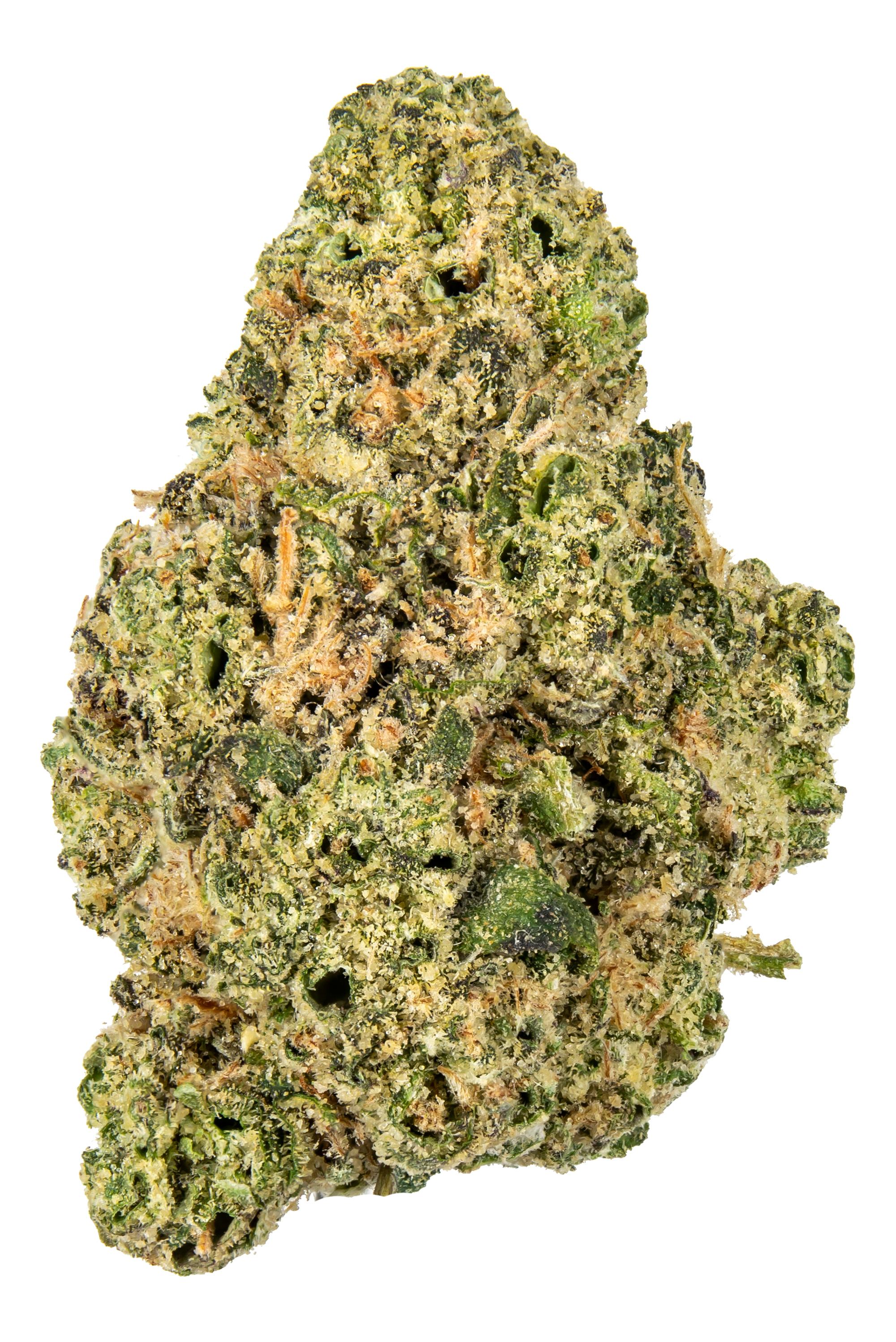 This Indica leaning hybrid is a cross of Ghost of Bon Humboldt, Caramel Cream, and Humboldt Frost. Just like its name suggests, Notorious THC can regularly produce THC levels of up to 30%, so it is highly recommended to start low and slow with this strain. Sought out by those looking for a stony and sedating experience, fans of this strain choose to consume Notorious THC for lounging around or lazy weekends.
Originally bred by Humboldt Seed Company, Notorious THC is a connoisseur's and cultivator's delight due to its high THC levels and high yields.
Growers enjoy Notorious THC for its high yields, producing flowers in about 65 days. When harvest ready, its large colas drip with resinous trichomes and pungent aromas. When cultivated properly, its army green buds are dense, coated in crystal trichomes and fuzzy amber hairs.
Its scent is kushy and earthy, with a floral and fuel undertone that carries over into its taste when smoked or vaped. This could be attributed to the terpenes Limonene, Beta Caryophyllene, and Linalool that are dominant in Notorious THC.
With many mentioning its powerful effects, to bring on a euphoric haziness that melts away into a full body stone, many say Notorious THC may be good choice for those who experience daily chronic pain and inflammation.
Mango has turned out to be a very effective pain killer (bad back) and muscle relaxer. No couch lock .. Cerebral, euphoric, mood boosting, balanced. Not overly sedating, but a great body relaxation. Great sense of well being.. very balanced, clean high. I find this strain comparable to blueberry's pain killing and euphoria, without the sedation. Be careful not to use this close to bed time. Its very mentally stimulating.
I can't understand how some of these reviews talk about energising and motivated and cleaning houses and all that! If I'm not near something I can sit on when I take a hit of this from my bong, I will need to sit on the floor! Not quite that, but it makes me very heavy, very sedated, clumsy, uncoordinated. I can think ok but I have NO interest in talking to anyone. Or listening to anyone! In my own head but happy to be with my dog. A little munchie-causing but not as bad as some strains. I would not really want to smoke this in the daytime unless the sole objective was to go to sleep. This strain helps me sleep for more consecutive hours than any other strain I have found. Almost everything that helps me sleep has me wide awake after two hours, no matter HOW much, how little, how late it is. 2 hours, that's all I get. Mango helps me do 3 – 4 hours. I'll take it 🙂
Mango has turned out to be a very effective pain killer and muscle relaxer. Cerebral and euphoric with mood boosting qualities. Not overly energizing, but not couch-lock either. After a few hours, sleep does come easily. I have found Mango to be comparable to blueberry for pain killing and mood boosting.
Mango was a light Indica / heavy Hybrid (Indica side) to me in effects. Smell & taste was lightly sweet & fruity. Looks was nothing to mention about one way or the other. This strain has been around since the 60's ("updated" in 91). Received third place in the Indica category during the 02 High Times Cannabis Cup. Worth a try for sure 🙂
Our Black Bag Line of product is packaged in custom light and smell proof polyethylene black bags, and is in whole flower form. People who enjoy the ritual of breaking up and smoking top shelf flower will enjoy our Black Bag Line.
Black Bag
Dominant Terpenes
Convenience Line
Notorious is a cultivar bred by Krome White and Corn Bread Ricky of Swamp Boys Seeds. They took the famous clone-only GMO and crossed it with their TK x Skunk male. We selected a very funky mango fruit leaning phenotype that is sure to tingle the palate. Think of a tropical summer whenever you reach for the Notorious M.A.N.G.O.
Indica/Sativa: 40/60
Our White Bag Line is packaged in custom light and smell proof polyethylene white bags, and is available in ground flower form as well as pre-rolled cones. The ground flower is for people who prefer the ease that pre-ground flower gives when rolling, vaporizing, and cooking. The pre-rolled cones are great for a fast convenient smoke.