Orangesicle is a mostly Sativa citrus-flavored strain with a nice cerebral uplifting effect. Orangesicle has a strong gooey orange flavor and smell, reminiscent of an orange popsicle.
Orangesicle is a mostly sativa variety from TH Seeds and can be cultivated indoors (where the plants will need a flowering time of ±60 days ) and outdoors . TH Seeds' Orangesicle is a THC dominant variety and is/was only available as feminized seeds.
Here you can find all info about Orangesicle from TH Seeds. If you are searching for information about Orangesicle from TH Seeds, check out our Basic Infos, Shop-Finder and Price Comparison or Lineage / Genealogy for this cannabis variety here at this page and follow the links to get even more information – or list all Orangesicle Strains (±2) to find a different version. If you have any personal experiences with growing or consuming this cannabis variety, please use the upload links to add them to the database!
Basic / Breeders Info
Orangesicle from TH Seeds is available only as feminized seeds. Regular seeds are not available at the moment. In 3 seedbanks, we found 3 offers between EUR 45.45 for 5 feminized seeds and EUR 52.00 for 5 feminized seeds. If you are looking to buy Orangesicle Cannabis Seeds from TH Seeds somewhere – have a look to our Orangesicle Price Comparison page with all current offers from all the connected seedbanks and shops – or visit one of the following tested, trustworthy and recommended seed-shops directly to check out their current Orangesicle offers: Alchimia Grow Shop, Cannapot Hanfshop and PEV Seeds Bank.
Where to buy Orangesicle cannabis seeds?
Orangesicle, the intense cocktail by T.H. Seeds
This plant can reach up to 150cm, even its ancestors and vigour. The size can be easily controlled, being ideal in indoor cultivation. The harvest is ready after about 8-9 weeks of flowering, producing compact flowers, thanks to the French Cookies heritage. Orangesicle produces a large amount of resin and terpenes, so it is advisable to use a carbon filter in order to control the strong aromas and go unnoticed. It offers a yield of up to 600g per m2.
Orangesicle by TH Seeds provides a very abundant terpene production, with citric and orange flavours inherited from Purple Tangie, accompanied by a creamy background that reminds us of orange sweets.
T.H. Seeds Orangesicle genetics
Alchimia is pleased to present Orangesicle by TH Seeds, a very delicious variety with properties that leave no one indifferent. This strain is now available in our feminised seed catalogue.
This encounter between Purple Tangie and French Cookies results in a Sativa dominant cannabis strain, showing a vigorous growth and an abundant production of secondary branches.
This variety offers you outstanding flavours and aromas, certainly with this incredible genetics you will never taste the herb like you did before.
It produces a powerful effect comparable to the quality of its organoleptic load, thanks to the significant THC production. It offers a rapid high and a very pleasant brain stimulation, particularly adapted to carry out physical or cerebral activities.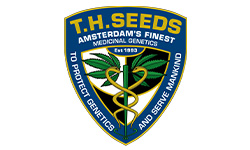 Orangesicle cannabis seeds from T.H. Seeds is an elite new hybrid strain from this iconic Dutch seed company.
This soaring, euphoric hybrid is derived from a selected cross of Purple Tangie x French Cookies – two world-class cannabis strains known for their potency and amazing flavours.
Orangesicle has a sweet orange flavour with a hint of cream from the cookies side of the cross. T.H. Seeds claim this is their new favourite summer strain and we can see why – she's as enjoyable as a frosty orange ice lolly on a warm day.
Legally-operating growers can look forward to very well structured plants with a uniform and predictable vigour. Orangesicle has a phenomenal resistance to pests, making her suitable for cultivation in all climates.