You have experience with the medical qualities of Mandarin Cookies? Sharing your information here maybe can help other people!
Do you know something more about Ethos Genetics' Mandarin Cookies? Please help to make this database better and upload/connect your information here!
Here you see the latest Mandarin Cookies photos, uploaded from our users! Altogether we've collected 5 pictures from Ethos Genetics' Mandarin Cookies, check out our Mandarin Cookies gallery to view them all.
We found 12 direct descendants from Ethos Genetics' Mandarin Cookies in the seedfinder strain database, here a short overview. To see all hybrids and their descendants, visit our Mandarin Cookies Genealogy Page and check out all the direct crosses as like as the following generations.
Medical Values
Here you can find all info about Mandarin Cookies from Ethos Genetics. If you are searching for information about Mandarin Cookies from Ethos Genetics, check out our Basic Infos, Gallery, Shop-Finder and Price Comparison, Lineage / Genealogy or Hybrids / Crossbreeds for this cannabis variety here at this page and follow the links to get even more information – or list all Mandarin Cookies Strains (±2) to find a different version. If you have any personal experiences with growing or consuming this cannabis variety, please use the upload links to add them to the database!
"They're all keepers" is what we said the first time we ran 18 of these from seed. She has it all: high yields, gorgeous flowers, rich in terps. Heavy orange, earth and heavy pine on most phenos. Very high calyx to leaf ratio.
Mandarin Cookies from Ethos Genetics is available only as feminized seeds. Regular seeds are not available at the moment. We found 1 offer for EUR 100.00 for 10 feminized seeds. If you are looking to buy Mandarin Cookies Cannabis Seeds from Ethos Genetics somewhere – have a look to our Mandarin Cookies Price Comparison page with all current offers from all the connected seedbanks and shops – or visit one of the following tested, trustworthy and recommended seed-shops directly to check out their current Mandarin Cookies offers: Alchimia Grow Shop.
Upload your info about this strain here:
You have grown Mandarin Cookies together with another variety? Please fill out our Strain VS. Strain direct comparisation form!
Our strain reviews are multilingual, searchable and can be very detailed – including data about the grow, aroma, effects and taste! Please upload your Mandarin Cookies Review here to help the other seedfinder users!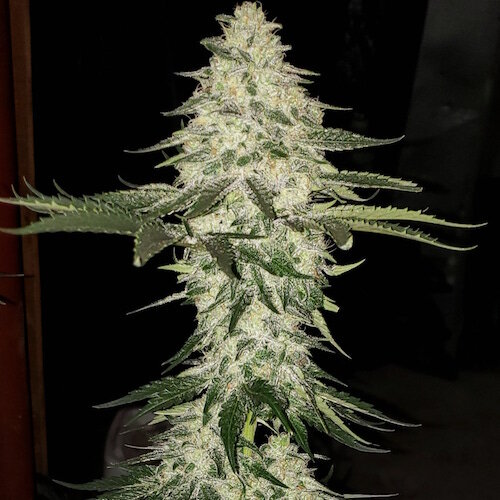 • Available in either 3, 6, or 10 Seeds
• Terpenes: Sweet and Spicy citrus with berries and floral.
Available in either 5 or 10 AlphaFem™ Seeds
Flowering Time 8-9 weeks
Outdoor: Big and fast!
Yield: Friggin' Huge!!
Total Cannabinoids: 25%
• Available in either 5 or 10 AlphaFem™ Seeds
Pluto Cut Autoflower RF3
Purple Thai x Pluto Auto
Terpenes: Extremely pungent and sharp candied lemons with mixed sweet berries and gasoline underneath.
Extraordinary flavor, effects and appearance.
Strawberry Cookies OG R1
3) The Punch Line Rbx x Grandpa's Stash #12 – 8-9 weeks
• Yield: 500-600 g/sq m
Mandarin Cookies is perfect for treating those suffering from chronic pain, depression, headaches or migraines, ADD or ADHD, and chronic fatigue.
The high of this strain will fill you with a lifted high that hits both mind and body with an almost frenzied sense of energy and motivation.
This strain is a unique Sativa-dominant hybrid strain of cannabis. These buds produce an incredibly powerful aroma that is pleasant and not quite pungent in nature.
Mandarin Cookies Weed Strain has an aroma of earth, kush, and strong citrus overtones with a bit of pungency coming to light when the buds are ignited.
Additional information
1/8 Oz (3.5 Grams), 1/4 Oz (7 Grams), 1/2 Oz (14 Grams), 1 Oz (28 Grams), 1/2 Pound (8 Oz), 1 Pound (16 Oz)