Having a constant breeze is good for your plants, and especially in hot climates. But if you live in an area with a lot of high winds, consider planting near a windbreak of some sort, like a wall, fence or large shrubbery.
The best way to identify loamy soil is by touching it. How does it feel? Sandy soil should be difficult to compact while clay should compact into a tight ball that won't crumble. When squeezed, loamy soils should form a loose ball that will hold its structure momentarily before breaking apart in large chunks.
Privacy and security
Low costs
Most potting soils used in gardening are loam soils. If you've ever worked with potting soil, you'll know that its composition is rich and diverse, and it looks dark and hearty. Beyond texture and color, the soil should smell rich and alive.
Clay soils
Environmentally friendly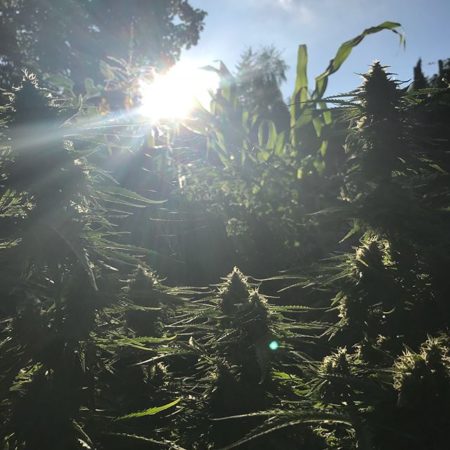 Photoperiod plants go to a 1-gallon pot first then 5 or 7-gallon then to their final pot. I use 15 or 20-gallon nursery pots for photos.
How to deal with caterpillars
Watch for bugs or nutrient deficiencies and react quickly to problems
2.) Set up your containers with soil
PH and PPM Tester
Root Riot Plugs
4.) Water plants regularly
To test the pH, I use a Bluelab PH Pen. I also use a PPM meter to measure the strength of nutrient solutions.
Plants are getting close when most trichomes are cloudy(autos and photos). At that point, I start flushing with mad farmer detox. I chop when the first ambers show up at about 10% max. Learn more about trichomes and when to harvest.
Greenhouses also offer growers the ability to harvest more than once per year, if they are equipped with a light deprivation system. These systems allow growers to control the hours of sunlight their plants receive, much like turning lights on and off in an indoor garden, by covering the greenhouse with a black tarp that deprives the plants of sunlight.
There are also many advantages and disadvantages of using clones. They can often be found at your local dispensary, are from a proven genetic lineage, and typically do well outdoors, making them the perfect choice for inexperienced growers. On the other hand, clones develop a fibrous root system, as opposed to the deep taproots that seeds develop. Fibrous root systems can reduce the plant's ability to deal with environmental stress and predatory insects.
Greenhouses can be a great middle ground between the complexities of an indoor setup and the uncertainty of growing outdoors. They provide ample protection from the elements and use far fewer resources than an indoor grow. Greenhouses can be more costly than an outdoor garden and require more planning, but they also allow you to extend the growing season considerably.
Organic sources of nutrients include alfalfa meal, bone meal, kelp meal, bat guano, fish emulsion, dolomite, and earthworm castings. Each contains different ratios of nutrients that can be used for different phases of the plants' growth cycle.
Security
If you live in a climate with exceptionally hot and sunny days, use shade cloth to prevent your plants from overheating. In cold areas, natural enclosures and cement or brick walls can be used to help retain any available heat and keep your plants warm.
Most cultivars will begin to flower once they receive fewer than 15 hours of sunlight per day. The latitude of your garden has a direct impact on how many hours a day your plants receive light.
Outdoor cultivators take what Mother Nature gives them and turn it into the best possible harvest. Many cannabis consumers prefer marijuana grown outdoors under the full spectrum of natural sunlight. That unique spectrum creates a greater variance of cannabinoids and terpenes than artificial lighting.
Seeds vs. clones
Quality soil is crucial to the success of your crop and one of the few factors that you have control over when growing outdoors.
During the vegetative stage, water your plants thoroughly, then not again until the top 1 inch (2.54 centimeters) of soil has dried out. This can be every day or every four days, depending on conditions, but the time between watering will become shorter as the plant grows its roots. Container gardens tend to dry out faster than soil beds, so they'll need to be watered more frequently.