Note that if you are getting close to harvest, your fan leaves will naturally turn yellow as the buds will pull the nitrogen out of them for one last boost in growth, which is completely normal and nothing to worry about!
Nutrient burn is another common issue beginners and even expert growers often face, as they tend to get overzealous with feeding their plants. When it comes to nutrients, less is always more!
Nutrient burn is essentially what happens to your plants when you've been feeding them too strong of a nutrient mix, and/or too frequently. The edges of your leaves will begin to brown and look crispy like they were burned, and growth will slow down drastically.
Nitrogen Deficiency & Toxicity
If in the wrong pH range, it can cause your plant to go into a nutrient lockout, which means it is essentially in shock and no longer absorbing nutrients for the time being.
When overwatering occurs, it means you'll want to water less frequently. The best method for deciding when to water is by checking how dry the soil is. If it is dry all the way around and inch deep, then it is ready to water.
Light Burn
So there you have the 10 of the most common problems cannabis growers face, as well as all the solutions to fix them before your plants are too far gone!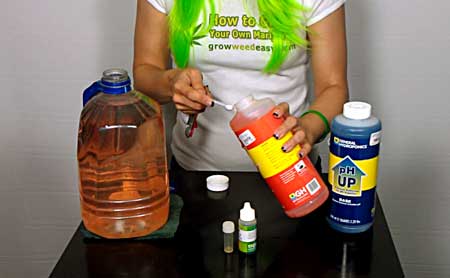 An exhaust system doesn't have to be anything fancy. At its simplest, an exhaust system can be two holes and a fan (with the fan place in one of the holes pointed out from your grow area). Having a fan constantly pulling hot air out and bringing fresh air in from your intake hole will help ensure that your plants have the fresh air they need.
Keep in mind that there are many other factors that go into this, and this is not a guarantee as much as a general rule. Moreover, many smaller lights tend to get better yields per watt than fewer larger lights. Lights that are kept closer to plants (without signs of light stress) will also tend to produce bigger yields and faster growth. Most importantly, the strain you start with and the training methods you use to get your plants to more efficiently use your indoor grow lights will have a huge impact on your growth rates and final yields.
Step 3: Check Environment
Because your plants need CO2 when the lights are on in order to function properly, a completely sealed off grow box is not good unless you're artificially adding CO2. Your plants will suffer if they don't get enough CO2 in a sealed grow box even if the temps are completely under control.
Cannabis loves light! But not too much…

If you're worried about the smell of cannabis, make sure any heated air being vented outside grow room/house gets filtered to remove the scent of cannabis. For example, many growers choose to get a carbon scrubber to "scrub" all odors before the hot air is vented. By creating good suction with an efficient exhaust system and adding a carbon scrubber, you can basically eliminate all smells from the grow room, inside and outside of the house. Learn more about controlling odors from the grow room.