for me, a big part of taking care is finding balance. and we certainly all have our own personal definitions of what balance is or can be, but i find solace in being super mindful of what i put in my body – what's going to make me feel legitimately good. so a healthful and wholesome breakfast is my key to really having a feel-good-day! weekends around here are reserved for more lush morning bites – fancy eggs, waffles, and certainly pancakes! this pancake recipe is a new one that we've been making recently, full of protein from the quinoa flour, but with a subtle sweet flavor all thanks to the oat flour. they're simply spiced with ground cinnamon, and gently sweetened with a bit of maple syrup and vanilla. the super seed mix i put together not only lends some mega nutrition, but also offers the pancakes some killer texture! basically, you can have your pancakes and eat a sh!t ton of them, too, without feeling like a hangry mess 20 minutes later 😉
lastly, i just want to say *thank you*. thank you to anyone who stops by this space, who finds something they like, or maybe don't; thank you for the sweet notes and emails, and questions, and suggestions. you were all so very much a part of why 2015 was an incredible year and i aspire to make this space even better and more beneficial to you this year. i would love to hear your thoughts – is there anything you would like to see more of? less of, perhaps? let's talk about it! i would love if you would take any time you have to write a comment or send me a quick email 🙂
hi friends! happy 2016! i'm not sure about you, but i've been slowly easing into this new space in time. little by little i've been setting some intentions for this new calendar year. there's plenty of personal stuff that i want to work really hard on – having more patience, being more present in the moment – whether in an achievement or a complete failure, taking on new challenges (no matter how scary they might be) and hopefully finding peace and comfort in them. i guess my hope is that in 2016 i can focus on taking better care of myself, and from that be a better human to those around me.
i hope that you're finding all good things in this first week of 2016. love + light, xo.
Yield: Yields about 21 (3-1/2- to 4-inch) pancakes
I made the recipe exactly as written and the pancakes were terrific; fluffy with great flavor. I have never had the problem with the batter that someone else commented on and I have made them several times. I made them for my kids a month or two ago and they and my husband have kept asking for them ever since!
Recipe Notes
A fun twist on the beloved pairing of lemon and poppy seed, these chia-flecked pancakes go well with a berry sauce or fresh berries and whipped cream, instead of traditional maple syrup. If you prefer thicker pancakes, reduce the water by 2 tablespoons.
Rate or Review
Scott Phillips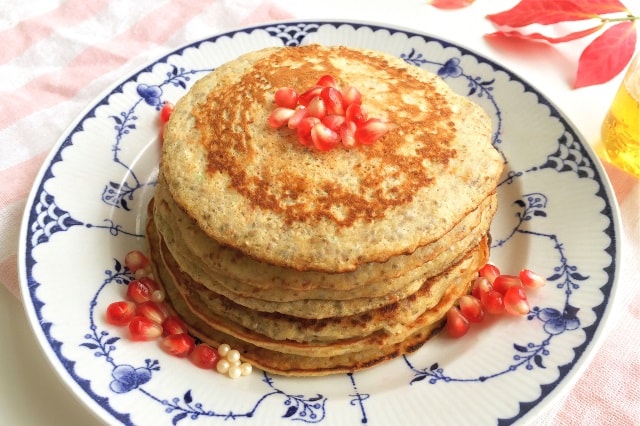 These banana pancakes in a snap are naturally sweetened by the ripe bananas and are filled with antioxidants, fiber and protein that the chia seeds provides so you can serve this treat completely guilt free. The chia seeds also adds a crunchy texture to the pancakes which makes them even better. You can also top the pancakes with your favorite berries and fruit but it is also good just as it is. Another great thing about this recipe is that you can freeze it and reheat it for another family breakfast whenever you or yours crave it. It's also easy to make. Simply whisk together the ingredients until the mixture turns into a thick liquid, the typical pancake consistency.
It's a shame these days how the stigma of fast food erodes our belief that some dishes could not possibly be healthy. However, I have a contender! You won't find a more delicious and nutritious meal than these Chia Banana Pancakes. You won't find this superfood dish on the menu at any drive through takeaway. But your house might suddenly become the most popular place after school with these tasty treats.
Hi there! I am Kawn from Kids food universe and it's so exciting to be sharing this hearty family recipe of ours that will give you a reason to get out of bed! Who knew that pancakes all the sudden could become a superfood?
My little boy is still a few years away from his school years. But I want him to know healthy food and taste the difference. When he's older, I hope he remembers how good his dear mum's food tasted and how eating healthy is a way of life. I love to pack flavors into all my dishes and draw on my Lebanese heritage mixed with what I now have around me in Denmark where I now live. I hope you enjoy my first featured recipe on Super Healthy Kids and it's exciting to have the opportunity to be seen on such a terrific page.