In general, 5-gallon pots are a good size for small-to-medium outdoor plants, and 10-gallon pots or larger are recommended for big plants. Regardless of size, you'll want to protect the roots of your plants from overheating during warm weather, as pots can quickly get hot in direct sunlight. This will severely limit the growth of your plants, so be sure to shade your containers when the sun is high in the sky.
Big yields
Weed plants will need full, direct sun for at least 6 hours a day. You may have a backyard, but it might not be great to grow there if it doesn't get full sun every day.
Here are some important considerations before starting an outdoor marijuana grow.
Buying the right soil for an outdoor cannabis grow
Your cannabis plants should receive as much direct sunlight as possible, ideally during midday, when the quality of light is best. As the season changes and fall approaches, your plants will get less and less sunlight throughout the day, which will trigger the flowering stage.
Some growers plant in containers on balconies or rooftops that are shielded from view, while some build heavy-gauge wire cages to keep thieves and animals at bay. Whatever you decide, think about how big you want your final plant to be—outdoor cannabis plants can grow to 10 feet tall or even more, depending on how much you let them go.
It's fun and relaxing
How to set up your outdoor marijuana grow
We also advise against using nutrients designed for indoor weed growing—they are generally composed of synthetic mineral salts and can damage soil bacteria.
Start off with fertilizers that are inexpensive and readily available. Some release nutrients quickly and are easily used by the plant, while others take weeks or months to release usable nutrients. If done correctly, you can mix in a few of these products with your soil amendments to provide enough nutrients for the entire life of your plants. Most of these items can be purchased cheaply at your local nursery.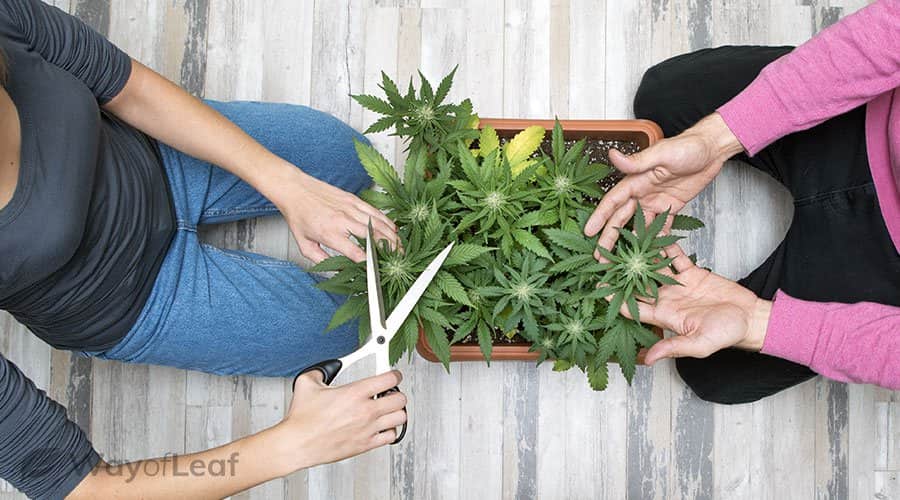 The type of strain you're growing dictates the duration of flowering. For example, most sativa strains will go through the full growth and flowering cycle in a little over three months.
It is imperative that you keep your marijuana healthy because blooming plants have a natural resistance to specific pests. You can add ladybugs and lacewings, as these predators keep harmful pests at bay while doing no damage themselves.
One of the main advantages of container gardens is that you can place them anywhere. Therefore, you can grow your weed on a patio or even on a rooftop. Make sure you move the plants around to make the most of the available sunlight. You can also use store-bought nutrient-rich soil, which simplifies the fertilization process.
Having the ability to choose the right marijuana strain, the ideal location, and the best possible soil is one thing. Possessing the patience to see the entire project through is quite another.
Seeds
Incidentally, Colorado residential properties are allowed to grow a maximum of 12 plants, while medicinal marijuana growers are permitted up to 24.
You should be able to deal with animal threats by surrounding your plants with a high and sturdy wire fence. If you are concerned about birds, you can place netting over the plants.
You must root the clones indoors before they are 'hardened off.' This is the process of moving a plant outdoors for a few hours a day. This method gradually exposes them to air, cold nights, and sunlight.
Protecting Your Marijuana Plant from Pets & Pests
However, all marijuana growing areas must be enclosed, locked, and they can't be viewed from the outside. In other words, it is tricky to grow cannabis outside and meet all state laws.
Garlic is useful for fighting beetles. Check your plants daily for signs of infestation and act immediately if you see any issues.