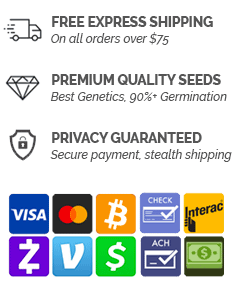 Purple Punch strain is a popular indica that grows vigorously and produces potent buds. Purple Punch strain is known for its abundance of trichomes. During the flowering phase, these plants form large, dense, colourful buds that glisten from a thick layer of resin coating.
Purple Punch Seeds
Purple Punch strain is an indica dominant hybrid created from two popular stains with high sedative qualities. Therefore the high is great for those suffering from insomnia, chronic stress, or pain. The terpene profile of these Purple Punch Seeds is an exquisite combination of both grape candy and blueberry muffins.
Genetics
Growing Purple Punch seeds is of moderate difficulty. So when growing indoors, try to mimic a northern California climate with balanced humidity and lots of light. Typical tent setups are fine with strong sources of light. Using 5-gallon buckets of organic soil and nutrients will provide you with a hearty medium. The plants growth is robust, vigorous and branchy, with a shrub structure whose main cola stands proud above the lower branches. Therefore the Purple Plants grown from Purple Punch marijuana seeds react well to pruning.
Purple Punch 2.0 aka Purple Punchsicle is a beautiful union between the orignal Purple Punch (Graddaddy Purple x Larry OG) by Supernova Gardens and Symbiotic Genetics' Purple Punch F2 Male. Commonly referred to as the dessert strain, the moment a package of Purple Punchsicle is unfastened, the aroma of sweet creamy grapes and nuttiness immediately fill the air. It's breathtaking buds are dark purple with neon green leaves and laden with heavy layers of trichomes, almost as if the buds were literally dipped in sugar. The taste is exactly as it smells with powerful blasts of mouthwatering grape candy, each puff is guaranteed to leave you craving for more.
We took 22 Purple Punchsicle seeds and tested multiple phenos over the course of a year and a half until we were finally able to select a winner that has consistently tested between 24-28% total THC. While the original Purple Punch excelled in aesthetics and aroma, it lacked the potency that heavy cannasseurs crave. Through our prolonged selection process we're able to ensure that our Purple Punchsicle maintained the original attributes of it's beautiful mother while also being able to deliver a knock-out punch.
With it's analgesic benefits the high will leave you heavily relaxed and elated. We recommend this strain as a night time smoke but can be used during the day with caution.