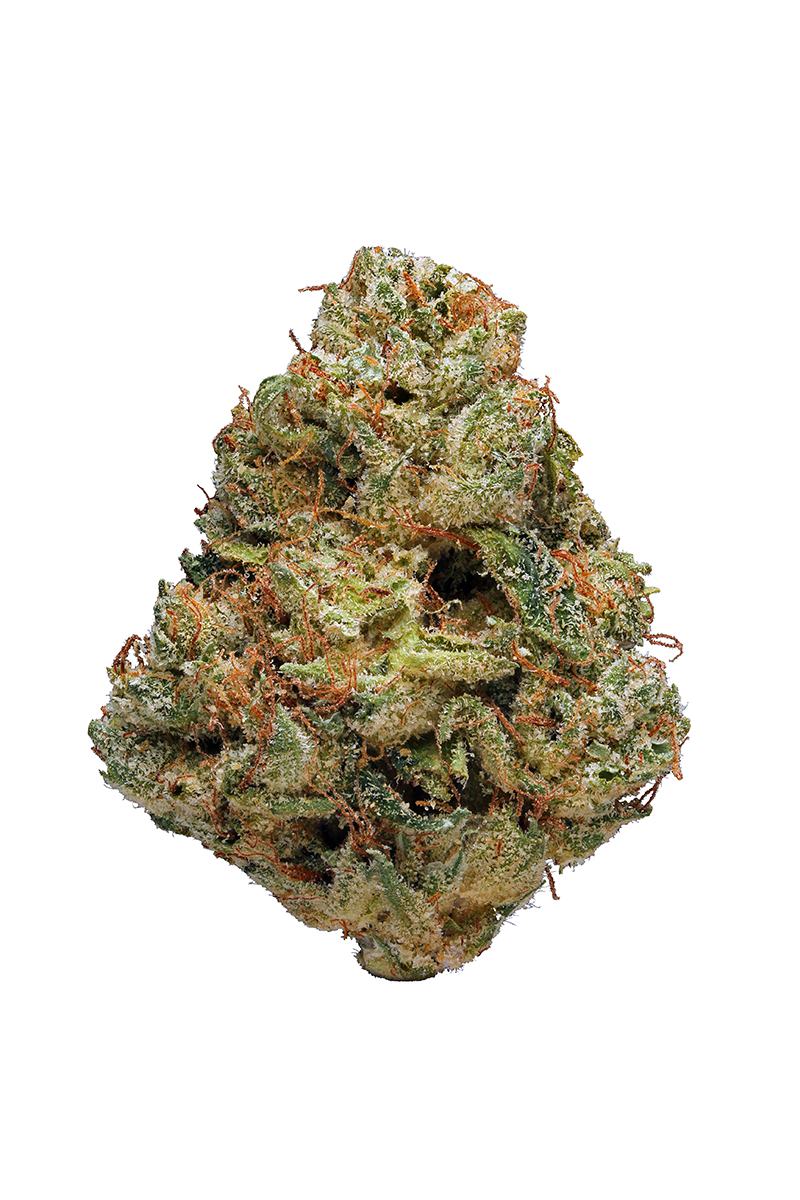 Raskal OG is a sativa-dominant hybrid that emits a scent similar to fresh lemon and pine. Its flavor on the exhale turns into soil and nuts rather than citrus like one would assume. Its harvest-ready buds display a mix of light and dark green hues with vivid deep amber pistils.
THC levels of Raskal OG average in the high teens. Those that have tried this strain have reported feeling a strong high that induces creativity while simultaneously allowing the body to experience relaxation. While the mind focuses, the body becomes couch-locked, and reviewers have enjoyed activities like video games or movies while using this strain. Some have also used it to help alleviate chronic pain or to uplift a sad or depressed mood.
This strain is potent, with genes from the Fire OG and the Alien Kush. The Fire Alien Kush is well known for its heavy resin production. This strain is described by users as a lofty high that can promote feelings of euphoria and bliss. But it is important to remember that not all phenotypes will be an exact replica of each other. Some will have a lemon and pine smell, thanks to the Fire OG parent strain, will others may have more of an earthy aroma, thanks to the parent strain Alien Kush.
As with many of the og raskal seeds, this strain will produce highly resinous flowers. Its parent strains are Fire Alien Kush and Strawberry Cough.
Fire Alien Romulan
The following seeds have been bred by the og raskal seeds team:
This strain from the og raskal seeds is cross of the Fire Alien Kush and the Purple Master Kush (otherwise known as the SoCal Master Kush). This strain does have some cerebral effects; however, it is more well known for its significantly potent Kush characteristics. When growing this strain, you will find that the seed from this strain produces a thick and dense plant resinous yield with a hash aroma.
Fire Alien Strawberry
However, you will be able to find regular seeds as well. So, whether you are looking for highly stable, feminized, or regular seeds- you will be able to count of og raskal seeds to deliver what you need.
Phone Us: (01473) 724698
Phone Us: (01473) 724698
By staying on this site, you agree to the use of cookies. You can find out more by following this link.
Int: 011 44 1473 724698
Int: 011 44 1473 724698
Sign up for the newsletter
Int: 0044 1473 724698
The search results will show only the products that have the selected values available.
Please note that some products may not have, for example THC Level or Flowering Time, available. If you get 0 search results you may want to amend your search values.