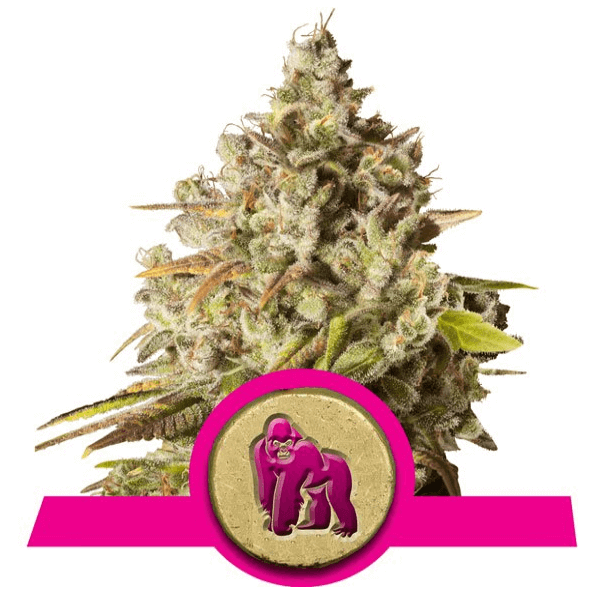 Gorilla Glue is known for its high resin production and THC content. A gem you must try!
The indoor production can reach 550gr/m2, and up to 700gr/plant outdoors.
Royal Gorilla's harvest is characterized by the quality of its thick and dense buds that get completely covered by a layer of white resin rich in terpenes and cannabinoids. It tends to offer a THC level of 24-26%, although in the right hands it can reach up to almost 30%.
Royal Gorilla feminized by Royal Queen Seeds is famous for its high resin production and strong and happy high.
Royal Gorilla Taste and Effects
A perfectly balanced hybrid (50% Sativa / 50% Indica), Royal Gorilla grows vigorosuly and with good natural branching, and responds very well to topping and SCROG. After just 9-10 weeks of indoor flowering, when it develops elongated and dense buds, this plant is ready to harvest in mid-October outdoors.
The result of crossing Sour Dubb with Chem Sis, Gorilla, also known as GG#4, has quickly made a name for itself in the cannabis world thanks to its high potency and good trichomes production that will delight the extractions lovers.
Royal Gorilla's high concentration of trichomes and terpenes makes it perfect for creating all types of marijuana concentrates, with excellent returns and great quality. The organoleptic profile of Royal Gorilla is made up of floral and sweet notes of pine on an earthy and spicy background that will remind the user of good Moroccan hash.
Cultivation of Royal Gorilla
The high is as intense as balanced, and physically relaxing, it relieves pain and stress while it causes a feeling of joyful euphoria.
Not only is this a very potent strain with some phenotypes producing an astonishing 30% THC, but it's a pretty good yielder, too. Indoor plants will produce between 500 – 550 gr/m2 in a 9-week flowering period if given 600 watts of lighting. Outdoors cultivation is restricted to warm climates meaning that a Mediterranean climate is ideal. In this environment, production will be approximately 550 – 600 gr/plant, with northern hemisphere harvests taking place in the middle of October. The leaves of this strain are attractive lime green, and its buds dense and large. Such is the resin production of this plant that even the larger leaves will sparkle with it.
Royal Gorilla is an insanely potent 50/50 indica/sativa hybrid cannabis strain that originated in the USA. Royal Gorilla results from a serendipitous crossing of Chem Sis with Sour Dubb, when the Chem Sis went hermie, with the later addition of Chocolate Diesel. It was named Gorilla Glue in the US after the powerful adhesive, which reflects the stickiness of the absurd amounts of resin this plant can produce. It has great medicinal potential.
How Royal Gorilla Grows
A multiple award-winning cannabis strain, Royal Gorilla, is likely to have profound medicinal qualities regarding pain relief (including chronic pain), stress, and depression .
The taste has a foundation of sweet earthiness, which is enlivened by notes of pine and lemon from the terpenes pinene and limonene. Although some phenotypes can reach 30% THC, the average for the "lesser" phenos is around 26%, still pretty incredible for any other strain. CBD levels are low at less than 1%. This helps to give Royal Gorilla an immensely potent effect that is profoundly relaxing and offers an uplifting, cerebral, and happy quality that makes it such an exceptional strain. This is something that even the most jaded cannasseur will sit up and take notice of.
Royal Gorilla Taste, Smell, and Effect
Don't stay glued to the sofa. Get up and get your Royal Gorilla seeds ordered from Seedsman today.
As for Gorilla Glue's name, the official story here is that they choose the name because of the strain's insane resin production that made the two breeders stick to everything after handling their new creation. But given the strain's super-relaxing effect, Royal Gorilla can also be a perfectly fitting name to describe her deeply relaxing body stone that will "glue" you to your couch, although her high also comes with an uplifting euphoria – making her effect awesomely balanced.
The two passionate breeders immediately knew they had created something truly special, and were blown away by the results of their first THC measurements. As if a staggering 24-26% of THC wouldn't be crazily high enough, some of her phenos are said to have weighed in at an incredible 30% – THC levels which up to this date had never been measured in any strain before.
Genetics and Potency
The strain has already won multiple awards, such as the 2014 Cannabis Cup and the 2015 World Cannabis Cup, where she won first place in the best hybrid category.
Some of Royal Gorilla averages a THC content of 24%-26%, but certain phenotypes have the ability to surpass this when grown expertly. She induces a very potent effect that is incredibly relaxing – superb for chilling and stress relief. However, what makes Royal Gorilla's high so special is that this chilled effect is balanced with an uplifting and happy high. Her potency also makes Royal Gorilla a good strain for medicinal users who want a strong herb to help with the management of their symptoms.
Royal Gorilla: A Legendary Strain Now At Royal Queen Seeds!
Royal Gorilla isn't necessarily a strain that you would choose for her yields, which are in fact quite moderate – the focus here is on the quality of the bud, rather than the quantity. You can grow Royal Gorilla indoors or outdoors, where she will grow massive buds that will have wonderful lime-green leaves. Thanks to her strong resin production, her leaves will become covered with an abundance of trichomes, that will beautifully sparkle in the sun!