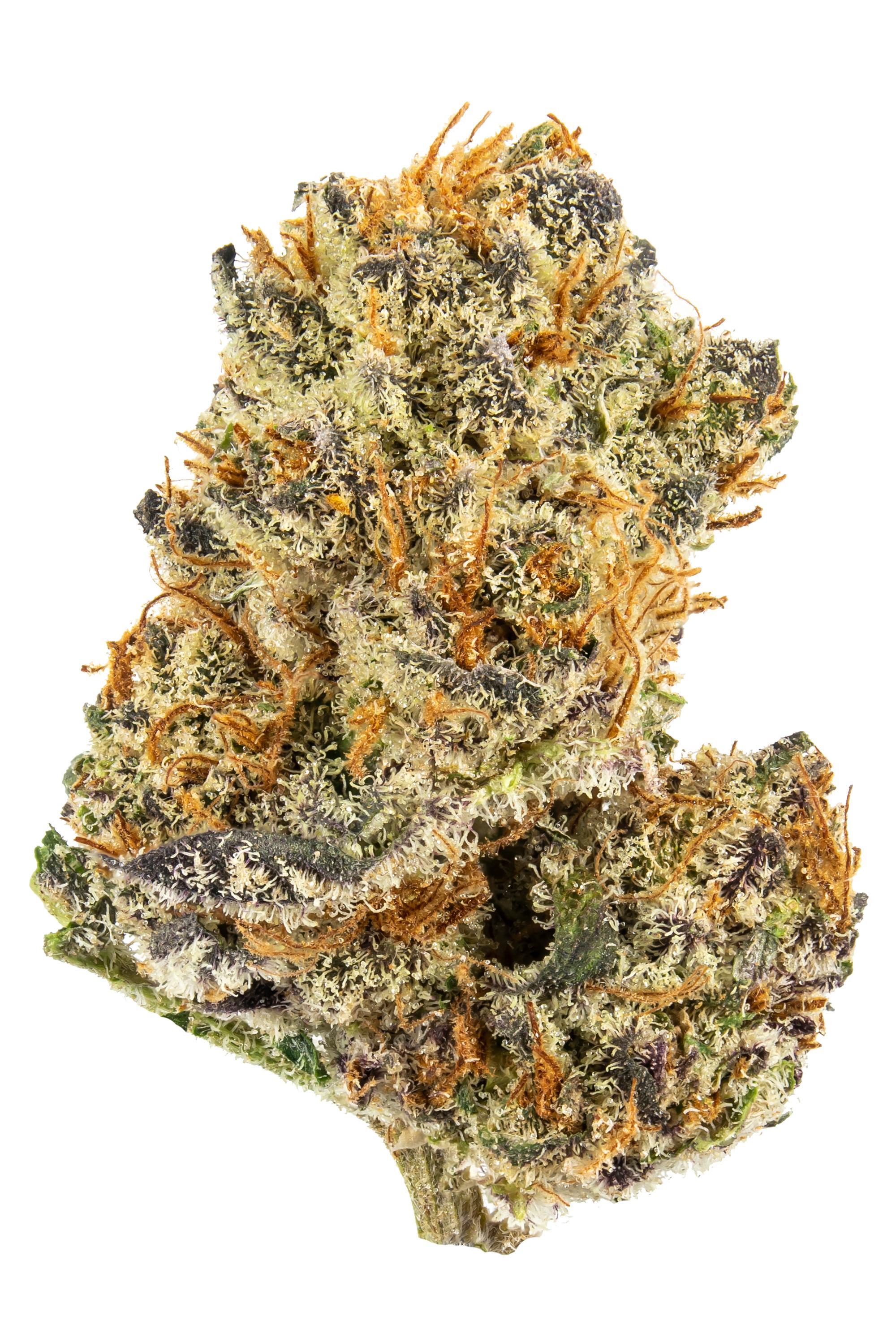 I hope you don't expect to find out the lineage of Secret Cookies, because what kind of secret would that be? Seed Junky Genetics, who gave us GSC, once again created a masterpiece! A masterpiece for cultivators that is! The insane, mammoth-sized buds from Secret Cookies can only mean that Kush Mints #11 is one of the parents. Who the other parent is will have to remain a mystery. because we don't know the secret either.
This balanced-hybrid is reported to offer a smooth and relaxing, but not overwhelming, euphoria. Reviewers say its versatility makes it easy to consume in the morning or at night. One user felt energetic and motivated and went to the gym, while another sat on the couch and ate herself into a food coma.It wasn't me!
The robust buds are made up of olive-green and light-grey, curled leaves, decorated with bundles of long orange-pistils. A garland-like braid of trichomes provides a fuzzy golden trim.
Jason Sirotin:
So, I saw that it has like gassy fuel tones. Is there any. What's the smell like from your perspective?
Jason Sirotin:
Oh, and why is that?
Mr. Genetics:
Yeah. And everyone knows like the Girl Scout Cookie strain is a low yielder. It's extremely hard bench, tightly packed nodes with this small, and they're not big yield. So having the Secret Cookie genealogy, whatever it really is. But having just strangely monstrous yields using the cookies name just makes it even more obscure.
Jason Sirotin:
Oh, okay. Mr. Genetics, tell me what's up with Secret Cookies.
Jason Sirotin:
Hello and welcome to the Greenstone Podcast. I'm Jason Sirotin, joined, as always, by Gary Walker and Mr. Genetics. And today, I'm super excited to talk about a strain that I've been really, really interested in, Secret Cookies. So first of all, Gary and Mr. Genetics, first word that comes to your mind when you hear Secret Cookies. Gary?
Jason Sirotin:
Whoa!
Mr. Genetics:
The first thing that caught my eye about this strain was several years ago, an obscure grower posted a picture to one of the 420 forums, claiming that he was growing the Secret Cookies. And he posted a picture of harvesting a cola of that plant and put his forearm behind for scale and the [inaudible 00:03:26] were as big as [inaudible 00:03:26] balls going all the way up his arm.
Gary:
I think we both agree on this one. I'm taking the words out of Mr. Genetics mouth, but secret weapon.
Mr. Genetics:
Yeah. So I got to give you some back story here to set us up. Seed Junky is vastly known for his Kush Mints male that he found, his Kush Mints Number 11. That male has proven to be unique and something that's different than anyone else has. He made some legendary strains with that male. So before that male came along, he kind of took a three-step process in gaining hype and notoriety. And the first strain that he kind of really started getting traction with was his Animal Cookies. And then later on, he created a Wedding Cake and then the Gelato 33. So he started taking several steps and leaps and bounds and increasing his profile and his ability as a breeder. So the Secret Cookies isn't confirmed to be anything it's not being made public. It hasn't been, but there are rumors that it's either a secret female of his, of his Animal Cookie, or it's his personal female of Apple Fritter, which is his Animal Cookies cross with the Sour Apple IVL.
Experience a blissful relaxation without the stress and worries of the world. Secret Mintz whisks you away to a distant and mellow land where anxiety is not allowed. Feel a sense of calm and joy permeate throughout your body. It's not entirely couchlocking, so you can still go about your day or unwind at the end of work. It can also be appetite inducing, so it's perfect for foodies.
Seed Junky Genetics, creators of Ice Cream Cake, Wedding Cake, Animal Mints, Kush Mints, and many more, bring you another hit. Secret Mintz gives a whole new meaning to gassy and minty strains.
Like a work of art, Secret Mintz' composition is pure perfection. A balance of deep green and violet colors give Secret Mintz' buds a captivating look. The yin and yang of the forest green and striking purple is pleasantly disrupted by the bright and rusty red pistil hairs shooting and curling out from the buds. A thick mat of golden yellow resin covers every inch of the buds. It's almost too beautiful to disturb.
Secret Mintz: Secret Cookies (Cherry Pie x GSC) x Kush Mints (Animal Mints x Bubba Kush)

Looks
Psst! Want to know a secret? Secret Mintz is a soon-to-be classic strain. Secret Mintz is the best kept secret in the cannabis world, but not for long. This indica-dominant hybrid strain boasts THC levels averaging in the mid-20 percent. Dazzling, intoxicating, and refreshing, Secret Mintz can help you relax and unwind.
A wave of gassy and minty freshness barrels through your nostrils like a pungent hurricane. Think jet fuel meets mint ice cream. Sweet and biting, the perfect combo. An earthy Kush undertone featuring notes of pine and wood provides complexity to this relaxing strain's terpene profile. On the inhale and exhale, your tastebuds will instantly recognize its hashy and musky notes.
Secret Cookies is an indica-dominant strain that brings OG and pine flavors to the forefront in Secret Mintz along with relaxing characteristics. Kush Mints brings the minty flavor with a balance of bliss and stimulation. These genetics are a match made in heaven.

Lineage
The secret's out. Secret Mintz is a robust and reliable strain for new and experienced users. Pungent, breathtaking, and complex, Secret Mintz is taking the cannabis industry by storm. If you're ready to expand your limits with the hottest new strain, it's time to start hunting for some Secret Mintz at a dispensary near you.