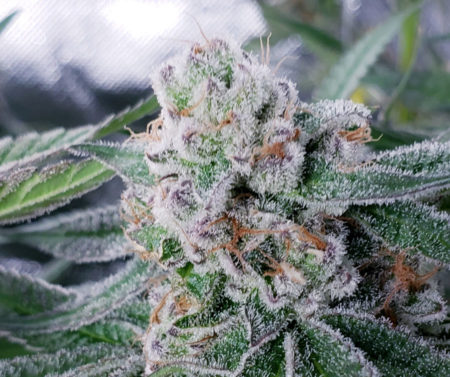 That is why many growers either stick to clones (which are exactly the same as the "mother" plant) or purchase seeds of a stabilized strain from a trustworthy breeder. Starting with stable genetics helps ensure each of the plants will grow the way you expect, and buds have the smell, yield, and potency you want.
If you're not growing with feminized (all-female) seeds, about half the plants will be male and grow pollen sacs (male flowers) that release pollen. Unless you want seeds, male plants should be removed from the grow room immediately because they will otherwise seed all your buds.
However, cannabis plants waste energy developing seeds that could have been used to fatten buds. When a bud has lots of seeds, it often isn't as big and plump as it would have if the plant had not been pollinated. Notice how all the mass of this bud is in the seeds. The rest of the bud is airy and small.
When handling the buds after harvest, you may see seeds or hear them as they fall onto the surface below
Are seeds good to grow?
This is the same plant. You can see that some of the pure white hairs have turned brown early. This is because those hairs were pollinated. If this plant were allowed to continue flowering, there would be a seed growing at the base of all those brown hairs.
You may notice a bunch of little yellow growths in these buds. They almost look like mini bananas. This plant is "herming" or growing male flowers that spew pollen everywhere. If this plant isn't removed from the grow space, it will pollinate itself and all other plants in the area, causing seedy buds
If it's very seedy the buds may not feel as potent, though a few seeds here and there won't make much difference in bud potency. The main problem with seedy weed is that you are getting less smokeable bud for the amount of total mass there. If it is seedless, you will get more bang for your buck. Seedless bud (sinsemilla) is considered to be the highest quality and most potent type of weed.
What causes seeds?
But once they get really seedy, buds may look like they have huge plump calyxes/bracts (female flowers) or they may even be misidentified as pollen sacs (hermie/male flowers).
If you're not sure what strains to get, here are a few recommendations. These strains produce excellent weed and are generally easy to grow. These seeds are all feminized, which means they will only grow female plants (no pollen to worry about!) Click the links for more information.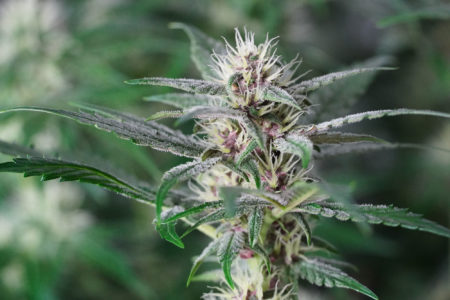 Seeds happen when pollen gets on the hairs (pistils) of buds as they're forming. In other words, seeds in weed are caused by pollination.
What causes seeds in buds?
These seeds have germinated
Are "found" seeds good to grow?
However, I have been surprised to find some very flimsy or pale seeds sprout and produce amazing plants (we aren't breeding cannabis for hard seeds after all). When in doubt, I highly recommend doing the true test to see if the seed is viable – try to germinate the seed and see if it sprouts !
Pre-flowers can initially be extremely small and hard to identify with the naked eye, but you can use a magnifying glass to get a better look.
Males will have round balls—these will develop into pollen sacs, which will release pollen into the air when mature.
If growing male and female cannabis seeds, they'll start to show their sex organs, or "pre-flowers," after 8-10 weeks from germination.
If growing outside, some growers prefer to germinate seeds inside because they are delicate in the beginning stages of growth. Indoors, you can give weed seedlings supplemental light to help them along, and then transplant them outside when big enough.
Can I grow a seed I found in a bag of weed?
If you're ready for a more serious approach, make sure you have the space for a proper garden and pop the seeds to see what fruit they bear.
Cannabis seeds require three things to germinate: water, heat, and air. There are many methods to germinate seeds, but for the most common and simplest method, you will need:
But sometimes you get lucky and find a mature seed in some really nice herb. Strains like the legendary Chemdog wouldn't be possible without adventurous smokers planting and proliferating the seeds they found in a bag of kind bud.
How to sex a pot plant
With cloning, you don't have to get new seeds every time you want to grow another plant—you just take a cutting of the old plant—and you don't have to germinate seeds or sex them out and get rid of the males.
A seed has germinated once the seed splits and a single sprout appears. The sprout is the taproot, which will become the main stem of the plant, and seeing it is a sign of successful germination.