The lower the ppm, the less nutrient-dense a solution is. As a general rule, aim for the following densities based on your plant's age:
Once you have gathered your materials you can begin to construct your hydroponic setup.
Many companies sell hydroponic nutrient solutions that are specifically designed for certain stages of growth. Nitrogen-rich nutrient solutions will be used in the vegetative stage while phosphorus-rich nutrients become more necessary in the flowering phase.
Nutrients for Hydroponic Cannabis
There are numerous setups for growing hydroponically with varying benefits that were discussed previously here. And while there are several types of hydroponic setups that don't use any type of growing medium at all, many of them still use some sort of substrate to support root growth.
First we will start with the supplies needed. Keep in mind this is just an example, and depending on your space and desired results, many things can be tweaked in a hydroponic system to make it most beneficial to you. This list specifically outlines equipment needed to install your hydroponic system and does not include lights, fans, filters, and other basic needs for any grow room.
A benefit this setup offers is that it can easily be expanded as you want to grow more plants as long as your reservoir has enough capacity to provide all the plants with enough water. To expand a drip line setup, all you need to do is add additional lines to the new pots.
Set Up Your Hydroponic Cannabis Growing System
Another common measurement used is ppm (parts per million) which is another way of looking at how nutrient-dense your solution is. There are two different scales for ppm used in the cannabis industry: the 500 and the 700 scale. The most efficient way to determine ppm is to take an EC reading, multiply it by either 500 or 700 depending on the scale you are using. An EC reading of 2.0 would equal either 1,000 ppm (500 scale) or 1,400 ppm (700 scale). Many readers used to measure EC or ppm will do this conversion for you.
Another thing to consider is pruning. With hydroponics, your plants can grow extremely fast. This means you need to be diligent about pruning. Removing all the bottom foliage and topping your plant before switching to its flowering cycle will allow your top colas (the large, topmost buds) to receive all the energy they need.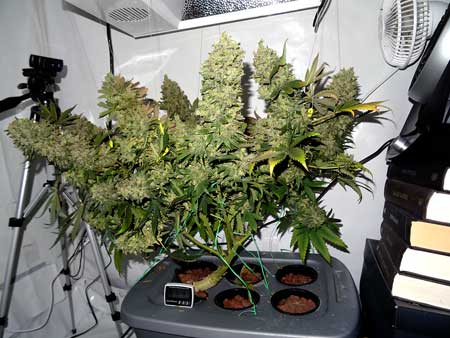 Have you seen cannabis plants growing with their roots just floating in a reservoir of water? This type of hydroponics is known as Deep Water Culture (DWC), and has been around for over a 100 years! As more growers gain experience with this medium, DWC has become increasingly popular for growing cannabis. Hydroponic setups are really neat and offer some big benefits over growing in soil!
Today I'll teach you how to set up your hydroponic reservoir for growing cannabis, and I'll show you what you need to do each day for optimum growth
Hydroponics is when you grow your cannabis plant in an inert medium like coco or a reservoir of water, and provide all the nutrients to the plant directly in the water.
Cons of Hydro
When it comes to hydroponic cannabis…
Benefits of Hydro Over Soil
Is Hydroponics Good for Growing Cannabis?
The ebb-flow system involves growing plants in a medium and flooding the medium with nutrient solution for a few minutes at set intervals. It is also called a flood-drain system.
If you want to grow stuff like tomatoes and lettuce indoors, this system is ideal. It is best to use a dark plastic storage tote is perfect as the primary nutrient solution container.
This system can be placed indoors or outdoors. If indoors, grow lights are of course essential.
A growing medium is usually preferred for drip systems. Popular options include coir and perlite-vermiculite.
Ebb-Flow System
Difficulty: Intermediate
This particular plan houses the PVC pipes on a wooden rack frame. You can grow herbs and plants like strawberries and tomatoes with this system.
The only other components required are an air stone, hoses to pump in oxygen into the nutrient solution.
Deep Water Culture (DWC) Hydroponics
The amount of tubing required will increase, as will the complexity of the pumping system.
The plants are housed in net cups filled with some growing medium. The lid of the box will house these net cups.