Cannabis genetics are important to consider when planning your grow. Most cannabis consumers are familiar with the idea of Cannabis indica vs. Cannabis sativa . They understand how an indica -dominant strain is typically more relaxing and that sativa -dominant strains are known for their abilities to energize the mind and aid your creativity superpowers.
Before flowering, these plants savor what is known as the vegetative stage. This is when the plant enjoys more hours of light than darkness. Indoors, this is typically 18 hours of light and 6 hours of darkness. During this phase and light cycle, a photoperiod plant will continue to grow in size without flowering.
Steps to Growing Your Own Pot
By far, the easiest and cheapest plant to grow for beginner growers is autoflowering cannabis . It comes from the species Cannabis ruderalis . This type of cannabis flowers, as the name suggests, automatically.
Step 1 – Pick the Best Marijuana Seeds for You
However, many people don't understand the difference between autoflowering cannabis and photoperiod cannabis , aka regular flowering cannabis. Understanding these two options makes a big difference when selecting a 1st time strain based on how easy it is to grow. For beginners, we love autoflowers !
That's a big variance, but it really depends on how big you want your plants and how often you want to harvest—you can have multiple harvests of smaller plants, or less harvests of bigger plants.
While shopping for soil, you might be overwhelmed by the options available at your local garden store. The soil type is the basic structure of your soil. From there, look at nutrients, microorganisms, and other amendments that improve the soil. Your choices will be flooded with words like:
If your space is too humid, you may need to invest in a dehumidifier—also known as "dehueys." However, keep in mind that while dehueys will reduce humidity, they typically increase temperature—you may need more fans or an AC when adding a dehumidifier.
For growers who have a little extra money to spend and want full control over their indoor garden, environmental controllers will allow you to automate the process. These devices are essential for if you're away from the garden for a long period of time.
Daily maintenance checklist for your indoor marijuana grow
There should be a comfortable airflow both above and below the canopy, and fans shouldn't blow air directly onto plants—this can cause wind burn, which makes leaves recede into a claw-like deformation.
HID (high-intensity discharge) lights are the industry standard, widely used for their combination of output, efficiency, and value. They cost a bit more than incandescent or fluorescent fixtures, but produce far more light per unit of electricity used. Conversely, they are not as efficient as LED lighting, but they cost much less.
Inexpensive options include standard plastic pots or cloth bags, while some growers choose to spend more on "smart pots" or "air pots"—containers designed to enhance airflow to the plant's root zone.
Growing containers
Your cannabis wants a safe, healthy place for root development. Without healthy roots, your cannabis will never thrive. Roots are in charge of water retention, nutrient absorption, anchoring the plant, and they also facilitate vegetative growth.
Inevitably, there will be fluctuations of temperature and humidity in your cannabis garden. These fluctuations can occur both throughout a grow space as well as within pockets inside a given room. They can also occur at different points within a given day or throughout a season as conditions change in the environment outside your grow space.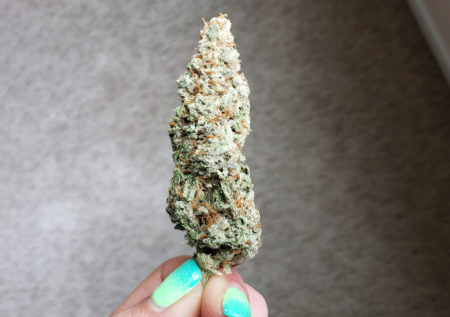 The plant was less than 1′ tall at harvest yet produced 1.5 ounces of bud. CFLs can produce good yields with small plants, but CFL bulbs that are big (or a lot of small CFLs) get hot and expensive. If you have space, I recommend upgrading to more efficient grow lights than CFLs.
This is my very first short plant, grown under a few big CFLs.
1.) Genetics
Auto-flowering strains start making buds in about 3-4 weeks from germination and are typically ready to harvest in 2-3 months. Due to this quick life cycle, nearly all auto-flowering strains stay on the smaller size. However, look for autoflowering strains listed as being short if you want the smallest possible plants.
This graphic represents the colors in visible light. Blue light encourages plants to stay short and bushy. Red light tends to cause marijuana plants to stretch and grow tall.
Quick Summary (how to keep plants small without sacrificing yields)
Manifolding creates a solid main trunk with several symmetrical branches. This allows you to achieve monstrous yields on a relatively small plant.