At a price point that won't put a hole in your pocket, Black Gold boasts all of the essential traits of a strong soil for growing weed. Its loamy mixture contains an optimal blend of pumice and perlite for hydration and microorganism development, and its balanced nutrient blend won't burn young cannabis plants. Those features have won this soil praise from gardeners of all stripes, cannabis growers included.
If growing cannabis is an art, then the soil is the canvas, paint and even a little bit of the brush. As your "grow medium" (the material that your plants grow in), the balance of nutrients your soil contains shapes how your plants grow, how fast and abundantly they flower and how many buds they yield.
Designed for indoor and outdoor cultivation, Happy Frog potting soil takes care of young cannabis plants' essential needs, from correct pH levels to balanced nutrients, including a vital combination of microbes and fungi from earthworm castings and forest humus.
Fox Farm's specialized line of soils for cannabis are some of the most widely acclaimed grow mediums available. If you're beginning your grow journey from the ground up, Happy Frog is an excellent soil to nurture seeds and seedlings.
Aurora Innovations Roots Organics Formula 707
From planting seeds to harvesting buds, Nature's Living Soil's Organic Super Soil has you covered through cannabis' entire grow cycle. Reviewers love the ready-to-use simplicity this soil provides: just plant, water and wait. For those growing on their own for the first time, this is one of the best soils you can buy.
If you're digging through the literature on growing weed, you've probably seen the term "super soil" come up quite a bit. Coined by the legendary grower and seed producer Subcool, the term generally describes a neutral organic soil base that's been enhanced with a comprehensive range of "amendments," i.e., added nutrients and microorganisms. Using a super soil eliminates the need for liquid nutrients as your cannabis plants grow.
Still, Formula 707 has enough nutrients to last 10-14 days before you need to add anything. And for convenience, you can use the soil bag itself as a pot. Just cut off the top, poke some holes in the bottom, plant your seedlings and you're ready to grow.
Fox Farm's Happy Frog Potting Soil
If you're planning on planting a large container cannabis garden outdoors, Roots Organics Formula 707 is a versatile and capable option. An organic soil designed with greater water-holding capacity, Formula 707 contains ingredients and beneficial microbes specific to using larger containers.
Cannabis plants spring up like a literal weed. But growing weed optimally — in a way that allows it to express its best traits and produce trichome-rich flowers — demands care, attention to detail and a bit of trial-and-error. At the same time, there's no better way to develop a closer, more connected and more rewarding relationship with cannabis than growing some yourself. To get you started, here's our list of the five best soils for healthy weed.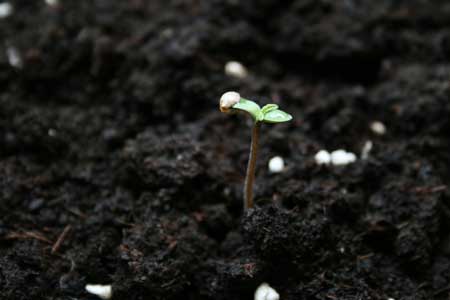 Good Cannabis Soil
This soil has quite a bit of perlite, which is a good choice if you plan to feed heavily with nutrients and supplements since the extra perlite prevents nutrient buildup in the soil
Super Soil has a colony of micro-organisms living in the soil which form a symbiotic relationship with your plant roots. They deliver nutrients to your plant, and in return they eat the sugars that get secreted by your roots!
Example of "Good" Cannabis Soil Ingredients
Some growers choose an amended and composted "hot" soil that slowly releases nutrients over time. With this type of soil, you typically just add water or natural supplements like worm tea from seed to harvest. Other growers prefer a lighter potting mix so they have more control, and give nutrients in the water once the plant roots have used up the nutrients in the soil. But which brands can you trust?
It's easy to get caught up thinking about what nutrients and amendments are in the soil, and those are important, but perhaps the most important aspect of any soil is actually its texture, ability to drain, and overall water "holding" ability.
Kind "Super" Soil (Living Soil)
Worm Castings
You will want to provide the proper amount of light and water to your plants, of course. A drip irrigation system can cut your water bills while improving the health of your plants. Kits are available that give you everything you need to get started. If you prefer, you can start from scratch and obtain separate components to put them all together.
Silt soils have lots of minerals and retain moisture well. Like clay, however, this type of soil can become compacted and hard in certain conditions. It can also form a crust, making it difficult for moisture and nutrients to reach plants' roots.
Four basic soil types exist: sand, clay, silt, and loam. Each has its pros and cons for gardening.
The optimal ratio for loam is 20% clay, 40% silt and 40% sand. Most folks think a pH of 6.0 is best for cannabis, with a range of 5.8 to 6.3 being acceptable. With a pH close to neutral, loam is typically in that zone or close to it.
Loam for Growing Marijuana & Other Crops
Of these types, loam is by far the best soil mix for growing marijuana plants and many other types of crops. Loam is a mixture of clay, sand, and silt, bringing forth the best qualities of these disparate types of soil while minimizing their worst attributes.
In addition, you do not necessarily have to provide costly soil for your plants outside. But for the best results, you want good marijuana soil that will help your plants grow healthy and happy. DripWorks is here to offer you a few simple tips for finding and creating the best soil for growing marijuana outdoors.
Growing cannabis outdoors offers many benefits. Firstly, it can be very affordable. You do not need to provide a structure like a greenhouse or high tunnel. In addition, artificial light is not necessary if you place it in the right spot in your yard, because your plants can benefit from the sun's abundant and free energy.
Soil Types
Sand is easily permeable for root growth, for instance, but it does not hold on to water or fertilizer well.
Just like humans, plants need the right nutrients. The most important ones for your cannabis plants are nitrogen (N), potassium (K) and phosphate (P). These make up the ratios you will typically see on fertilizer labels.