Ready to supercharge your marijuana experience? Look no further than Super Sour Diesel marijuana seeds. This powerful strain holds its 'super' name for a reason — and now's your chance to buy some seeds and find out why. Super Sour Diesel belongs to the sativa family, which means users can expect a sudden jolt of happiness, motivation, and inspiration to the brain.
Super Sour Diesel will literally supercharge your day when smoked in the morning. A little bit of this sativa is all you may need to replace your usual cup of coffee. Super Sour Diesel is a highly energizing strain that can help get your body moving. It can help you reach new levels at the office, the gym, and social gatherings.
Are you ready to supercharge your marijuana experience? If you, Super Sour Diesel marijuana seeds are exactly what you need to put that extra pep in your step. This sativa is highly energizing, motivating, and relaxing.
Description
And did we mention it's also a highly medical strain? Super Sour Diesel marijuana seeds have the added benefits of stress and pain relief. It's no wonder that so many users turn to this sativa after the gym. The increase in energy can help you crush your session, followed my sore muscle relief afterward. This strain comes with 24% THC and smells of diesel. The effects of Super Sour Diesel are said to be long-lasting, so there's no need to re-smoke in the middle of your day.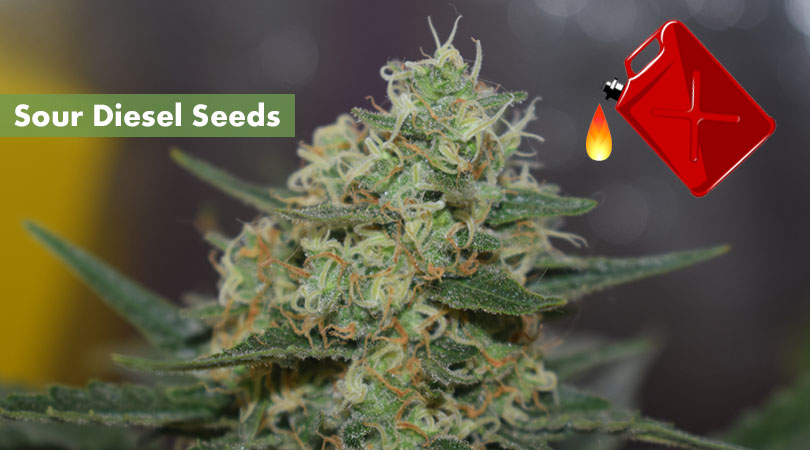 The very unique way this strain hits your senses makes it unforgettable — but judging by how often you'll probably be hitting it through the day, you won't have many opportunities to forget it anyway.
Growing Sour Diesel Seeds
As such, this is not a strain for the impatient. When grown indoors, flowering time is between 10-12 weeks, while outdoor growers will begin harvesting in the first half of November.
Strain Description and Properties
Sour Diesel Seeds – Strain ID: