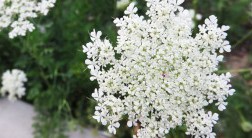 Oh…thank you Bobbi…do you know if the moonflower is poisonous also?
I bought the plant small, was told it was a trumpet plant….planted it and it grew up, out…but I love the white flowers (even tho they don't last long). I live in NY state and understand it will wither with the frost-Can I just cut it off at ground level until next year? It is huge-grew to 5' top and sides! Do I have to dig it up and put it in a pot? I prefer leaving it in the ground.
No plant should be wiped from the Earth. They all have purposes, good ones if not misused or over done.
Weed of the Month: Queen Anne's Lace ›
Every year, I deliberately allow this weed to mature in my wildflower garden. The flower is breathtaking, its fragrance is intoxicating (but not hallucinating, lol), and best of all it attracts the biggest, wildest-looking moth you have ever seen. Definitely makes for an enchanting evening.
Jimson weed (Datura stramonium) is a beautiful, witchy plant that begins blooming in late summer and continues through the first frost. A member of the notorious nightshade family, its more famous cousins include tomato, eggplant, pepper, tobacco, and potato. Most members of this plant family are poisonous, and jimson weed is no exception. All parts of the plant are toxic, most particularly the seeds. Potent amounts of alkaloid compounds are present, which potentially cause convulsions, hallucinations, and even death if ingested. And as climate change increases the amount of carbon dioxide in the air, studies have found that the toxicity of plants like jimson weed only increases.
Though the trumpet-shaped flowers are stunning, my favorite part of the plant is the devilish-looking seedpod. The size of a Ping-Pong ball and covered in spikes, the seed capsule splits into four parts like a monster's maw, revealing the dark brown seeds inside. In the winter you might notice its tall, dry stalks bearing the prickly seedpods, which to me look like the scepter for a demon. With all its extraordinary looks and lore, jimson weed is a fascinating plant to contemplate (but maybe not cultivate)!
Related Articles
This year I had 3 pop up in my flower garden… and one has to be every bit of 2 to 3 feet tall, and covered in pods. Where do they come from, any ideas?
I noticed that the Moonflower and the Jimson flower look much the same, however, the leaves are different. Are they the same plant or just cousins and is the Moonflower also poisonous? My grandmother, Mother and I have all raised them in our gardens in Oklahoma and in Montana….
You can also read the documentation to learn about Wordfence's blocking tools, or visit wordfence.com to learn more about Wordfence.
If you are a WordPress user with administrative privileges on this site, please enter your email address in the box below and click "Send". You will then receive an email that helps you regain access.
Wordfence is a security plugin installed on over 4 million WordPress sites. The owner of this site is using Wordfence to manage access to their site.
Block Technical Data
Click here to learn more: Documentation
If you think you have been blocked in error, contact the owner of this site for assistance.
Generated by Wordfence at Tue, 11 Jan 2022 6:37:47 GMT.
Your computer's time: .
About Wordfence
Thorn apple is a weed that prefers a warmer climate than Britain, but in hot summers they are quite commonly found. Another common name, devil's snare, sounds alarming, but a few simple precautions will enable gardeners to handle this weed without great risk.
Quick facts
This weed can grow to heights of 1m (3¼ft). It flowers from July to October with wide, funnel-shaped flowers. These are usually white but plants with purple or lilac flowers and purplish stems are referred to as Datura stramonium var. chalybaea (syn. D. stramonium var. tatula).
What is Datura stramomium
Use a mulch of organic matter, at least 5cm (2in) thick or opaque sheeting, such as woven polypropylene, to smother this weed.