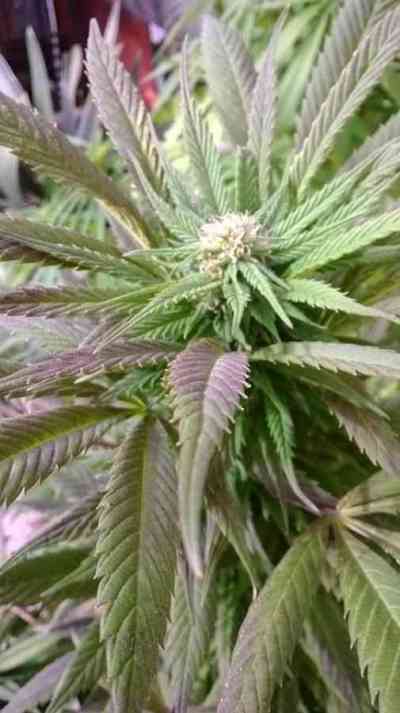 Spoetnik #1 Seed > Paradise Seeds
Outdoors it's more of the same – a large plant with branches pointing up towards the sky with buds growing from top to bottom. It should be ready towards the beginning/mid-October, producing up to 600g per plant. It lets off quite an intoxicating aroma, as it has Skunk genes in it, and when smoked this intense aroma is clearly obvious.
Spoetnik #1 by Paradise Seeds is a plant that's easy to grow, as its strong and does well with rookie mistakes, such as drying up every now and then or the odd cold night. It starts off growing slow and it can be worrying to beginners, but no worries; before you know it, it'll grow large flowers in short amounts of time. This 90% indica strain has plenty of medicinal and recreational qualities.
Spoetnik #1 by Paradise Seeds is a plant that produces long, round flowers, which is where it gets its space-station name. Its buds look like spaceships pointing upwards towards the light.
When grown indoors this plant takes just 55 flowering days to mature, which is quite fast for a mainly-indica plant that gives clear, energetic effects as if it were a sativa. It has buds hard as steel that let off a sweet fragrance similar to earthy grapes. We recommend growing using the hydroponic method, as you'll be able to enhance its complex, intense flavor.
Spoetnik Outdoor Flowering
By buying this product you can collect up to 2 loyalty points. Your cart will total 2 loyaltypointsrsi that can be converted into a voucher of € 0.40 .
This mental effect is perfect for freeing your mind of any stress, giving you creative and inspired ideas. Spoetnik #1 is the perfect plant due to how versatile and easy it is to grow. It gives astonishing, hard to believe results.
Spoetnik Indoor Flowering